Well Well Well Folks ,
Its that time of year again , the time of year when the housewives empty the piggy banks and bet colours and names , when the once a year brigade descend upon the tabs with their £0.10 ew Lucky 63's and all hell breaks loose between the betting fraternity as we all make a play for the best odds,offers and specials...yes its the once a year mentalist Cheltenham Festival which will be running from Tues till Saturday and is the pinnacle of the racing calendar for many a yard , owner , rider and trainer.
This year looks to be better than the last couple as it appears to be awash with proper talent real superstars and soon to be members of the racing hall of fame.
There will be 1000's of Joe's holding onto Ante Post flutters and many with a few big Acca's to keep them riding thru the week ( myself included ) and i will be providing my obligatory Daily Race Card in a quest to crush the Tote with a couple of mouth watering Place Pot hits....1 good one thru the week will keep me sweet anything else will be a billy bonus , as well as my usual dutches this week i will also be doing ALL my selections in RFC's and a few cheap Tri-Casts where applicable as i have this year in general been hitting quite a few 1st n 2nds with my selections and Saturday alone produced two that paid
£63.59
&
£20.64
plus we also hit a
Trifecta
that paid almost
130/1
...so there is def some value to be had...one from 6 can put you in profit..so fingers crossed....But in truth
Annie Power
and
Faugheen
will be solely responsible for how my week is dictated to me as the former has an awful lot of my Cheltenham cash on its back.
So without further ado lets crack on with the DAY 1 Cheltenham Card.
RACE 1 :
Sky Bet Supreme Novices' Hurdle (Grade 1)
WIN - JOLLYALLAN -
EW - L'AMI SERGE -
LONG - SEEDLING / SIZING JOHN - unp /
3rd @ 38.41
SPEC PUNT
- LAY on Douvan is the Pro Bet , Jollyallan the Win bet is probably just about the best bet with the best " fun bet " being a fap dutch or EW on Seedling and
Sizing John
.
SUMMARY : So we start the day with the traditional curtain raiser...The SUPREME and its as you would expect a very tough race both for punters and bookies.
However for me this is a straight three way Duel between Jollyallan , L'Ami Serge and DOUVAN but that doesnt mean that there is nothing else as you can back any one of the rags and expect a decent race or place...racing is very much subjective.
Douvan is currently the 3.0 Fav and for me is too short in a race with so much class for a horse that has beat little in truth ( albeit very very easily ) in fact the horse he trounced lto was only rated 136 which is a mile short of what will be required here today and even being generous with that wooden performance if i gave him a prov rating of say 144 he still has at least 8lb to find to win and thats if nothing else improves at the same rate , there is just too much of a grey area to get realistically involved in Douvan and for that reason he is not only left out of the win shield hes left out all together.
JOLLYALLAN however is the real deal already having trounced Sempre Medici then beating Bristol De Mai ( Beaten since ) but was touched off by the 154 rated Garde Le Victoire in a stirring finish lto when it looked the winner only to find GLV fight back and take the spoils but that was and is a very good run and even given the context of this race is up there with the best form on offer and this doesnt have to improve to get involved it only has to run to form and most of the field will have been seen off and at 11/1 has to rank as one of the most sporting of sporting bets for this race.
L'ami Serge has also beaten little , rattled a few timbers and raced against a few W Mullins runners so will have his card well n truly marked and for me i think the hustle n bustle of the big event may rattle him and cause a few erroneous errors to creep in which will prove costly and its another im going to leave alone as this also has one or two question that need answering and the 4/1 is not anywhere near enough to get my juices flowing.
So from my shortlist of 3 i have one and will fill the gaps with outsiders i think could run decent races.
So where do we start with the big outsiders or less fancied runners as so many are much of a muchness?...
Firstly i think SEEDLING @ 23/1 has a solid looking chance of the back of Hat Trick of Victories over distance like this or slightly further and he stays on very very strong in fact he already looks like a 2m4f horse and the famous Cheltenham Hill will hold no fears as others are feeling the strain up the straight this beast if in with a chance will be full of running and will exploit any weakness shown ( you have to note that the rags all need to find at least 20lb improvement on all known form but its not out of the question ) and at the odds makes an interesting bet.
SIZING JOHN won a really good looking Future Champions race at Punchestown recently scalping some very big names and was a cracking run however he was fucking trounced 12L by Douvan ( not off the bridle ) in a Novice event earlier so has an obvious mountain to climb but.....this is another day , another race on a totally different track and to say the Fav is 2/1 and this is 40/1 is imo a piss take..its way overpriced and its still 9/1 a place on Betfair ( no price on 4 place market as yet ) and looks a good alternative in a fun packed explosive start.
##Hendo News## The yard are very confident on the claims of L'ami Serge but admit that it has to " step up " in order to have a realistic chance of winning , they think it can...but wont be surprised if not good enough for today.
RESULTS / NOTES :
~~~~~~~~~~~~~~~~~~~~~~~~~~~~~~~~~~~~~~~~~~~~~~
RACE 2 :
Racing Post Arkle Challenge Trophy Chase (Grade 1)
WIN - UN DE SCEAUX -
1st @ 1.76
EW - JOSSES HILL -
3rd @ 15.21
LONG -
SAIL BY THE SEA
-
SPEC PUNT
- EW on Sail by the Sea looks an excellent punt but the truth is that " if " Un De Sceaux is only half as good as we think he is then this race is already over...time will tell in what will be an amazing race.
SUMMARY : A very interesting Arkle now and we have another red hot hot pot to contend with and its obviously from the powerful Mullins yard in Ireland and its called UN DE SCEAUX which is currently 1.78....one point fucking 8 for a race that looks on paper Nuclear hot!!...wowzers!!....
Having seen and re-seen all his races i have found that A) The opposition has been weak and allowed many a time a " soft " lead , B) They havnt been that strong themselves and last twice his main rivals made a series of errors putting paid to any chance of a race and C) The last race was a poor 3 runner race that he jumped clear from the off and was never pestered at any stage ( must have thought he was out having an afternoon stroll ) now this 11 runner event will pose many a new problem, first of which is the much stronger rivals in a quicker action packed race as i will be shocked if he is allowed an easy lead here , he should be getting harried and bothered over every fence, eyeball the fucker and let him know he is in for a fight and lets test his metal as the fav as glorious as he may be has to be taken on.
For me i think the " VALUE BET " in this is Sail by the Sea ( currently at 60/1 ) from the pipe yard the same yard that had the 33/1 winner last year and an 80/1 3rd the year before but then considering they have been faced with the likes of Simonsig, Sprinter Sacre and Sizing Europe its no wonder...im pretty sure this in form trainer would have had this as an aim for some time as he could have entered it into any number of other events and at the odds is a brilliant fun EW bet.
Vibrato Valtat , Josses Hill and Gods Own make this a brilliant race to watch and should be great fun for the purist, the Fav could prove to be in a different league to these and with the promise of plenty more to fall in front however on this occasion its worth chancing ones arm and taking it on...he may be back next year as the new Sprinter Sacre.
RESULTS / NOTES :
~~~~~~~~~~~~~~~~~~~~~~~~~~~~~~~~~~~~~~~~~~~~~~
RACE 3 :
Ultima Business Solutions Handicap Chase (Grade 3)
WIN -
NED STARK
-
EW - BLACK THUNDER -
LONG - BARRAKILLA
/
CAPE TRIBULATION
/
MENDIP EXPRESS
/ GALLANT OSCAR
(
3rd @ 11.47 )
SPEC PUNT
-
SUMMARY : Next up is a fucking ridic looking 24 runner Hcap chase.....leave the wallet firmly locked in ones pocket unless your a fucking moron!!.
NED STARK
is the stand out for me here getting plenty of weight , loves the trip , loves the conditions and stays all day and although im not happy about the jockey booking Ronald has ridden this last three times including the two wins so will know whats required.
Cape Tribulation is " due " a big run but as i have stated before the only thing guaranteed that has a due date is a pregnant woman and waiting / backing on horses that are due is a costly love affair that rarely pays dividends...however..one day...fuck no no no stop it smith and take a step back ;-())...
Barrakilla , Black Thunder and Mendip Express all lend flavour to a tasty pot.
~SIC~#SL#
The Jonjo O'Neill stable has won this three times in the last six years and Jackdaws Castle has two entries this year. Lost Legend looks a better bet than Dursey Sound but may be too high in the weights now. A P McCoy might have struggled to do the weight on Dursey Sound and instead rides Pendra for his retainer. Charlie Longsdon's gelding was third in the novices' handicap at this meeting last year and has only had the one run this season so will be fresher than most. Denis O'Regan has won twice on Ned Stark this season but he's closely matched with all-the-way Newbury winner Gevrey Chambertin on a line through Kaki De La Pree. Monbeg Dude is an out-and-out stayer and so is Mendip Express while Annacotty seems better over shorter, though does like it here.
GALLANT OSCAR
has had just the six starts over fences but has shown some decent form, winning the Leinster National at Naas around this time last year. He was sent off favourite for the Thystes Chase at Gowran back over the larger obstacles in January and wasn't disgraced. There's a chance he's still on a decent mark so he gets the nod but it would be no surprise to see The Druids Nephew thereabouts off the back of a good run over timber and Lamb Or Cod and According To Trev are others who could figure while Barrakilla won over 3m between the flags.
RESULTS / NOTES :
~~~~~~~~~~~~~~~~~~~~~~~~~~~~~~~~~~~~~~~~~~~~~~
RACE 4 :
Stan James Champion Hurdle Challenge Trophy (Grade 1)
WIN - FAUGHEEN -

1st @ 1.91

EW - THE NEW ONE -

LONG - N/A -

SPEC PUNT

- The

Pro Bet

is a

DUTCH on THE NEW ONE & FAUGHEEN which currently pays 1.52

and i think this is outstanding.....i will be lumping every penny i can find into this.

SUMMARY : Next up is a Doozy and possibly the Days biggest race as we get to see 4 monsters battle fuck out of each other...!!..yes this is realistically a 4 runner race with the following ,
1. FAUGHEEN - 1st 2.HURRICANE FLY - 3rd 3. JEZKI - 4. THE NEW ONE - So there you have it...the 1st , 2nd and 3rd.....but in what fucking order ??..


Hurricane Fly

has been there ( and everywhere ) got all the T-Shirts , made all the videos and is definitely the elder statesman but has proven he still has enough in the locker to give the kids a slap however i would say at his best he was still around 8-12LB poorer here at Chelts than almost anywhere else and away from his beloved Ireland he seems to lose a bit of sparkle and as the years catch up and the opposition gets better and better ( best in years this lot by a mile ) he will find it harder and harder to get in front and in truth i think he will be hard pushed to just nab a place as i think he will get outpaced and coming round the bend he will make a short lived charge with the choke fully out but his light will soon be extinguished...sad to say but this is probably his farewell appearance.


Jezki

is better suited here to a lot of the tracks he has been on and been beaten on and the uphill finish suits his stamina laden end of race burst and he will be a tougher racing proposition here and will prove very hard to beat however the one big concern i have is that in all 3 races this season he has been very leg weary coming to the last and has had little to offer and he may have shot his bolt with last years race killing him as a proper horse ( something ive seen plenty before ) and i think the stronger finishers will have too much for him and again i think 3rd may be the best he can do ( may even be battling a rag for that spot ).


THE NEW ONE

, a horse i just love travels like a dream usually jumps for fun , stays all day and can quicken and battle at the business end of a race....this is in every sense a proper world class animal and he really ought to have won this last year and although his preparation has been a bit low key this year he has been racing on ground he doesn't like but has still remained unbeaten and has nothing to prove all he needs is a slight drying out of the ground and its game on and this for me will be either 1st or 2nd.
And i say 1st or 2nd as he has yet to face a rival like

FAUGHEEN

who is another that has so far looked just incredible unbeaten and never off the bridle and although this will be by some his toughest task to date the way he has kicked and killed past rivals very much resembles an in form Big Bucks in the way he has treated his rivals with disdain is just earth shakingly shocking this horse looks like a freak of nature and in the modern era only the likes of Big Bucks , Sprinter Sacre ( pre injury ) and Istrabaq have had the same dominance and i think this beast will prove to be every bit as good....oh my days what a battle royale this will be.....the Proven form and ability of The New One V the untapped potential of Faugheen v returning Champion Jezki.....Fucking " BRING IT ON ".

RESULTS / NOTES :

~~~~~~~~~~~~~~~~~~~~~~~~~~~~~~~~~~~~~~~~~~~~~~

RACE 5 :
OLBG Mares' Hurdle (Registered As The David Nicholson Mares' Hurdle) (Grade 1)
WIN -
ANNIE POWER ( NAP OF THE WEEK )
-
Fell at the LAST when 3l Clear
and cantering....GUTTED!!!!!!!! ;((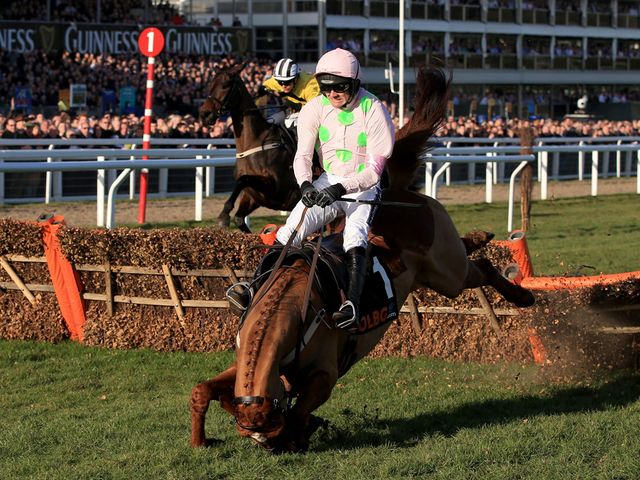 EW - N/A
LONG - N/A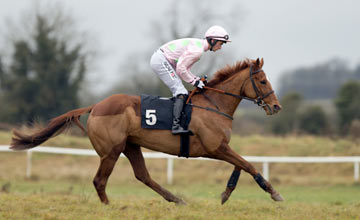 SPEC PUNT

-

Mega MAX

Bet on

ANNIE POWER

.

SUMMARY : Now its the 16 runner Mares only Hurdle and i will not go into too much detail on this as i simply will not hear of defeat for

ANNIE POWER

who on my adjusted ratings has at least 22lb in hand and had she run recently then she would be a 1/3 shot or even less but she hasnt..she got a niggle or two when last seen and hasnt run for around 311 days so her price is now 1.68 which may not seem like much but she will pick this whole field up and carry the bitches all the way to the knackers yard..she will dominate, demoralize and destroy them. you should grab everything you have, remortgage the house and sell you soul to get on this ...back agen her and your a fucking idiot..the end.

RESULTS / NOTES :

~~~~~~~~~~~~~~~~~~~~~~~~~~~~~~~~~~~~~~~~~~~~~~

RACE 6 :
Toby Balding National Hunt Chase (Listed Amateur Riders' Novices' Chase)
WIN - COGRY -
EW - BROADWAY BUFFALO -
2nd @ 14.0
LONG - SEGO SUCCESS / VERY WOOD -
Full Result
1

st

7
11-6

pt

8/1
opened 7/1 £40000-£5000
2

nd

1½
7
11-6

bt

12/1
opened 16/1
3

rd

5
7
11-6

b

10/1
£6300-£630 £4200-£420
SPEC PUNT

-

Ballyculla @ 80/1 with Bannister is a sound looking EW punt

.

SUMMARY : A bit of a misnomer after the hurly burly that has gone on before , time to get the kettle on or pour a Guinness as we have this non betting heat.

It's interesting that Gordon Elliott runs Cause Of Causes in this as he also had entries in a number of the big handicaps this week. Crack amateur Jamie Codd rides the seven-year-old, who was second in the Kim Muir a year ag

o. Cogry, who beat Doing Fine at Warwick last month, looks a real stayer and has won two out of three since falling on his chasing bow behind the mare Top Totti at Uttoxeter. He shouldn't be far away with a clear round while last year's Albert Bartlett winner Very Wood bounced back to form at Navan last month when winning a Grade 2. He beat The Job Is Right at Galway in the autumn, though the latter is slightly better off at the weights now. SEGO SUCCESS got the better of subsequent Sky Bet Chase winner If In Doubt at Wetherby in November and followed up in a Listed contest at Warwick. Trainer Alan King knows what's required to win this race and his charge will get every assistance from the saddle from Gold Cup-winning jockey Sam Waley-Cohen so gets the nod.

RESULTS / NOTES :

~~~~~~~~~~~~~~~~~~~~~~~~~~~~~~~~~~~~~~~~~~~~~~

PLACEPOT PAYS = £211.70

~~~~~~~~~~~~~~~~~~~~~~~~~~~~~~~~~~~~~~~~~~~~~~~

RACE 7 :
CHAPS Restaurants Barbados Novices' Handicap Chase (Listed)
WIN -

IRISH CAVALIER -

1st @ 14.50

EW - Thomas Crapper -

2nd @ 8.69

LONG - Generous Ransom -

3rd @ 11.50

SPEC PUNT

-

SUMMARY : And we round the day off with another Hcap Chase....tough luck punters!!.../hopefully your well up by now?!?!.. Thomas Crapper can race off the same mark as when second in the Martin Pipe over hurdles at this meeting last year. He is still a maiden over fences but has been knocking on the door in decent company and it would be no surprise to see him in the firing-line off the final turn today. Generous Ransom deserves to be among the leading fancies having won novices' handicaps at Sandown and here. But he was only third to Stellar Notion at Kempton in between and is no certainty to confirm course running with

IRISH CAVALIER

. Rebecca Curtis' charge is 6lb better off for just over two lengths and looks to be improving. He's preferred to stablemate Monkey Kingdom and the disappointing Cocktails At Dawn. Gorsky Island, like Stellar Notion, is trained by Tom George and can't be ignored but Horizontal Speed was easily outpaced by Golden Hoof at Aintree in the autumn and his win at Wetherby hasn't worked out. Leap Dearg has his stamina to prove and Cold March may have too much weight but Gores Island could figure if handling the step up in grade and Little Jon will ensure there is no hanging about ( Sporting Life ).

RESULTS / NOTES : Well what a way to round the day off!!!...Winner , RFC AND Tri-Cast....Fan Fucking tastic!!...

~~~~~~~~~~~~~~~~~~~~~~~~~~~~~~~~~~~~~~~~~~~~~~

Have a great day folks and Good Luck..Enjoy the racing!!...now lets look at Wednesday!!