Well what a fantastic Day 2 was had as i personally nailed 4 good Winners but lucked out in the last for my share of the place pot ( 4 lines @ 50p ) as it paid £193.20 ( per £1 ) , we witnessed some brilliant rides, some cracking runs and a lot of drama with for me the highlight being a masterclass in Jumping for the much derided

SIRE DE GRUGY

who at 4.2 was amazing...should have been a 6/4 or even a 5/4 shot yet went off at incredibly juicy odds that even tempted me right in at the end and i was very grateful for that ;-) as he hosed up...we also witnessed a future mega star in the shape of

FAUGHEEN

a tank of a horse that cruised his way through the Baring Bingham before quickening on and killing his field dead...very impressive.


The gutsy SMAD PLACE was just outbattled and done on the nod by O'FAOLAINS BOY in the RSA in an incident packed race which saw 4 of the favoured horses all fall including two of my selections Le Bec and Don Cossack

.

My biggest cash winner of the day was in the next , the Coral and the horse was

WHISPER

who won a protracted battle up the straight to get the narrowest of margins ( i thought he was beat tbh ) ,,i was very hoarse after that race....sigh...

Balthazar King

won the X-Country for an amazing 2nd time with a well judged ride and a performance of true grit whilst in the Fred Winter i got no luck at all with my modest selections being early casualties and the winner was a welcome return to the winners enclosure for Tim Easterby with

Hawk High

and finally we had the Champion Bumper which was won by Silver Concorde in a driving finish with my selection

Modus

running too wide all the way round and running out of gas in the final 2f...future winner tho as it traveled like a star for most.

Onto Day 3 and we have some cracking races to look forward to including the likes of the JLT and the Ryanair with the highlight being a monster clash between the hugely impressive

ANNIE POWER

and my beloved BIG BUCKS....who will win ???....lets see.....

~~~~~~~~~~~~~~~~~~~~~~~~~~~~~~~~~~~~~~~~~~~~~~~~~~~~~~~~~~
JLT Novices' Chase (Registered As The Golden Miller Novices' Chase) (Grade 1)
..An absolute blockbuster and potential coupon buster for the start of day 3 as this looks incredibly competitive.
Felix Yonger is the fav here and its not one i like..at all , very muddling form , not a proven stayer , has limited flat speed and looks a bit of a flat track bully so if i can get a lay in at a decent price i will happily be taking this on but for the win..where do we start...pin ?...pinata ?...throw a blanket over the field and see where it lands...
For me i think
OSCAR WHISKY
is the first stand out bet , i love this big son of Oscar who is a multiple CD winner on all ground types that has mainly been mixing it small field events but has taken in a few and won where the size has been 10/12/16..so that shouldnt be a problem , generally likes to make all or just be slightly off the pace tracking the leader which will be fine here as there is pace galore and having all ready comfortably beaten a few of these will know whats required today and i will be shocked if this isnt in the mix at the business end.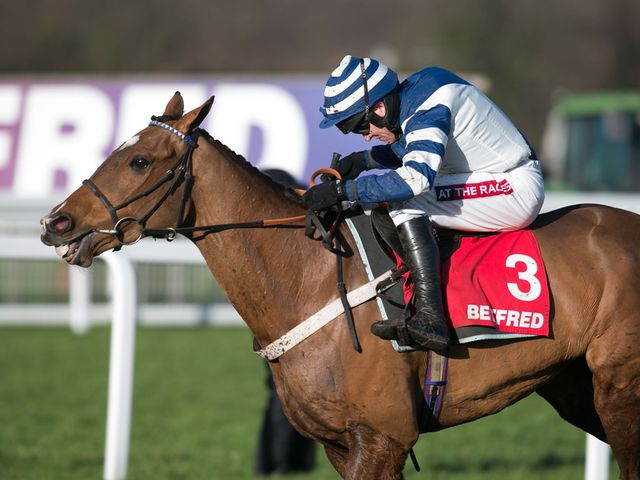 "
Oscar Whisky's chasing career has so far gone smoothly as he has rattled off three victories - two of which came at Cheltenham against fellow JLT contenders Wonderful Charm and Taquin Du Seuil.
Nicky Henderson's nine-year-old has won six times from 12 starts at the track, and was also third in the 2011 Champion Hurdle.
Although he had to work harder than expected in the three-runner Scilly Isles Chase at Sandown last month, the ground was extremely demanding in Esher.
Owner Dai Walters said: "He's done well since Sandown and Nicky's very, very happy with him.
"The ground is drying up all the time and that will suit Oscar Whisky. We've always felt he is better on better ground.
"It was terrible at Sandown but Barry (Geraghty, jockey) knew he was always going to win and did well to mind him through the race.
"His record at Cheltenham is excellent and hopefully he can put that to good use again.
"
~~~~~~~~~~~~~~~~~~
RACE CARD STAT SELECTIONS >
WIN - OSCAR WHISKY -
Fell at the 1st ;-(
EW - WONDERFUL CHARM - Disappointing >
LONG - VUKOVAR - (
Out of the PP at first attempt lol.
.)
~~~~~~~~~~~~~~~~~~~
BET ADVICE : MAX LAY on FELIX YONGER (
Wins
)
~~~~~~~~~~~~~~~~~~~
RESULT :
Full Result
1

st

7
11-4
7/1
opened 8/1 £16000-£2000
2

nd

¾
6
11-4

p

33/1
3

rd

1¼
8
11-4
11/1
opened 14/1 £14000-£1000
4

th

7
8
11-4
7/2f
£35000-£10000 £3500-£1000(x2)
~~~~~~~~~~~~~~~~~~~
Pertemps Network Final (Listed Handicap Hurdle)
3m
(5yo+, 3m, Class 1, 24 runners)
..
This looks a very trappy affair but is good for value. The first of my selections is another Henderson inmate in the shape of MR DILLON a horse that needs to improve still but is in the right grade and the right race to do so , no form that stands out only a solid word from the yard which in a race like this is good enough for me.
An interesting runner here is LIE FORRIT who was once thought to be heading right to the very top but had a chequered run and fell in and out form but on his day can be very useful indeed and at 30/1 + is an interesting EW selection.
JOSIES ORDERS could be anything as she is improving at a rate of knots and is worth keeping onside as a race like this looks well within her compass after rattling up a very tidy Hat Trick of wins.
The undoubted " Class " in this race is
FINGAL BAY
and its here that most of my wedge will be gathered upon , a very talented hurdler with the tallest of reputations suffered an almost career threatening injury and was out for a good time but has returned with not just all ability intact but a new personality and i feel this has at least 10lb in hand on the whole field and at 9.0 looks an absolutely tonking EW bet....this is the proverbial " bet to nothing "....gotta have a taste of that.
~~~~~~~~~~~~~~~~~~
RACE CARD STAT SELECTIONS >
WIN - N/A
EW - FINGAL BAY ( NAP ) - 1ST @ 6.48
LONG - MR DILLON -
Placepot Extra > ON THE BRIDGE -
~~~~~~~~~~~~~~~~~~~
BET ADVICE : MAX EW on FINGAL BAY.
~~~~~~~~~~~~~~~~~~~
RESULT :
~~~~~~~~~~~~~~~~~~~
Ryanair Chase (Registered As The Festival Trophy Chase) (Grade 1)
..This is a puzzle hidden inside an enigma shrouded by a mystery ......a race in which i have horses i think will win racing against others i want to win in a field in which most can win....so where to start....
The Class ( imo ) is
DYNASTE
a horse that really should be beating the best in the best not this shit stop Ryanair farce but is also a horse that has found little at times and when the big questions have been asked he has been unable to answer.He is proving to be either a bit tripless or just a monkey as he has won over 25f but has then not stayed over that same trip , has won over 16f but has then been found out for pace ...over 16f......which leaves an impression that although this easily has the ability to win it just cannot be trusted.
Then we have the reemerging HUNT BALL who i would love to see win but is A) racing from a mark around 10-15lb beyond of what he is capable at and B)Badly out of form......
BENEFICENT comes into the reckoning as its as tough and genuine as any you will see and is gteed to give you a decent run for your money and could easily take this if in the same mood as when winning here last year.
My idea of the winner..and its not original , lazy or clever is
AL FEROF
, touted as being the next big thing 2 seasons ago...was looked upon in the same way that Sprinter Sacre is now....but it all went a bit Pete Tong...had an injury , had some time away ...but come back again in top condition and looks another that given the right platform could be heading right back to the very top....this got stomped all over by Harry Topper lto over a longer trip but in truth not much would have lived with him that day as he was exceptional , got stuffed again prior by the very smart Silvi' Conti ( not looking good is it really ) but if you go back to his run in the Paddy Power gold cup you will see he has the class and ability to do very well in this.
Radjhani Express and Menorah make this an interesting but reasonably low quality affair and Al Ferof could just prove good enough today.
~~~~~~~~~~~~~~~~~~
RACE CARD STAT SELECTIONS >
WIN - AL FEROF -
EW - DYNASTE - 1st @ 4.31
LONG - BENEFICENT -
~~~~~~~~~~~~~~~~~~~
BET ADVICE : Win Dutch on AL FEROF / DYNASTE -
~~~~~~~~~~~~~~~~~~~
RESULT :
Full Result
1

st

8
11-10
3/1f
Held up towards rear, headway 12th, closed to take 3rd 2 out, challenged last, soon led, driven and stayed on well, edged right towards finish opened 10/3 £7000-£2000(x2) £30000-£9000 £3000-£900 £3000-£1000
2

nd

2¼
9
11-10

p

10/1
Jumped right at times, pressed leader until 3rd, stayed handy, challenged 12th, led next, driven approaching last, headed flat, wandered under pressure, kept on opened 9/1
3

rd

2¼
7
11-10
18/1
Mid-division, headway 7th, went 2nd before 4 out, challenged next, lost 2nd and slightly impeded after last, stayed on, held by front pair opened 20/1
~~~~~~~~~~~~~~~~~~~
Ladbrokes World Hurdle (Grade 1)
..Now we have probably the best race of the day and for me the race of the week , this is the one i have been waiting for....with bated breath as you know im a huggggggeeee
BIG BUCKS
fan....but can he be beaten ?..well probably but maybe not today , yes he is getting on in years but hes not elderly nor decrepit and as his seasonal debut has shown us he still has the heart for a battle and his tip top cruising speed is intact.
Having already Won this race 4 times he knows his way round and what is required but he will have to be right back to his best in the face of probably the stiffest competition hes ever faced.
Firstly he has to deal with the possibility that wonder mare Quevega maybe lining up as she is still entered in with no word of withdrawal just yet but the Mares race from Tues must surely have taken its toll and i see no way this can win although it will be performance of the decade if she can.
Secondly and more pertinently she has to deal with another Mare in the shape of wonder horse
ANNIE POWER
and this is a major concern as Annie herself is just fucking awesome, cruises into her races with ease, quickens and battles and is built like a heavy weight boxer on steroids...this is one serious fucking horse with only one question to answer...Can she Stay ??...well at 2.64 i wont be paying to find out because not only is it a case of can she stay but can she stay and stay as she will have to fight all the way to the line to take this as Big Bucks will be scrapping for every single inch along with problem Nos 3 and that is
AT FISHERS CROSS
who was himself bigged up for all the season top races but has been rather unconvincing thus far and the ground has turned against him so he faces the biggest task of all.
You can forget the rest.....no fucking way Jose >>>.....
So for me its Big Bucks V Annie Power , Boy V Girl , King V Queen........well for me i think in all honesty Big Bucks best days lay behind him but @ 5.0 which i feel is fucking huge...i will back him one more time to bring home the bacon.....1.85 is the Place is the Pro Bet but 5.0 is my greedy bet....im backing something that has done it rather than something that may do it.....right or wrong the 5.0 is just too big to pass on.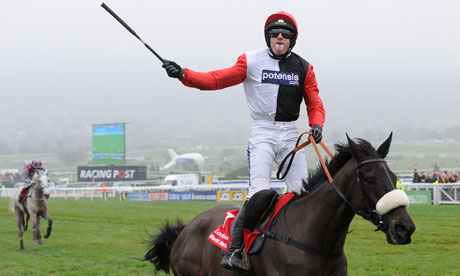 ~~~~~~~~~~~~~~~~~~
RACE CARD STAT SELECTIONS >
WIN - ANNIE POWER -
2nd @ 2.63
EW - BIG BUCKS - (
Nigh on a place Cert
) - Unplaced (
should be retired now, not the force of old by a long way )
LONG - AT FISHERS CROSS -
3rd @ 12.0
~~~~~~~~~~~~~~~~~~~
BET ADVICE : Win on BIG BUCKS and a Saver on Annie Power >
~~~~~~~~~~~~~~~~~~~
RESULT :
Full Result
1

st

6
11-10
15/2
Held up towards rear, steady headway after 3 out, tracked leaders next, driven to lead narrowly approaching last, soon ridden, kept on well flat, in command towards finish opened 9/1 £20000-£2000 £10000-£1000 £8000-£1000 £8000-£1000
2

nd

1½
6
11-3
11/8f
Raced keenly, held up towards rear, switched outside 2 out, soon tracked leaders, squeezed through between rivals to challenge before last, ridden and every chance flat, no extra and held final 50 yards £60000-£40000 £12000-£8000 £6000-£4000(x2) £3000-£2000(x3) £1500-£1000 £750-£500 £600-£400(x2) £1650-£1200 £5500-£4000(x2) £480-£320(x2) £1375-£1000(x2) £1237-£900 £550-£400 £500-£400(x6)
3

rd

5
7
11-10

p

9/1
Held up mid-division in touch, headway on outside 3 out, effort next, led narrowly and came towards stands side between last 2, headed when switched left before last, soon ridden and one pace, no impression with front pair flat £30000-£3000 £9000-£1000
~~~~~~~~~~~~~~~~~~~
Byrne Group Plate (Grade 3 Handicap Chase)
..Johns Spirit won a couple of big handicaps here in the autumn, beating Colour Squadron in the second of them. But his latest run in December suggests he's in the handicapper's grip now. Carrickboy was a shock winner of this last year and showed a glimmer of his old form when third to stablemate Bennys Mist at Wincanton last time. He's still 4lb higher but can't be ruled out and Venetia Williams also runs Newbury scorer Shangani under a penalty. King Edmund is better over this sort of trip nowadays while the lightly-raced Sraid Padraig could be interesting and Giorgio Quercus' win at Kempton in November has worked out well, though he never figured in this last season when the veteran Tartak finished third. Third Intention is proving difficult to place but Tap Night has ability, though McCoy has decided to keep faith with Colour Squadron.
TATENEN
would be a popular winner for weighing room veteran Andy Thornton and the 10-year-old is enjoying something of a revival. Richard Rowe's charge went close again at Sandown last month off his new mark and he's run well at the Festival in the past so gets the nod.
~~~~~~~~~~~~~~~~~~
RACE CARD STAT SELECTIONS >
WIN - COLOUR SQUADRON
- 2nd @ 7.0
EW - SHANGANI -
LONG - GIORGIO QUERCUS -
~~~~~~~~~~~~~~~~~~~
BET ADVICE :
~~~~~~~~~~~~~~~~~~~
RESULT :
Full Result
1

st

8
10-9

t1

12/1
Held up towards rear of mid-division, steady headway 4 out, tracked leaders next, led soon after 2 out, ridden clear flat, stayed on well opened 14/1
2

nd

8
8
11-1
5/1f
Tracked leaders on inside, headway 3 out, led briefly next, ridden and kept on approaching last, no chance with winner flat opened 6/1 £35000-£5000 £6000-£1000 £2400-£400 £2100-£300 £11000-£2000 £5000-£900 £1950-£300
3

rd

6
10
10-9
33/1
In touch, headway to join leader 4 out, led narrowly next, headed 2 out, 3rd and one pace when hit last, no impression with front pair flat
4

th

1½
7
11-3
9/1
Held up towards rear on inside, headway 4 out, tracked leaders when hit next, ridden after 2 out, stayed on to dispute 3rd flat, never on terms opened 10/1 £10000-£1000
~~~~~~~~~~~~~~~~~~~
Fulke Walwyn Kim Muir Challenge Cup Handicap Chase (Amateur Riders)
..Indian Castle looks a useful novice and showed he handles the course when successful over 2m5f here in January. The return to a longer trip isn't a problem and Derek O'Connor is among the best amateur riders around. Tranquil Sea won a veterans' handicap at Doncaster last month with the minimum of fuss and also warrants respect while Nina Carberry partners Cause Of Causes, looking to end a frustrating run, for Gordon Elliott. There's No Panic should give Will Biddick a good ride as he won over a marathon trip at Sandown before Christmas, though had finished behind Night Alliance at Ascot earlier. Buddy Bolero was fourth in the National Hunt Chase at last year's Festival and got back to winning ways over hurdles last time but might be a tricky ride for an amateur. David Pipe tries a pair of blinkers on
OUR FATHER
and we fancy the talented grey to put recent disappointments behind him and come good. The fact that he was sent off joint favourite for the Hennessy in November off a 5lb higher mark suggests he could be well treated today and he's handled these fences well in earlier visits.
~~~~~~~~~~~~~~~~~~
RACE CARD STAT SELECTIONS >
WIN - INDIAN CASTLE -
EW - OUR FATHER -
LONG - BALNASLOW - 4th ( Placed @ 9/1 )
~~~~~~~~~~~~~~~~~~~
BET ADVICE :
~~~~~~~~~~~~~~~~~~~
RESULT :
Full Result
1

st

7
11-6

p

12/1
With leader, led 4th, pecked 4 out, pressed when rival blundered and left clear last, driven out £10000-£700
2

nd

1¾
6
11-8
13/2
Held up, headway going well before 4 out, went 2nd next, produced to challenge when blundered and lost momentum last, unable to recover, rallied towards finish £10000-£1400 £20000-£2100 £2800-£400
3

rd

17
12
11-12
16/1
Held up, headway 9th, tracking leaders when mistake 16th, soon lost place, stayed on from 2 out, went 3rd flat, no chance with front pair £8000-£500
4

th

2¾
7
11-4
9/1
Tracked leaders, mistake 12th, challenged after 15th, every chance before 2 out, disputing 3rd and beaten last, weakened flat
~~~~~~~~~~~~~~~~~~~
Another tough day but a day filled with great potential, great racing and hopefully some big cheers...have fun, see you all tmrw ..good evening.