Morning folks ,
And yes indeed it is almost that special time , the week where dreams are made or broken , where a years worth of planning comes to fruition or fails yes its
CHELTENHAM FESTIVAL
time a week that most NH fans , owners and trainers all look upon as the pinnacle of the sport , this however is not my view entirely as i also think the Aintrree GN meeting is packed with quality and holds races that are the equal of many of these and in some ways the big Ayr meeting is a quality turn out but it is true that most look at this as the be all and end all of racing.....(
Obviously not a patch on Royal Ascot or Glorious Goodwood
) .
Many Horses are being touted as " Bankers " , " Certs " and " Good Things " but the reality is that there is no such thing as these meetings bring the best of the best together and the hcaps always have one or two " thrown in "...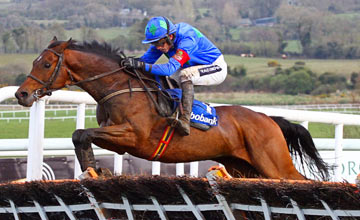 Well lets look at a few of the principal races and runners involved ( i will be doing full race cards for each day on the day ).
DAY 1 >
The SUPREME ...
Race Facts
1. The Stan James Supreme Novices' Hurdle was known as the Gloucestershire Hurdle until 1974. Capel Cure Sharp backed the contest in 2000 and the company, which became Gerrard Wealth Management, supported the race until 2003. Racecourse caterers Letheby & Christopher became the sixth sponsor since the initial backer Lloyds Bank in 1974 when supporting the event in 2004 and 2005, while Anglo Irish Bank was the sponsor from 2006 to 2008. Bookmaker William Hill sponsored the race in 2009 and in 2010 the backers were the Stewart Family, on behalf of the charity Spinal Research. Stan James took over the sponsorship in 2011.
2. The Supreme Novices' Hurdle is the only race at The Festival to have been divided. From 1946-1971 when known as the Gloucestershire Novices' Hurdle, it divided on no less than 25 occasions. In 1963 and 1946 there were even three divisions.
3. The oldest horse to have won was 12-year-old Beau Caprice in 1966 (Div One). Three eight-year-olds have also been successful - Like-A-Butterfly in 2002, Sondrio in 1989 and Boys Hurrah in 1956 (Div One).
4. The 1993 winner, Montelado, holds a unique position in the history of The Festival at Cheltenham. He is the only horse to have won consecutive Festival races, landing the Weatherbys Champion Bumper in 1992, the last race of that year's meeting, and returning to win the Supreme Novices' Hurdle in 1993, the first race 12 months later.
5. The Supreme Novices' Hurdle has thrown up one winner of the totesport Cheltenham Gold Cup and three Champion Hurdle heroes. L'Escargot won in 1968, before consecutive Gold Cup triumphs in 1970 and 1971. Bula scored in 1970, before Champion Hurdle victories in 1971 and 1972, the 2002 Champion Hurdle winner Hors La Loi III took the race in 1999, and Brave Inca took the Champion Hurdle in 2006 having landed the novice event two years earlier.
6. The race has been won by Irish-trained raiders on no less than 38 occasions, and by the French once. Of the 16 divisions from 1952-59, Vincent O'Brien won an amazing 10. Ireland also kept a stranglehold on the race for seven years from 1977-83 and has won seven of the last 10 runnings, most recently with Go Native in 2009.
7. The smallest field was in 1950, with nine runners in Division 1, and the largest, 30 runners, for both Harry Hastings' win in 1985 and French Ballerina's success in 1998. The maximum field allowed is now 24.
8. Since the race ceased to be divided, big-name jockeys have found the Supreme Novices' Hurdle difficult to win. Tony McCoy, successful on Hors La Loi III in 1999, is the only one of the last four champion jockeys to have scored in this particular contest, and only Charlie Swan (1993 and 2002), Tommy Carmody (1980 and 1983) and Niall (Boots) Madden (1978 and 1981) have been successful twice.
9. The longest-priced winner was Arctic Kinsman at 50/1 in 1994, while the 2007 victor Ebaziyan is one of only two 40/1 shots to have scored. The shortest-priced winners at 4/9 were Tsaoko in 1950 and Flyingbolt in 1964. Favourites have been successful eight times in the 39 runnings since 1972, with three of the last 10 winning.
10. The fastest time for the winning horse was achieved by Montelado in 1993 at 3m 50.6s. French Ballerina came close to that record in 1998 when her time was 3m 50.9s.
..
Horses of Note for this years renewal are >..
1. IRVING ( 5/2 ) -
&
2. VAUTOUR ( 3/1 ) -
Neither of these represent any real value in a race that is a grave yard for Favs but both look to be heading to the top and it would be no surprise to see either winning and at this stage i think Irving is the outstanding horse....however it has beaten little of note with a lot of its opposition under performing making some of its wins look better than they were.. and i do feel we can look elsewhere for a " Value " bet...
My idea of Value in this would be either
FAUGHEEN
(
as low as 7/1 with Boylesports , Paddy Power and Betfair Sportsbook > 47/1 on the Exchange < but INCREDIBLY as high as 33/1 with Unibet , Sporting bet and 888 and also 25/1 at Hills
' ) or
BROUGHTON
( 40/1 with Corals & SpreadX ) with summary's to be carried on the day.
~~~~~~~~~~~~~~~~~~~~~~~~>
The 2nd Main race on DAY 1 is the
CHAMPION HURDLE
(
one of the highlights for me
) ,
Champion Hurdle
The Champion Hurdle (3:20pm) is the highlight of day one of the Cheltenham Festival and the most prestigous hurdle race run all season.
It is open to horses aged four years old and upwards, and in 2014 will carry a total prize fund of £400,000.
Recent Winners
Some of the greatest names in the sport grace the race's role of honour including Persian War, Bula, Night Nurse, Monksfield, Sea Pigeon, See You Then and Istabraq.
Interestingly, despite it being the race all the best hurdlers are aimed at, multiple winners are not uncommon as Istabraq and Hardy Eustace have proved in recent years. This is probably partly due to the unique requirements of the race and horses with previous course form, especially previous Festival form, have fared particularly well in the event. In addition, you often need a horse that stays further than two miles, as the good record in the race of recent SunAlliance Novices Hurdle (now Neptune Novices' Hurdle) winners shows.
..
Course
The race is run over two miles and about half a furlong on the Old Course at Cheltenham. Invariably, a huge cheers rings out from the packed grandstands when the runners pass the enclosures for the first time. However, it is often the jumping out in the country that sorts the field out, and whilst the lucky few may still be cruising coming down the hill, the petrol tank can empty quickly once the contenders turn off the final bend and face the punishing climb to the finish.
Race Facts
1. The Champion Hurdle was inaugurated in 1927, with a value to the winner of £365. The race was abandoned in 1931 due to persistent frost, in 1943 and 1944 because of the Second World War, and in 2001 because of foot and mouth disease.
2. There have only been three sponsors of this great race since its inception. Waterford Crystal backed the contest from 1978 to 1990 while the Smurfit Group sponsored the race from 1991 to 2010. Stan James took over sponsorship in 2011 and this continues today.
3. The largest field has been 24 (1964 and 1991) and the smallest three (1932). The first five runnings of the race saw a total of only 24 runners between them. The current safety limit is 28.
4. The Stan James Champion Hurdle is a contest for multiple winners. Peter Easterby and Nicky Henderson are the race's most successful trainers, with five wins each. Easterby's victories came courtesy of Saucy Kit (1967), Night Nurse (1976 and 1977) and Sea Pigeon (1980 and 1981). Nicky Henderson's five victories so far have come with See You Then (1985, 1986 and 1987), Punjabi (2009) and Binocular (2010).
5. Among jockeys, Tim Molony won the race most often with four victories, on Hatton's Grace (1951) and Sir Ken (1952, 1953 & 1954). Tony ( A P) McCoy is the most successful current jockey with three wins aboard Make A Stand (1997), Brave Inca (2006) and Binocular (2010).
6. The most successful owners are Dorothy Paget, who won the race four times thanks to Insurance (1932, 1933), Solford (1940) and Distel (1946), and J P McManus, who owned triple winner Istabraq (1998, 1999 and 2000) and Binocular (2010).
7. Istabraq, successful in the three Champion Hurdles from 1998 to 2000, was retired after failing to become the first horse to win the race four times in 2002. The four other three-time winners are Hatton's Grace (1949-51), Sir Ken (1952-54), Persian War (1968-70) and See You Then (1985-87).
8. The race has been won seven times by entires, but only twice by mares - Dawn Run (1984) and Flakey Dove (1994).
9. Four greys have won, the most recent being Rooster Booster in 2003. The others were Kribensis in 1990, Our Hope in 1938 and Victor Norman in 1936. Only one roan horse has won the Champion Hurdle, Anzio in 1962.
10. Istabraq's success in 2000 in a time of 3 minutes 48.1 seconds beat the previous Champion Hurdle record time, set by Make A Stand in 1997, of 3 minutes 48.4 seconds.
11. Dessie Hughes, who trained Hardy Eustace to win in 2004 and 2005, is only the fourth person to have both ridden and trained a Stan James Champion Hurdle winner, having partnered Monksfield in 1979. The others to have achieved this double were Fred Winter, Fred Rimell and Gerry Wilson.
..
Horses to note for this years Renewal >>
1. HURRICANE FLY ( 3/1 )
2. THE NEW ONE ( 3/1 )
&
3. MY TENT OR YOURS ( 9/2 )
Now its my very firm belief that the winner will be one of these three and looking elsewhere is folly although i will try and highlight a couple of impossible scenarios in a short moment...
Back to this trio , firstly we have " THE FLY " a previous winner of this race in 2013 and 2011 and looks to be as good as ever this year although is very slightly ground dependent to be seen at his best but will be tanking thru like he usually does and could easily still be shown to be the best man but unlike the last couple of runnings this year he has two absolutely top class, top drawer future super stars to beat and the first one and my idea of the winner is THE NEW ONE ...i absolutely love this animal , a superb athlete in every sense , usually pops over the sticks like they are not there and without breaking stride, canters around like every day is a fun day out and can both quicken and battle and for me is going to rule the roost for many a year to come.....will he be good enough to beat the fly this year ??..i think so but at 3/1 each this has to be the Dutch Bet of the meeting..surely ?...
Finally we have the mischievous
MY TENT OR YOURS
a horse with undoubted ability and potential but does carry a quirk or two and in its early days did thriow its head around and its dummy out although ran well to win lto ( luck imo as TNO ran thru the last hurdle rather uncharacteristically ) and if either of the front two throw a shocker in then this will take advantage.
Longshots....well in all honesty i think it will take an act of god for anything else to win but if i had to pick then i would probably look at Melodic Rendezvous @ 20/1 who with ground in its favour could run a big race and it wouldnt be a complete shock....
So thats it for DAY 1...if you want further reviews for more days or different races then post a request as a comment otherwise i will see you next week...be lucky , ttfn x