Well the pundits , TFR and anyone else involved have all done more or less nothing but talk about the Cheltenham Festival since last November and finally tmrw see its start , yes it is Day 1 og the Glorious Festival that so many people think is the be all and end all of racing...it is without doubt a special spectacle but only if your really into the NH game and i feel its a little disrespectful to some other grand meetings we have ( Aintree , Ayr etc ) ..but this week is its time to shine and i will be trying my best to land a few touches but in truth Cheltenham for me is all about placepots, Fun bets on big priced EW longshots and the occasional bank buster...this is a time to enjoy racing , a time to unwind from the daily grind of trading, hedging, arbing etc , kick back and relax and if your lucky and things drop right you can scoop big...but its not expected..so its gonna be multilicious funtime...and if any of you followed the golf bets i hope you did well on Tiger Woods , tipped at 15.2 , hit a huge 490/1 after day 1 before crashing into 5.2 on day 3 before throwing another poor round in on day 4.....some very good trades to be done there.
So without further ado lets crack on with DAY 1 of the Festival.
~~~~~~~~~~~~~~~~~~~~~~~~~~~~~~~~~~~~~~~~~~~~~~~~~~~~~~~~
~~~~~~~~~~~~~~~~~~~~~~~~~~~~~~~~~~~~~~~~~~~~~~~~~~~~~~~~~
DAY 1 ......BRING IT ON !!!!!!!!!!!!!
!
Sky Bet Supreme Novices' Hurdle (Grade 1)
.This promises to be a very fast run race on ground that is drying out so much that incredibly they are talking about having to water..astonishing given the amount of rain we had over the last few months , several very classy sorts here but most if not all are still on the cusp of greatness with most having to step up and all will be using this as a stepping stone for their futures.

The obvious place to start here is with

IRVING

a terrific sort both in looks and ability and is currently unbeaten after dispatching most of his fields with ease although its under dispute as to what he has actually beaten to date.

If im truly honest then the current 4.3 doesnt interest me at all and come tmrw if i can get a

LAY

on at anything under 4.1 then i will pile in...why?..well its not because i dont think it cant win because on the evidence it has shown thus far it has the ability to go to the very top but its core form is very middle park and others come here having run better races and at 3/1 ( 4.0 ) it is screaming to be taken on.

i would love to see

Splash of Ginge

win for me mate " Alo " but i think its an order of the tallest calling and maybe just a bit too much for this battle hardened Handicapper ..although it must be said i will be having a fun EW " just in case ".....

BG ( Barry Geraghty ) who is Nicky Henderson's retained jockey has opted not to ride Josses Hill and rightly so as this looks a nice sort but not classy enough for something like this and will find it hard to even place here plus its handicapped by having the tactically inept Andrew Tinkler doing the steering.

So BG has opted to ride Vaniteux a strapping great French bred sort by Voix Du Nord who won well lto in a tin pot race but was stuffed in a Class 2 event previously and is another that doesnt look or race like its good enough to challenge.

VAUTOUR

comes here with a huge reputation after dismantling three fields of opposable ability this season and his last run was easily the best yet and this son of the brilliant sire Robin Des Champs promises to be a world beater but Irish Graded races are rarely worth the paper they are written on and are good for under writing to a large extent , nonetheless he has won very well and is one i like and 5.1 + looks a fair price for a horse with above average claims and is worth looking at twice.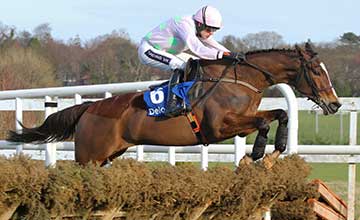 At a price i feel WILD BLUE YONDER ( 30/1 ) is well worth some EW interest for the longshot backers but you have to take on trust he wont make many mistakes or fall as he has fallen last twice but arguable he would have won both of those without mistakes which would make him unbeaten in 4 runs coming intom this and then what price??...a horse with a great deal of ability if he can stand up..yes its a risk but at 30/1 or bigger im prepared to pay to find out.
and finally we have SGT RECKLESS who at 40/1 is another worthy of EW support as i feel we are yet to get to the bottom of this Imperial Dancer Gelding.
There are obviously countless others that can be expected to run big races and certainly from the huge army Willie Mullins has sent over ( has three in this alone ) and the high quality flat recruits from Bloomfields ( Ferguson ) plus a raft of horses coming here with some very strong looking form but i have to draw a line at what i want to do and where i see the value punts coming from, ......IMO the bets here are LAYS on either Vautour and/or Irving.....although i would only lay Vautour in running at around 3.8.., tough opening for punters but a great race for viewers.
BET REC : LAY on IRVING -
RACE CARD SELECTIONS :
WIN - VAUTOUR - 1st @ 5.01
EW - WILD BLUE YONDER -
5th @ 39.41
LONGSHOT - SGT RECKLESS -
4th @ 38.0
_______________________________________________________
RESULT -
Full Result
1

st

5
11-7
7/2j
With leader, led 2nd, made rest, not fluent 3 out, ridden clear after last, stayed on well opened 4/1 £8000-£2000 £2000-£500 £1500-£400 £1200-£300
2

nd

6
6
11-7
14/1
In touch, headway 2 out, chased winner between last 2 until approaching last, ridden and stayed on to regain 2nd flat, no impression with winner opened 16/1
3

rd

½
5
11-7
11/1
In touch, effort after 2 out, ridden and stayed on to dispute 2nd flat, no impression with winner opened 12/1
4

th

1
7
11-7
33/1
Behind, struggling 3rd, headway under pressure after 2 out, ridden and stayed on well flat, never reached leaders
5

th

1
5
11-7
25/1
Mid-division, headway before 3 out, chased leaders next, ridden before last, kept on under pressure flat, no impression
_______________________________________________________
Racing Post Arkle Challenge Trophy Chase (Grade 1)
..The second race on Day 1 is usually a tough race as there is usually little between the protagonists and this has been won by some very specials sorts in previous years , last year it was Simonsig , before that it was Sprinter Sacre and prior to them it was won b y the likes of Captain Chris , Sizing Europe and Tidal Bay so the winner will have a lot to live upto.
This years renewal is not much different as we have some super looking , quality types and none more so than Irish Challenger and top rated
TRIFOLIUM
who looks to have a cracking chance here of pushing onwards and upwards although this will be by some way its toughest race to date.
The top quality opposition Trifolium will have to beat includes the enigmatic ROCK ON RUBY who himself has done little over fences but has done all that is required and like Trifolium will also be put to the sword here but certainly has the ability but in all honesty i just dont know " the Jury is out "..i think my heart wants RoR to win more than it realistically can..but who knows?...5.80 is only a fair price at best and not quite enough to tempt me in...i wud be happier at around 7.6....but it should run well and will be ( imo ) involved in the finish.
The last of the " Big Three " is
CHAMPAGNE FEVER
and this classy CD winner will give them all a race to remember but he has shown a soft underbelly before and is very beatable and is another that at 3.95 is worth taking on.
So its my opinion that as all the front three have a variety of questions to answer i think the value and the bets to make will come from elsewhere in the field ,
GRANDOUET
and
DODGING BULLETS
both fall into this category and are a fair bet against the field and likely favs , both are CD winners , both are in form and both will have to improve but its likely that they will be cherry ripe for this and will def give you a top run for your money and approaching the last both should still be heavily involved and with some luck could sneak a place or better.
BET REC : PROBET - Dutch on Trifolium , RoR and Champagne Fever for a fixed Return.
RACE CARD SELECTIONS :
WIN - CHAMPAGNE FEVER - 2nd @ 3.90
EW - DODGING BULLETS -
4th @ 7.80
LONGSHOT - GRANDOUET -
_______________________________________________________
RESULT -
Full Result
1

st

6
11-4

h

33/1
Led to 2nd remained in touch, outpaced in 5th before 3 out, rallied after next, ridden and stayed on to challenge flat, led post
2

nd

hd
7
11-4
11/4j
With leader, led 2nd, driven before 2 out, ridden and hard pressed after last, kept on under pressure flat, headed post £6600-£2400 £5500-£2000 £825-£300(x2) £6000-£2000(x4)
3

rd

4
7
11-4
11/4j
In touch, tracked leader from 3rd, challenged and every chance 2 out, ridden and one pace after last, no impression with front pair flat opened 7/2 £10000-£3000 £3500-£1000 £1500-£500
4

th

¾
6
11-4
6/1
Tracked leaders, headway on inside 3 out, driven before next, ridden last, kept on same pace, no impression in 4th flat £2400-£400
_______________________________________________________
Race 3 >..
.
Baylis & Harding Affordable Luxury Handicap Chase (Grade 3)
.This is an impossible Cavalry charge , a 3m Chase packed full of ifs , buts and maybe's.....and this is a race for the needy and greedy only....any and all selections in this will be of a speculative nature only as you need more luck than judgement in order to prevail.
David Pipe has half-a-dozen entered in this at the four-day stage but relies on only The Package and Standing Ovation. The former was pulled up in the race last year behind surprise winner Golden Chieftain, who looks to have been aimed at a repeat but is 14lb higher. Fruity O'Rooney was fifth 12 months ago and second to Alfie Sherrin in 2012 when The Package finished fourth but neither of that trio make much appeal this year as they are all in the veteran stage now. You could probably place
TIME FOR RUPERT
in that category as well but he's lightly-raced for his age and usually runs well here. Paul Webber's charge won the National Hunt Chase at The Festival in 2010 and was fifth in the Gold Cup two years ago. He's improved with every run this season and could give connections another big victory to celebrate and he's undoubtedly well treated at present. Cantlow looks to have his fair share of weight, by comparison,
while Holywell made hard work of winning a novice chase at Doncaster last time and needs to brush up his jumping though he is a recent Festival winner and stays well.
He makes more appeal than Restless Harry and Newbury scorer Hadrian's Approach but Tour Des Champs was well backed when third in the Betbright Chase at Kempton last month and could have place claims again. Wrong Turn is on an upward curve but climbing the weights as a consequence and Renard has a poor record at Cheltenham.
BET REC : NONE -
RACE CARD SELECTIONS :
WIN - TIME FOR RUPERT -
EW - RESTLESS HARRY -
LONGSHOT - WRONG TURN -
_______________________________________________________
RESULT -
Full Result
1

st

7
11-6

b

10/1
£3300-£300 £10000-£1000
2

nd

1¾
6
11-4

(5)

33/1
3

rd

7
11
11-2

t

16/1
opened 20/1
4

th

2¾
7
11-4
16/1
opened 20/1 £8000-£400 £6000-£300
_______________________________________________________
RACE 4 >
Stan James Champion Hurdle Challenge Trophy (Grade 1)
..Now we have arguably the best race of the day , the Triumph Hurdle and this race in all honesty will be all about the mighty
HURRICANE FLY
and can he win this again? having won this in 2011 and 2013 he looks as good as ever this year and in some ways looks a lot better than last year even, Unbeaten in his last 9 with his last loss being in this race by Rock on Ruby in 2012 and it will take a stellar performance to overhaul this true champion of champions.
However this year is arguably one of the toughest in recent history and we have at least 2 potential superstars on show ably backed up by some that are on the cusp of greatness but will have to show a significant level of improvement to actually win.
The first of the New Generation is
THE NEW ONE
from the very capable and in form yard of " Twister " Davies and i have to say..i actually love this horse , it looks great , it travels supremely well, quickens when asked, battles and usually jumps for fun , a multiple Course winner and a multiple distance winner this will race on just about any ground and ticks every box plus a few more that you have to add on...its a beast , a beauty and i really want this to win.
Next up is the enigmatic and mercurial
MY TENT OR YOURS
a horse that was lucky imo to win lto as TNO made a horlicks of the final fence but is certainly an improving sort that has the ability to get involved and has all the tools to be a champion....its just i have this nagging doubt its just a smidge below the level to beat a few of these.
Of the remainder i feel you could throw a blanket over them as they are so closely matched...pick one at Random and hold your breath.
BET REC : PROBET - Dutch on My Tent or Yours , The New One and Hurricane Fly.
RACE CARD SELECTIONS :
WIN - HURRICANE FLY -
EW - THE NEW ONE - 3rd @ 5.0
LONGSHOT - MELODIC RENDEZVOUS -
_______________________________________________________
RESULT -
Full Result
1

st

6
11-10

h

9/1
2

nd

nk
7
11-10
3/1
3

rd

2½
6
11-10
10/3
4

th

10
11-10
11/4f
_______________________________________________________
RACE 5 >
OLBG Mares' Hurdle (Registered As The David Nicholson Mares' Hurdle) (Grade 2)
..Take one horse out and this is a wide open Handicap with almost half the field in with a shout..but that one you take out is
QUEVEGA
a horse that has won this same race for the last 5 years and i just see no way this loses this year either, comes into this on the back of a long break but thats not a problem as it has raced 6 times after a 60 day or more break and won every single time and looking thru this field it looks no better than a decent work a day Hcap and it would be quite a shock if any of these exposed sorts were to prove good enough to take the honors.
BET REC : Win on Quevega.
RACE CARD SELECTIONS :
WIN - QUEVEGA ( NAP ) - 1st @ 1.83
EW - N/A
LONGSHOT - CAILLIN ANAMAH -
_______________________________________________________
RESULT -
Full Result
1

st

10
11-5
8/11f
Held up mid-division, headway 2 out, soon driven to chase leading pair, went 2nd and ridden before last, challenged flat, stayed on well to lead towards finish £2909-£4000 £2000-£2750 £1090-£1500 £800-£1100(x4) £640-£880 £400-£550(x2) £364-£500(x3) £320-£440 £290-£400(x4) £255-£350 £240-£330(x2) £218-£300 £200-£300
2

nd

¾
6
11-5
14/1
Held up towards rear, headway on outside after 4 out, in touch when mistake next, left 2nd 2 out, led before last, ridden and hard pressed flat, kept on, headed and no extra towards finish opened 16/1
_______________________________________________________
Race 6 >
Terry Biddlecombe National Hunt Chase (Listed Amateur Riders' Novices' Chase)
..
NINA CARBERRY , KATIE WALSH AND PADDY MULLINS
....thats all you need to know here...these three friends but old enemies will be battling this out between them..a quality 3 way dutch.
Plenty of these have already demonstrated their staying ability. Shotgun Paddy's victory in a Grade 3 handicap over 3m5f at Warwick in January is probably the best form but the runner-up disappointed next time and whether Emma Lavelle's charge will reproduce that effort on quicker ground is a concern, though Derek O'Connor is a good jockey booking having ridden Chicago Grey to victory in 2011. Last year's successful trainer/jockey partnership team up with Suntiep but his comparative lack of experience over fences may be a problem and Foxrock could prove the best of the Irish. Ted Walsh's gelding was second in a Grade 1 at Leopardstown in December and has done little wrong since. He has the beating of Rogue Angel on Naas running in January. Jonjo O'Neill has trained the winner of this four times in the last 12 years so knows what it takes and
SHUTTHEFRONTDOOR
is a lot better than he showed when sent off favourite over 3m2f here in December. Placed over hurdles at last year's Festival, he's one of the few guaranteed to relish the drying ground and Nina Carberry can afford to take her time over this marathon trip. Midnight Prayer comfortably beat Adrenalin Flight in the autumn and won by a distance at Warwick last time so may prove the pick of the remainder.
BET REC : PROBET - 3 Way Dutch on Suntiep , Shutthefrontdoor and Foxrock -
RACE CARD SELECTIONS :
WIN - SHUTTHEFRONTDOOR -
EW - SUNTIEP - 3rd @ 11.50
LONGSHOT - MERLINS WISH -
_______________________________________________________
RESULT -
Full Result
1

st

9
11-6
8/1
Held up in touch, mistake 14th, challenged after 18th, led before 2 out, driven and stayed on flat, held on £8000-£1000
2

nd

nk
7
11-6
7/2
Held up towards rear, not fluent and plenty of mistakes, headway 20th, challenged from 3 out, every chance when another mistake and lost momentum last, stayed on well towards finish, just held opened 4/1 £1600-£400
3

rd

1¼
8
11-6
9/1
Held up in last and behind, headway when hit 2 out, still only 8th last, soon switched left, ran on strongly, went 3rd towards finish, too much to do opened 11/1
_______________________________________________________
FINALE >>>>>>>
Rewards4Racing Novices' Handicap Chase (Listed)
..This is normally won by a relatively unexposed type but we are going against the trends this year.
OHIO GOLD
is having his 10th start over fences but was third in this last year off a 2lb higher mark and he again ran well at the track in January when fourth to the promising Indian Castle and RSA Chase entry Annacotty. Just beaten at Kempton earlier, he looks fairly treated and could go close at big odds. Pendra has yet to prove he stays this far but there are possibilities about easy Kempton scorer Present View and Musselburgh winner Ericht will enjoy the drying ground, though was well behind the selection at Kempton and is 7lb worse off. Buywise will need to improve again to compete a four-timer but Buthelezi has plenty of natural speed and could figure if handling these stiff fences. Art Of Logistics tackles this rather than the Arkle but doesn't look particularly well treated. Dursey Sound and Close House are better handicapped but have been a tad disappointing so far over the larger obstacles. Manyriverstocross was third in last year's County Hurdle and Attaglance is a former Festival winner so they could be the pick of the remainder, though Baby Mix is also interesting.
BET REC :
RACE CARD SELECTIONS :
WIN - PENDRA - ( Longsdon's NAP for the week ) - 3rd @ 12.82
EW - OHIO GOLD -
LONGSHOT - PERSIAN SNOW -
_______________________________________________________
RESULT -
_______________________________________________________
There ya go .....im out playing Golf in the Morning with the " H " Bomb so may well be back later than expected, but bets are on.....let the fun begin...good luck , bet safe , bet what you can afford...enjoy the week...cya later n back for more for Tuesday ;-))..ttfn x.