Yes as you can see the big race is full of carnage ( fingers crossed no fatalities ) as these superb beasts take to these terrifying Fences but it is and still remains one of the most fascinating races of the season and not one for the fainthearted nor the lump jobs , pick 4 , cross your fingers and hope for the best......
Yesterday was another stunning day as my big 4 all won to ching ching me some massive coin as i had them in big trebles and an Acca ( which paid more than i expected ) as we was treated to some delicious performances from Dynaste & At Fishers Cross and two Amazing runs ( never stretched , never off the bridle ) from the brilliant My Tent or Yours and the freak of nature and mesmerisingly fantastic SPRINTER SACRE , in all my years ( 28+ ) of watching and following racing i have never seen a NH horse that is so utterly dominant and readily destroys anything put in front of him.....just fantastic.
Now we move into the third and final day of what has been a jam packed, action packed , thrill a minute meeting which has excelled in every area ( take a bow Aintree )....can we keep up the good form and make this a weekend to remember?...well i can only try...
AINTREE
RACE 1
WIN - UP AND GO -
EW -
UTOPIE DES BORDES
-
2nd @ 6.40
LONG - UBAK -
1st @ 38.0
LAY - DODGING BULLETS @ 3.85
-
Unplaced
*I write this , then check the price ( thinking that as i dont fancy either Dodging Bullets or Eduard that im gonna nail something pricey in this ) and UP AND GO is the fecking 2.9 Fav...Grrr,...i had it down at around 3.8 - 4.6 so this is far too short imo but i wont be laying it , cant back either the two i mentioned im not keen on and Ubak is 55.0 (
worth a few EW sheckles of anyones money
) so i think i will just have a big place only punt on
Utopie Des Bordes
.
_____________________________________________________
RACE 2
WIN -
BAILEY GREEN
-
EW - OVERTURN -
2nd @ 3.90
LONG - ALDERWOOD -
*A very interesting race with one huge " if " and that concerns OVERTURN " if " after being demolished by Simonsig lto hasnt had a big negative effect on his own character and confidence then it has the ability to easily bounce back and destroy these as it had looked very impressive prior to that and lets be honest Simonsig has made quite a few decent horses look like plums before so you cant read to much into it.
Alderwood is a very smart Handicapper but that is what he is a Handicapper and will not be upto getting near to a couple of these firstly Bailey Green who has beaten ( not by much ) in his last three races ( all placed ) by Twinlight , Avrika Ligeonniere and Simonsig ( ahead of Overturn ) so is obviously a very decent animal in his own right and should not be under estimated.
The remainder will struggle to live with these three so are readily overlooked , i do think this will be between Bailey Green and OVERTURN and my heart is ruling my head and im siding with the latter.....No No wait , Stop!!!..ive changed my mind...im going with
BAILEY GREEN
to " out stay " Overturn..arghhh!!..im gonna regret this im sure..but thats it...my final say on the matter.....
_____________________________________________________
RACE 3
WIN -
AFRICAN GOLD
-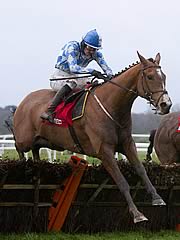 - 5th (
Won on match bet Versus Grands Crus , but disappointed ;( )
EW - SOLWHIT
- 1st @ 3.70
LONG - SMAD PLACE -
3rd @ 6.80
*This looks a hugely competitive affair but at 10.5 ( or higher if i can ) i simply cannot get away from AFRICAN GOLD this owes me nothing and gave todays hugely impressive winner ( At Fishers Cross ) an almighty fright lto and this wonderful and classy horse is not that far behind AFC either in terms of ability and i think this is way over priced and could tear this lot a new arsehole with imo the only real dangers being SOLWHIT & CELESTIAL HALO , but the latter has often flattered to deceive and Solwhit has sometimes downed tools when asked to really put it all in , Grands Crus could get involved if getting some old sparkle back and Oscar Dara is no back number but for me this is all about
AFRICAN GOLD
( heart bet ).
_____________________________________________________
RACE 4
WIN -
RUSSIAN WAR
-
EW - LOCH BA -
LONG - BATTLE GROUP -
1st @ 4.72
LAY - CANTLOW @ 7.4
-
Unplaced
*Now this Chase is every bit as hard to call as the National , ultra competitive with so many in with a solid chance , Opening Batsmen has to be in with a big chance and its improving at a rate of knots and clearly stays this trip and a bit more , Loch Ba is another solid Stayer but he cant afford any mistakes around here ,
Battle Group
is very interesting running here after scooting up over hurdles just two days ago and will make them all go a bit but for me and just marginally i feel this nice prize could be going back to Ireland with
RUSSIAN WAR
( G Elliot / Davy Condon ) a course winner, a stayer, sound jumper that will relish the quicker ground and looks to have been primed for this as its major all year target...im quite keen on this as a decent EW bet.
_____________________________________________________
RACE 5
John Smith's Grand National Chase (Grade 3 Handicap)
WIN -
IMPERIAL COMMANDER
-
EW - SEABASS -
LONG - RARE BOB -
5th @ 18.90
4th Choice - COLBERT STATION
-
*What can you sat about this great race , you need luck , class staying power and the ability to jump soundly and then some more luck...take your pick and Good Luck ;)....***
66/1 winner tells you all you need to know about the race lol...;P
_____________________________________________________
RACE 6
WIN -
JUMPS ROAD
-
EW - CRY OF FREEDOM -
LONG - ZARZAL -
3rd @ 59.1
*Now we have a race for the Conditionals and Amats and the problem here is there are some very good conditionals riding just now so the jockey factor will have little to do with selection so lets just focus on the runners themselves , Cry of Freedom will really appreciate any further drying out in the ground and should run a sound race but will probably find another couple too good , Zarzal is interesting for Evan Williams and this likable trainer deserves a decent win , Shotovodka is bound to run another solid race and will be there at the finish but the one i really like here is
JUMPS ROAD
with the very accomplished Brendan Powell doing the steering , this has won its last two races on very different ground types and won both times a wee bit more comfortably than it looked like , this can race on or off the pace and i think this has a cracking chance of placing or better.
_____________________________________________________
RACE 7
WIN -
PURPLE BAY
-
EW - MASTER MALT -
LONG - WILDE BLUE YONDER -
*And we round off with a tough looking NHF race and i will be sticking with the maiden
MASTER MALT
and Dutching it with the very highly regarded
PURPLE BAY
, Good Luck and have a brilliant day, ttfn x.
_____________________________________________________
Today will be all about small EW Doubles and Trebles , crossing yer fingers and dreaming ....Its National Day..go out , enjoy and hope for the best...keep it simple , keep it real...C'mon
African Gold
..get me dreaming ;))