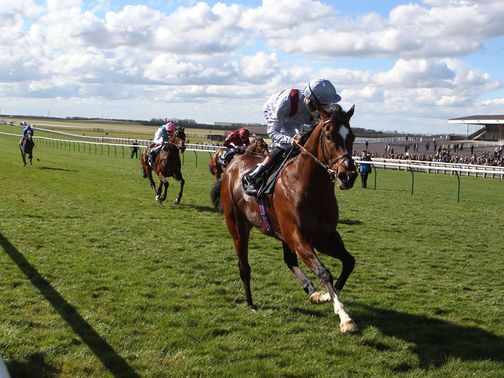 Well another good day yesterday and Newmarket as usual provides me with more profits and that is the name of the game although i have to say yesterdays stand out performance was from
TORONADO
( the car in the picture ) a huge strapping beast which devours the ground as it hurtles along without breaking sweat whilst all the others are hard at it ( very
Frankelesque
) and this will imo get 1m4 based on that run but lets not forget that although it beat some quality it did only beat 3 other runners so in a big field with more pressure it will have to improve again to show up like that.
So we leave Newmarket for now and move over to Newbury , a quirky track where a lot of form cannot be applied literally as it is quite unique and this is more so with Maidens, do not transfer Maiden form from here to anywhere else as it doesnt translate , however this is a good Grade 1 track which has some decent races on offer and more trials with the most interesting race of the day being the Dubai Duty Free H'cap over 7f.
Dont forget to keep checking the update of the all new web site and pro- program over at
http://premiumukracingtips.com/
Obviously this is still a week or two away from being the finished article but when it is up and running this blog will be embedded directly into so it will all be happening direct from there along with chat features, the Facebook page and Twitter updates as we look forward to a more professional set up and a seamless change over.
PTS after 27 continuous weeks of Profit is heading for its first ever weekly loss ( will post PnL at month end ) after a stella start to the month i was floating but have been brought crashing down to earth with a weeks worth of bad luck , falls and hard luck stories! , it does goes like that some times and on occasions you just feel you are not getting the breaks but i as i must just persevere and see this rough patch out and hope we can move back onto a purple patch in double quick time.....but its a shaky , nervous time ....
and as it is Fri I WANT YOU GUYS ( & Gals ) to VOTE for what card i am to post for Saturday ....NEWBURY or AYR ( Scottish GN Day ) ???...Add vote in the comment box and whichever course receives the most Votes shall be the card of choice ( in case of a tie, the first name posted will be the selection ) .
*************************************************************************
NEWBURY
RACE 1
WIN - ROCK CHOIR -
EW - RUFOOF
-
LONG - SPICY DAL -
2nd @ 16.50
*This is a tricky maiden to get the day under way as Jockey Bookings are confusing, Cheverley Park dont have a Stable or retained jockey yet they have got R Hughes to ride when his own gaffer has a very nice Teofilio Filly in the Race and Hanaghan ( who rode Dutch Courage for Cheverley Park and old gaffer Fahey on Thursday ) is riding for his new boss on Rufoof and Fallon gets the leg up on the potentially hot newcomer from Hughie Morrison Spicy Dal ( *sic ) .......so what do we make of this puzzle?..hmm..What further complicates matters is Abdullah has a Stoute trained horse Pavlosk out of Arch ( i have little Data for this ) with Ryan Moore steering and Mick Channon sends two out ...oh deary me....what a puzzler!!??!!...
Right i think , for me i am going to row in with
RUFOOF
as my first choice as C Hills is in decent form and i like Zamindar as a stallion with solid bloodlines and good progeny and its always a bonus having Hanaghan riding , i will also have Rock Choir from the Haggas yard with Hughes riding although its a Pivotal Filly and they are quite a mixed bag, speed, stamina , quirky characters and you never know quite what animal is turning up...and finally i think at a pinch we should have the Hughie morrison runner involved Spicy Dal as Fallon is good with the maidens ( just ask Sir Henry Cecil ;) )......Tough call.
SUMMARY ( BET ADVICE ) - an EW bet on RUFOOF is my bet selection here ( 40/60% ) as this is wide open and not one to go overboard on....NO LAYBET for this race.
__________________________
RESULT / ANALYSIS : RUFOOF is imo the best horse in this race, the winner did it well ( PAVLOSK ) however Rufoof totally blew the start and gave them a 6-8L headstart , stuck 2L off the pace out back it made striking headway at the 2 pole only to run into a wall of horses then switched then run on and then with about 50yards left it settled for 4th...Smash this next time out...i really liked this , Spicy Dal ran really well to grab 2nd at big odds , a loss on the race but we was v unlucky only to get 4th there...Compensation awaits.
__________________________________________________________________________
RACE 2
WIN - INCORPORATE
-
EW - MOCENIGO -
LONG - N/A -
LAYBET: CRUCK REALTA -
2ND
*Small field 5 runner Stakes race over 1m2f now and any one of the 5 can win....I feel however that the two to focus on are
INCORPORATE
and
MOCENIGO
with the former beating Space Ship lto looking quite good form now after than ran so well a couple of days ago only getting beat 2L by Improvisation ( Dolphin ) and as that was a win over todays distance you know he will stay and is the one they have to beat however Mocenigo has the best overall form on offer and a reproduction of the 4th in the Solario will have him knocking on the door for sure , good looking race with Cap O'Rushes making it a test.
SUMMARY ( BET ADVICE ) - A WIN DUTCH on the two selections is the bet with an in running lay at 8.2 on Cruck Realta for cover.
__________________________
RESULT / ANALYSIS :
A break even race as the lay was good but the Dutch was very poor and at one stage i thought 10.0 shot ( the LAY ) Cruck Realta was going to shock but the stout runner Contributer was too good , a very odd run race which turned into a sprint at the end.
__________________________________________________________________________
RACE 3
WIN - BALTIC KNIGHT -
1st @ 6.11
EW - HERE COMES WHEN -
2nd @ 8.96
LONG - SO BELOVED -
LAYBET: RIBAAT -
Unplaced
*Now we have the toughest race of the day and its time to summon some magic , Ribaat was entered into both the Greenham and the Guineas so coming here could leave you thinking he is not quite sparkling at home although Hanaghan is riding this in preference to Mutazamen so i will leave both of these alone.
I will have SO BELOVED however with a jockey i like very much in J Doyle this Dansili colt got hammered lto and will have to prove his maiden win was no fluke but these sorts can and invariably do come on heaps from ages 2 - 3 so can be expected to show a much improved performance.
We will also have HERE COMES WHEN from the Balding yard and although its 2 runs at 2 didnt leave you gasping there was enough shown to make you think this could be a nice 3 yr old and finally we will have my idea of the winner in
BALTIC KNIGHT
, Proven over trip , proven in grade and proven on the going and it has arguably the best form on offer when just going down a hd to the very high class Montridge..for me this is a quality bet.
SUMMARY ( BET ADVICE ) - BALTIC KNIGHT @ 7.0 or higher has to be a Max EW bet ( 30/70% ) as this ticks all the boxes and has pretty much everything in its favour and it has winning form just over a 1 second slower than both Garswood and Hot Snap so with some improvement expected ( strengthening over the winter ) it will take a good un to beat this today.
__________________________
RESULT / ANALYSIS :
This was a MAX Profits race as we smashed the winner , killed the Lay ( The Fav ) and even had the RFC ( i didnt do it )...Good race for us ( The Blog )
__________________________________________________________________________
RACE 4
WIN - MERITOCRACY -
3rd @ 4.30
EW - NEIGHBOTHER -
LONG - STEVENTON STAR -
2nd @ 7.2
LAYBET: JAZZ -
Unplaced
*Now its a tricky 5f Dash for 2yr olds and its a maiden...oh dear..carnage ensues...
MERITOCRACY
is one with experience and last time out ( lto ) finished ahead of Vodka Time ( Won two days ago - i laid it ) and Vodka Time is obviously a little better than i had given it credit for so that form looks solid and half decent form/experience can quite often prove decisive in maidens and i think on this occasion it should come out best.
Of the others i like STEVENTON STAR from the Hannon stable and NEIGHBOTHER from the Fahey with the latter better bred ( for this dash at least ) and looks to hold the better EW chance.
SUMMARY ( BET ADVICE ) - At the likely odds i would suggest MERITOCRACY is the bet EW ( 30/70% ) as it should put its experience to good use and make them all go a bit but as with all maidens nothing is certain and there may well be a few half decent sorts here but then again it is Newbury...
__________________________
RESULT / ANALYSIS :
Another Solid Profit race as we hit with 3rd and an easy win on the Laybet.
__________________________________________________________________________
RACE 5
WIN - KLEITOMACHOS -
EW - PATEESE -
3RD @ 8.2
LONG - SIGN MANUAL -
1ST @ 6.00
LAYBET: N/A -
*Now we have a run o the mill 2m Hcap where i quite fancy the current Jolly
KLEITOMACHOS
to run a big race with Hughes doing the steering , this previous CD winner is weighted to run well and there should be just enough juice in the ground for him to get a run.
I also think the Queens horse Sign Manual could improve for the step up in trip although it has been a tad disappointing thus far but cant be discounted and neither can PATEESE a useful sort over the sticks that has also shown a fair level of flat form and based on its last run when narrowly beaten over 2m at Bath this could easily get into the mix.
SUMMARY ( BET ADVICE ) - I think at the fairly decent odds on all three a level stake/return Dutch is the best bet but my figures ( data report ) has also advised a PLACE LAY on all three at 2.5 or less if available at the time of the off , so i will monitor the markets and if i can get on i will adjust my bets to show 3 level stakes win bets with same stake + 50% place lays....interesting....science over knowledge...
__________________________
RESULT / ANALYSIS :
Well thankfully i couldnt get my bfsp prices matched so i just stayed with the 3 way Dutch and was rewarded with the Winner ;) @ 6.0..so another good profit race ( PS: Knowledge beat Science )...
__________________________________________________________________________
RACE 6
WIN - MAGIC OF REALITY -
EW - NEAR TIME
-
NON RUNNER
-
LONG - TOAST OF THE TOWN -
LAYBET: JUST ONE KISS -
Unplaced
*Now we have another tasty looking 3 yr old Maiden and one in which i have a horse i have to follow as i do all the you and untried sorts out of New Approach and this one is
NEAR TIME
There is nothing magical or scientific behind this selection its just that i follow all New Approach progeny for first 3 three runs ( owes me nothing as i have had a hat full of winners last season and a 20/1 winner already this term ) .
Of the remainder it would appear to be the Cape Cross show as 3 of them are its progeny and they could all be decent but my second choice has to be the beautifully bred HRAC runner
MAGIC OF REALITY
, this wonderful daughter of Gallileo is entered in both the English and Irish Oaks is expected to go well and i am expecting a big run from this along with the £160,000 Gosden purchase
Toast of the Town
out of Duke of Marmalade ( had a good winner on Thursday ) .
SUMMARY ( BET ADVICE ) - Personally i will be having a wager on Near Time and a Saver with profit ( half dutch ) on Magic of Reality and laying Just one Kiss but for advice purposes ( i cant advise this as its a heart bet ) i would suggest a PLACE ONLY on MAGIC OF REALITY.
__________________________
RESULT / ANALYSIS :
Break even Race as the Lay is good but the Place Back is a fail as Magi of Reality took an age to get going after hitting two flat spots and doesnt look the easiest of rides, still high on my hit list and will be followed but today was disappointing ( both horse and ride ).
__________________________________________________________________________
RACE 7
WIN - HEERAAT
- (
NAP
) -
1st @ 3.75
EW - KINGSGATE CHOICE -
3rd @ 6.07
LONG - N/A -
LAYBET:
*The finale, the getting out stakes and i thankfully have my NAP in this so if the day has gone a bit Pete tong i will ( will be on regardless ) be smashing this as i just cannot see it losing , Heeraat is a group class sprinter racing in a nothing hcap with little to beat imo and i think this should take this in good fashion before moving onto bigger and better things , i napped it on the blog twice last year and it won both times so fingers crossed for the hat trick ;).
SUMMARY ( BET ADVICE ) - Im smashing into HEERAAT EW ( 30/70 % ) and i would advise the same to you , this looks an outstanding bet today , if your feeling cowardly smash the place only as i cannot envisage any scenario where this doesnt get placed , it could get stuck in the stalls lose 10L and still be hard on the steel at the 1f pole...yes i think its that good...this could easily be one of the seasons top sprinters.
__________________________
RESULT / ANALYSIS :
BoooooooooooooooM the Monster NAP WINS at a generous 3.75....To make another profit race and another profitable day ;)))
__________________________________________________________________________