Well its finally here , the Flat season proper starts with a weeks worth of great racing which i will be covering every day.
Day 1
sees us take in 4 quality races ( The Tatts , Nell Gwynn , European Free and the Fielden ) and all the big boys are out to play so lets smash this week and look forward to the Scottish National on Saturday ( as well as a cracking Newbury card ).
****************************************************************
NEWMARKET - DAY 1
RACE 1
WIN - BALAD -
EW - ASSEMBLY -
LONG - RED ROCKER -
2nd @ 33.50
LAYBET : MESSILA STAR -
UNPLACED
*A very tough Maiden to open the day up and one that is packed full of blue bloods and although is usually won by something rather useful is not a great race for favs.
None of those with experience look anything special and i will pass over all of these as the newcomers here will all be wound up and ready for action , Early on in the season its nigh on impossible to get an angle on most yards but more so the Dolphins so it is with a bit of trepidation i nominate
BALAD
as the winner here but this so wonderfully bred it would be a shame not to see this win at the first attempt.
Of the others Assembly is bred with both Speed and Stamina ( more Speed ) and could prove a very good early 2 yr old although wouldnt be expected to be the best long term & Red Rocker looks another precocious sort from the Meehan yard and with Fallon doing the steering is likely to get a full run out and should have a say in the final outcome.
SUMMARY ( BET ADVICE ) - You can make a good solid case for lumping EW on any of the selections although i cant solidly advise any as a " good bet " speculative only , at this early stage its hard to say which way to play as im thinking more about laying and Place Laying so i will wait until the market settles down before making my final decision but im Thinking Back BALAD with a for profit LAY on MESSILA STAR.
*****************************************************************
RACE 2
WIN - ORTON PARK -
EW - M'SELLE -
2nd @ 7.70
LONG - N/A -
LAYBET : VODKA TIME -
1st @ 3.18
*Now we have a small field , tricky conditions race where all 5 have a chance of sorts and all bar one come into this holding some ok or better form.
Looking at my speed ratings i would say Vodka Time has the least chance being easily the slowest on all fractions and i dont see it being the currently available to back 6.0 come 9am more like 12+ , the newcomer Bahamian Heights would not have to be a world beater to take this down as those that have run have returned quite uninspiring ratings so backing this is by no means a poor idea.
Of those that have run
ORTON PARK
has returned the best overall speed rating but did hit a flat spot mid race which pushed his fractions down but that can go down as greenness as he responded very well ( winning and placed runners behind giving the form a solid look ) and this is imo the one they will have to beat.
SUMMARY ( BET ADVICE ) - Straight WIN on ORTON PARK with a saver on M'selle as Split Rock doesnt look quick enough ( but its an MJ runner so who really knows? ), Vodka Time has no fucking chance what so ever and can be happily laid for every penny one can muster ( oh Deary me , this was expensive ) and Bahamian Heights being a dark horse ( dont be surprised if it wins tho ).
*****************************************************************
RACE 3
100,000 Tattersalls Millions 3-Y-O Sprint
WIN - VICTRIX LUDORUM -
EW - AMBERLEIGH HEIGHTS -
LONG - TAMAYUZ STAR -
LAYBET : BUNGLEINTHEJUNGLE -
Unplaced
*The first of the days big 4 races and this will be a tough race to call with so many arriving on the back of great last season runs or having already sharpened up this term by running well and with over 30lb separating them on TFR ( no allowances here ) this will be very interesting.
If this were over 5f i would probs be all over Bungleinthejungle as this holds easily the best form of these and could be a very smart sort this term but its only run over 6f was disappointing ( shit ) and i cant get involved with it until i have seen it run however if it has grown up and strengthened then this could be a monster...but that is " if "...and at 3.7 i will gladly lay this and pay the penalty to find out.
Another runner i really like here is
VICTRIX LUDORUM
a CD winner from the strong Hannon yard this has won over both 6f & 7f and has won on both Soft and Gd/Firm so ground is not a worry as it obviously acts on any , this can race alone or grouped and can be on or off the pace making this an almost ideal race horse and Richard Hughes rides this course as well as any , this horse excites me and i feel the main dangers could well its stable mates as these three ( Tamayuz Star & Amberleigh Heights ) look very useful indeed , he must love his job having the wealth of riches at his disposal.
SUMMARY ( BET ADVICE ) - Straight WIN on VICTRIX LUDORUM with for profit savers on the other two Hannon runners and a LAY on BUNGLEINTHEJUNGLE.
*****************************************************************
RACE 4
CSP European Free Handicap (Listed)
WIN - ANNAS PEARL -
EW - AYAAR -
LONG - WELL AQUAINTED -
LAYBET : GARSWOOD -
1st @ 3.86
*Now we have the Free Hcap a race that a few years ago used to be a real marker for whats what but it has lost some sheen over the last few years but yet again Hannon comes in heavy with two runners that will both be in the shake up and either could win although i feel Emell is the stronger of the two and probably the fittest after its recent very good 2nd behind the decent Teophilip but we will take on the might Richard Hannon here with three less obvious sorts.
Firstly i think we should have
ANNAS PEARL
in our corner ( a good run from Tamayuz Star and /or Clancy Avenue would improve confidence ) as this has shown he stays with a good run over CD in the 500k Tatts race last season only being beat 6L by Havana Gold and Ghurair both of whom are very useful indeed.
Garswood is interesting but will it stay 7f at pace ( and there is plenty ) ??...im not so sure and at 4.2 this is another im happy to lay all day.
WELL AQUAINTED has form that keeps it closely matched with Annas Pearl and has shown it stays this 7f very well ( has winning form over this trip ) and finally we will have AYAAR fighting for us as this is another tha has proven form over the trip and some very useful maiden form with a very good looking 3rd to the very good Toronado and has speed figures that put it right in the mix and i fancy one of these to ruin the Hannon roadshow.
**
Dont be shocked tho if Hannons wins again...;P
SUMMARY ( BET ADVICE ) - LAY on GARSWOOD has to be the strongest bet of the day and should be the main bet here , for Backing i would say a Dutch ( backing one or more runners in the same race to win ) on the three selections either win or place should provide a return.
**GARSWOOD won very tidily and won quite easily, i was impressed, its grown , its strong and is a v nice horse for this season.
*****************************************************************
RACE 5
Lanwades Stud Nell Gwyn Stakes (Fillies' Group 3)
WIN - SKY LANTERN -
2nd @ 4.30
EW - NARGYS -
LONG - WATERWAY RUN -
LAYBET : BAILEYS JUBILEE -
Unplaced
*Arguably the race of the day but what isnt in question is todays most striking and beautiful looking horse and that award goes to
SKY LANTERN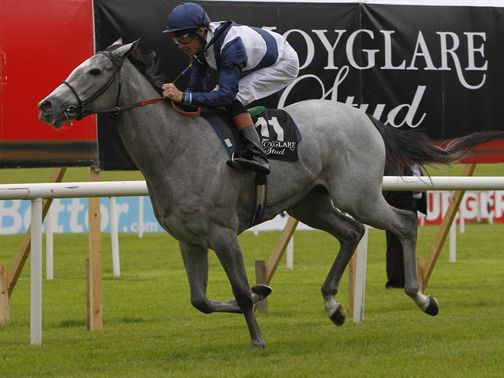 A stunning looking animal and not without a major chance in this as this holds some excellent form over this 7f trip and simply has to be a major player but will the penalty ( 3lb ) be a burden too much?...personally i think a place at best but i wouldnt be shocked if it won.
Baileys Jubilee was a favourite of mine last year but looked all speed and i simply cant see this lasting out but is not really an option for a lay at 12.0 ( but is worth a lay in running at 5.6 ).
Hot Snap (
1st @ 17.0
) from the powerful Cecil/Abdullah partnership could be anything as it ran as a relatively unfancied 7/1 shot in a weak AW maiden fto which it won comfortably but what did it beat?...not a lot and the form is currently a mile wide of what should be required to win here but it must have been showing up well at home for it to be entered, interesting but not for me.
The we have the highly regarded LADY NOUF from Haggas a distance maiden winner and is another with any amount of improvement but i feel it will need around 36lb of improvement to get involved in the finish which wont be happening today, too tall an ask for this today.
NARGYS i really quite like and i am expecting a big run from this , has good form on different ground types , stays the trip and looks likely to be involved in the finish.
Finally we have CD winner WATERWAY RUN and this will make them all go as this generally likes to race up with the pace and could take their legs off if thee others are not careful.
SUMMARY ( BET ADVICE ) - A very tough , competitive race where so many hold a competitive chance and there is not a lot between the top 6 or 7 , SKY LANTERN for me is the winner but is plenty short enough here at 4.1 as i really want around 5.2...but with so many others having questions to answer over stamina i cant really go against it so for me the bet here is a MAX PLACE ONLY bet @ bfsp with a small win dutch.
*****************************************************************
RACE 6
ebm-papst Feilden Stakes (Listed)
WIN - INTELLO
- 1st @ 2.60
EW - RACE AND STATUS -
LONG - N/A -
LAYBET : KING GEORGE RIVER -
2nd
*The final of the big 4 and a lot easier to work through not least because their is only 2 that really interest me from this 7 runner field but because i feel that Both RACE AND STATUS &
INTELLO
could be different class with the 1m winning form of
INTELLO
probably the strongest on offer but only just and Fabre hasnt sent this over to answer questions, this has come over to win.
SUMMARY ( BET ADVICE ) - INTELLO looks the most likeliest winner coming into this with marginally the best form and is another that wont lack for fitness , my bet here is a WIN bet and a saver on Race and Status And LAY the arse out of KING GEORGE RIVER because if this wins we may as well all pack up and go home as we are fucked.
*****************************************************************
RACE 7
WIN - IMPROVISATION -
1st @ 2.83
EW - ESHTIAAL -
LONG - BATTALION -non runner -
LAYBET :
SPACE SHIP -
3rd
*A tough looking Maiden for 3yr olds but one that is fascinating as we get to see ( Morpheus ) the Mighty Frankel's Half Brother ( Same Dam ) again after a low key fto run and with it being in double figures it doesnt carry much market confidence but..another year, more strength and hopefully this can come out and carry those famous silks to victory??...
SUMMARY ( BET ADVICE ) - In a stupendously tough maiden i will row in with IMPROVISATION this strapping son of Teofilio ran in 2 very hot maidens last year and will have come on a ton over the winter and i have this on a prov rating of 86~ so with improvement should be able to run to around 95+ and for any maiden to win at that level is nigh on impossible , it will take something a bit special to lower his colours and a confident bet is advised An d LAY SPACE SHIP as this will need the assistance of the Millennium Falcon to win here today and probably any day.
*****************************************************************
RACE 8
WIN - THE TAJ -
EW - DUTCH MASTERPIECE -
LONG - TARTARY -
*And we round the day off with a tremendously tough 17 runner sprint handicap and this one will require the use of my magic pin......
SUMMARY ( BET ADVICE ) - Take your Winnings and hit the pub ;-)....
*****************************************************************