Afternoon All
,
Well its almost the start of my local tracks big week , its York and the Ebor festival and Day 1 sees us open up with 2 Big races which although not thorough Group 1's really ought to be imo and will be getting some cover from me and we have one of the seasons hottest 2 yr old races in the shape of the Acomb over 7 blisteringly fast furlongs...
As i have repeatedly stated there are not many courses where the phrase " Horses for courses " is more apt as this superb venue does often suit a particular running style and a good front runner as its quite hard to win from " off the pace " here coming down the long stretch off a bend and even more so if the ground comes up soft , this isnt completely correct as a lot win from off the pace but the point is if you have a good quality front runner then it has an above average chance of winning here as opposed to say Ripon , Newbury or Bath...and quite often CD winners that are out of form will rediscover their form for York...Ancient Cross is a typical York Horse , and look out for the Northern Trainers , Easterby , Fahey et al as they like to land a coup or two here.....
So lets take a look at todays three focus races ....
In the 13:55 i have been told to " Get On " KIMBERELLA as the team are awaiting compensation as they were expecting a bigger run lto although tbf it ran a really honest race in 7th beaten less than 2L in a huge bunched finish at Ripon and that was a pretty classy race for the track so at decent odds this i have been told is a cracking EW bet.....
Now onto the serious stuff...
RACE 1 > The ACOMB Stakes , a race that has been won in recent years by some very smart types like Kings Best , Hemingway , Fast Company and Dundonnell and we have a few likely types here today with all the big guns coming out to play and this looks a very tricky race at first glance.
Now i am only going to row in with previous distance winners as you have in a race like this a gtee of stamina which will be a big plus here and this brings the field down to a more manageable 7 runners.
1. BASATEEN > Won its maiden in good style and with considerable ease ( 1m22 ) and is highly thought of and is already entered into all the seasons leading back end 2 yr old races over 7f & 1m including the Racing Post and the Dewhurst so must be high up in the pecking order and this good looking son of Teofolio is sure to be a major player.
2. CHADIC > This already has a rating of 100 which imo is too high as this has done little to justify it , already looking exposed and with race times giving it around 5L to find just to get competitive i will happily write this off however...its an " MJ " horse so could easily run an amazing race and win by 6L.....highly unlikely to a degree off 99% but not beyond the realms...but there isnt a realm known to me that would allow me to put any of my hard earned on this although Christian Emmanuel may well have a bash.....
3. DUTCH CONNECTION > This is another i really quite like , not hit the heights form wise of a few others and doesn't have the race times to back up any strong feelings however this has a ton of scope and improvement is guaranteed as lto he won pretty much as he liked and was not pushed at all so not a lot can be taken from that other than he will be a lot better now in a faster run race and is a major player in my book , my only provisio is that the Dutch Art progeny have been found wanting in group level overall and that statistic is tending to hold considerable water currently.
4. JAMAICA > Another with a similar profile to Dutch Connection and this comes from the all conquering and all powerful Aiden O'Brien yard over the Orish sea , in two runs it has so far failed to set the world alight but won as it liked last time and basically coasted home giving us little info to work on, its a traditional Magnier Galileo progeny and could be absolutely anything...
5. MEDRANO > This is an ok sort but has proven to be consistently slow even when winning which says more about the opposition than him has an awful lot to find to get involved and cant really be considered at all.
6. PRINCE GAGARIN > A lovely looking sort from the now in form Ed Dunlop yard and half or co owned by his father John and this son of Dubawi has done nothing wrong and has clocked some above average fractions but still has a few lb to find to really be involved but is another with a ton of scope and could easily improve enough to take a hand in the finish and the booking of Ryan Moore would suggest they mean business today and has to go on the short list.
7. SALATEEN > Finally we come to Nos 7 in the distance list but no hurrahs from here as this has to improve more than most just to reach the level already acquired by some here and this would be a shock should this win today.
SUMMARY :
A tough looking affair that looks weaker at 2nd and 3rd glance with most of the proven winners running slow or average times , all have improvement to come but there is a big gap between top n bottom on my figures and i think both Misleading and Growl can get involved against their peers but for me the winner is
BASATEEN
, quickest by far and with good solid fractions this will imo take all the beating and the current 3.20 looks very fair , Jamaica will be interesting but ultimately i feel this is going to be set up nicely for Basateen to race up with the pace before pushing on although Growl will get every effort from Hughes to beat Hanaghan who is riding for his retainer and not his boss...
.WIN bet on Basateen for me
.
~~~~~~~~~~~~~~~~~~~~~~~~~~~~~~
RACE 2 >
Great Voltigeur Stakes
...An excellent race with an excellent pedigree but a shit pot for Favourites with the winners price range varying between 5/4 and 28/1 with an awful lot of double figure winners come through.
And this year we will all be looking at KINGSTON HILL....has it still got its thirst for racing ? , is it better now than at 2 ? , how good can he be or has he peaked and become tripless ?....lots of questions to answer and as much as i love the beast i cant get over enthusiastic about a horse i have no confidence in....Can it win ?..Yes...Will it Win ?...probably...but @ around 6/4 im going to look elsewhere.
SNOW SKY has to go on the short list after a great win in the Gordon Stakes beating Windshear and will be well primed for the biggest of runs , likes the ground, loves the trip , stays at pace and can quicken and battle...this has all the right ingredients to be a winner and this son of Nayef is only just starting to come to himself and is still improving , i like this and i think it will run a big race and at 8/1 looks to be a cracking EW bet...not far off a bet to nothing...
POSTPONED won well last time out but that run was not as good as its previous effort when beaten into third in the Hampton in what looks a very tough race with a good portion of class and is another just starting the upwards curve of improvement and is another to be feared and respected...def has a winning chance.
Finally we have GRANDDUKEOFTUSCANY and i say finally as its my belief that the remainder are all held on form either literal or lateral and will do well to get competitive at any stage and this raider from the O'Brien yard is yet another one of his " off the production " Galileo colts that has won a egg n spoon maiden and now goes straight for the jugular and tbh the manner in which it had won its maiden made many sit up and take notice and i for one wouldnt be surprised to see this turn into something a wee bit special , but on the premise of proven ability it has an awful lot of improving to do and the 6/1 just isnt enough to get me salivating.
SUMMARY : We have the shown , proven and tested class of Kingston Hill against the possibility of Granddukeoftuscany , the curiosity of Postponed and the expected improvement of Snow Sky in what will make a fascinating renewal but the 6/4 on Kingston Hill is too low as in all honesty i made this 7/2 the field so that price looks insane to me...is it worth a Max Lay ?...well in this instance i dont think so as i think there are greater rewards to be had elsewhere , thats not to say its a bad bet because it isnt i just think the risk reward ratio is in our favour here and a solid dutch against the fav pays a far higher dividend , in fact the 3 way dutch on those i have highlighted pays just over 4/1 at current odds ( expect movement ) and looks a much better bet than getting 4/6 laying the Jolly...For me the bet is the Dutch.
~~~~~~~~~~~~~~~~~~~~~~~~~
Juddmonte International Stakes (British Champions Series) (Group 1)
...........Yes its the days BIG ONE and it looks another cracking renewal that has seen past Victors include the magnificent Frankel , Sea The Stars and Authorized and this years renewal has a runner with imo the same pedigree and class as those luminaries listed and that horse is
AUSTRALIA
the 2nd best horse in Europe right now and the best over 1m4f , i wont say " the best over 1m2f " as we wont know that until Kingman has tried but is certainly the best by a country mile that has made an attempt at the trip , this animal just ooozes class and looks the real deal and although both he and Kingman were surprisingly turned over in an oddly run Guineas its class has shone through since that day and i will be shocked beyond shocked if this doesnt win as it likes and i think the 1.64 is an absolute steal as i make it 1.25 as its that far ahead....i just think defeat is unimaginable....and its a wallet emptying , beg , borrow and Steal
MAX WIN bet for me
.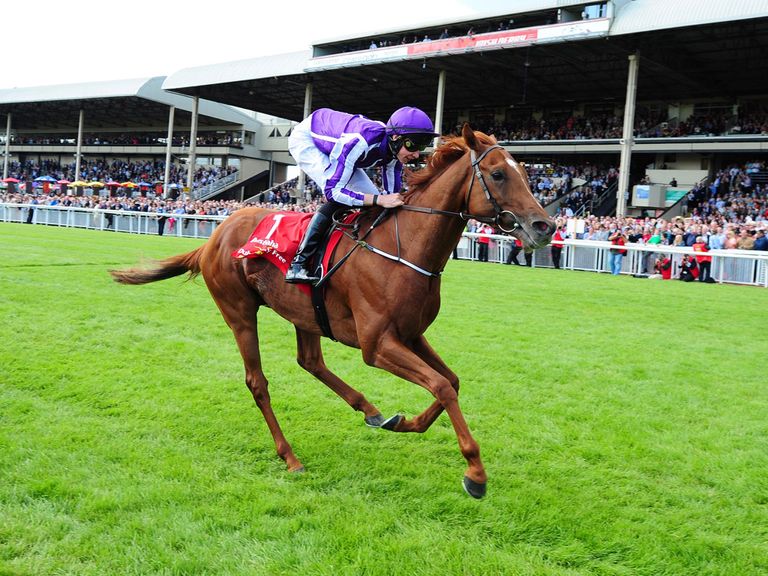 Results to follow after each race with review and excuse laden summaries....;-/



RESULTS :


RACE 1 :

BLAINE

scores for York specialist handler Kevin Ryan....1-0 to the shrewdies ( former Course winner when winning the Gimcrack ) ...Kimberella just not good enough although ran well enough but not a place.
RACE 2 :

DUTCH CONNECTION

belies the " Dutch Art Stats " and Wins really well @ 27.50 , i did have a little saver on it but unfortunately i only put enough on to break even as Basateen could only manage third after travelling well in the van for most as expected but just couldnt quicken on in the final 1f...not a bad result for me but neither was it what i really expected or wanted.....but i was really keen on this last n0ight and kinda talked myself out of it..;-(...shame on me...
RACE 3 :

POSTPONED WINS ;-)....@ 3.51

with Snow Sky 2nd and well clear of the field and even Kingston Hill who was a non runner would have struggled to get to grips with these in this form imo as this Winner won well and looks very good indeed and the 2nd running on ground not really liked did very well and will be a major player in the St Leger....But ultimately all that counts is the fact i now have a nice jingle jangle of change in my pocket ;-)...
RACE 4 :

AUSTRALIA easily WINS @ 1.65

beating two horses rated 128 and now must surely be given a rating in the 130's maybe even as high as 134 imo....always coasting , quickened and stayed on very strong to see off the very good run by The Great Gatsby who was around a lengthening 2-3L away in 2nd...Fantastic run and that rounds off a cracking day for me.