Morning All ,
Looking thru the early markets this morning i cannot understand why
KINGSTON HILL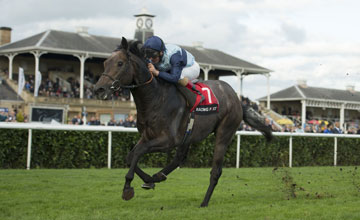 is still being overlooked as all the big money is being piled into Kingman , Australia and War Command.
Dont get me wrong the last named trio are or could be very very good indeed and all shown good or excellent levels of form already and any one of that trio may come good on the day however...Kingston Hill has done nothing wrong either ( Low 8/1 with Ladbrokes >> High 13.0 with Betfair ) .
..........
The above video is as you can see from last years Racing Post Trophy where Kingston Hill Won with any amount of ease on soft ground....and the rain has come and will continue.....Travelled well , quickened , rallied then run on and was never really even off the bridle , this has Champion written all over it . Yes i have seen some exquisite 2yr olds before like Be My Chief , High Estate ( from the good ol days with Cecil ) and plenty more since that have never reached the heights as a 3 yr old but this looks different it really does , i know its without a run but would have been brought along nicely over the winter by a great trainer ( in great form as well ).
The times ( not the splits or fractions ) can be misleading in most but can be used as a temporal guide to a horses performance barometer , that is that if a horse is proven to run to a level on any ground then it has that ability the speed ratings ( many done individually ) can be adjusted up or down manually ( all median times are worked on a good/fast ground timescale ) ie : if a horse has run 1m in 1m40s on soft ground ( true soft ground ) then you can quite easily knock a second off that time ( based around course averages ) in some cases upto two seconds can be levied against any given time but you have to try and factor in how the race was run..was it a true run race ?...was their a pacemaker ? , did the pace that arrive become genuine ? ,....there are a number of factors that can alter a time , or splits giving it a false or inaccurate reading so these variables have to be factored in when trying to do a true adjusted time rating ( or speed rating )...but you can work from the base figures with a degree of accuracy that will allow you to determine how a horse can run and what type of time figures to expect ( not pure math , not gteed but can be used as a supplementary aid )
.
Now Kingston Hill has himself run twice with two completely different set of markers laid out ( 3 runs in total ) , in the Autumn stakes he Won very easily in a very good time ( 1m38s ) which is a similar time to Henrythenavigator , King of Kings and Rodrigo De Triano when they won the 2000 Guineas however it has be shown historically that a good winning time in a fast run ( true run ) race would need to be around 1m35.50 however given the forecast for soft ground and the potential for further rain this figure can be up-scaled to 1m38 - 1m40s which is the range in which we know Kingston Hill can run in soft ground.
Times are argumentative tho as Mister Baileys holds the course record yet turned out to be quite a duffer and Frankel himself only recorded 1m37 in a bloodless victory....so many things are not exact..but it can be used as a guide...one thing for sure you must be able to race at sub 1m40s on true ground to win..thats a fact...
If Kingston Hill has as we expect " trained on " and if the ground continues on the soft side of good ( as we hope ) then i see no reason why Kingston Hill wont lay in wait in around 5th or 6th spot until around just before the 1f marker then quickening up and going on for a good victory , i will be quite shocked if it cannot place at the minimum but in all honesty i am looking for the win here and at between 9/1 - 12/1 i think this is an OUTSTANDING bet either Win or EW.....
.Australia is so far all hype over substance , Kingman is not only ground averse but looks more of an out n out sprinter in truth , Toormore will get found out...War Command looks a lively threat as does the Hannon 2nd string Shifting Power in what looks to have the makings of one of the best run 2000 Guineas in many a year...Whatever you decide.
..
Good Luck.