Well Folks that was a ride
,
Thought as i had the whole day free to trade n bet (? did quite a bit of betting today as i am feeling " in the zone ) and i thought i would post ( as i did ) most of what i was doing today for your digestion and thru the written down 16 Races we hit 5 Winners at 1.81 , 2.02 ( NB Bet ) , 4.74 , 5.03 and 10.40 giving a return of around 22 Points so theres a profit plus i was 100% on my Lays today and a couple of fap trades and PPL bets also paid off , there was a few losses along the road but stayed ahead the whole day thankfully...although i could of had a fair bit more had i followed
Winters Patriotic NAP ( 1st @ 10.50 ) and the ERIC NAP ( 2nd @ 22.60 ) and i really ought to have slung those in for a little EW double..tut tut.
..that is however by the by...so all in all this week we have had some rather decent results , good reviews and some solid profit making..rather marv as its the mid week stuff as well but can we repeat the trick for the weekend ?..well we have a nice little 2 day Ascot meeting to focus on and that is where i shall be focusing my energies...with the Long Walk ( disappointing turn out expected ) the big race on Saturday.
So lets start this update by taking a peruse at the Friday
ASCOT
card...
RACE 1 :
We start off the day with a steady 2m6f Maiden Hurdle and as we know by now these n the Juveniles are my bread n butter so im hoping to get a clean start on this as it always helps bolster the day.
Champagne Present will be a very warm order here with prices to range from 1.48 - 1.85 and you have to take caution with this , main reason being that the yard simply cannot buy a winner just now ( heres the list of his recent runners with the only winner being the one at the bottom
Form

All

runs

Wins

only

Wins & Pl

aces

After 60

day break
)....So you see the big dilemma...Take a short price about a horse that should be a grade or to higher and has at least 20lbs in hand and should also have won fto but for AP making a poor move to late in a much better race than this....i am going to have to say that this for me is the Winner but i simply cannot get involved as JJ is in such poor form and had he been even luke warm then i would have lumped the house on it..but for today i will simply sit back watch n wait.....there will be better bets to come in the day but i do expect this to win and win very well and if it doesnt then the vets need to be sent down to Jackdaws asap.
RESULT : The Fav Champagne Present drifted right out to 2.42 and was UNPLACED...not a shock but JJ seriously should just shut up shop and get the whole set up inspected...shocking state of affairs at Jackdaws....WD Tricky i followed you in on Desilvano..nice battling performance.
RACE 2
:
Next up is a small field Hcap chase which at first glance looks too tight to call ....and after a 2nd glance i can confirm this is as tight as a nuns sleeve.
Key to the West will have all conditions to suit and will shrug off the rise in weights and has the in form Sheehan doing the steering however at around 11/4 its offers little to enthuse about as this is a huge STAT LAY race and that always tempers enthusiasm in the Fav so much so i will swerve the Fav here which in fact as i double check is Dance Floor King at 5/2 so thats tight in itself...hmmm...OK then its gonna be dutch time as i go with KTTW & COLD MARCH As the Williams inmate has smart French form and was brought down at the first in his opening UK Debut and could be a bit better than these although not particularly well treated the 5/1 plus is decent enough cover...but with the Stat Lay option open and the possibility of it being a PPL race i will hold fire until nearer the time....
RESULT : Well i ended up going with the STAT LAY option and Lay / Trading Garrahalish which got matched after just 2 fences..so a decent result as that only managed 2nd anyway with the winner being Dance Hall King and Cold March had every chance leading upto the last then tiring a bit but battled well enough to suggest that it is well capable of winning a race or two.
RACE 3
:
Now we have the Class 1 Kennel Gate Novice Hurdle which for the last 3 years has been won by such luminaries as Irving , Molotof and Puffin Billy and im expecting another smart sort to take the honours here today but quite frankly i think its a cunting disgrace that once again in a £30k C1 we have a paltry fucking 4 runners...you trainers..hang your collective heads in fucking shame...greedy stupid or lazy...cant decide...
Killtuagh Vic is the Irish raider sent over by Wily Willie Mullins but this has beaten less than fuck all thus far and has been soundly thrashed by Shaneshill and Silver Concorde in Graded events and although the first read of that isnt too bad the fact he has shown little in combat against them makes me believe that Mullins is on a fiching mission as on the face of it this has no chance....the form behind Shaneshill maybe good but is it better than what else is on offer?..
.L'AMI SERGE
is the current Fav albeit not by much and is an IDK radar horse that trotted up fto beating the 137 Rated runner up with a heavily eased down 6L and this was achieved even after flattening the last flight and making a few ricks on the way round....i dont think he will get away with making those errors today but at the same time i dont think he will be as extravagant as BG will have his measure and im expecting this to hack up today
NAP
>
#On a separate not Peace n Co pisses all over this at home to the point of teasing it and it will interesting to see exactly how well it wins and if Peace n Co has its price checked by the shrewdies,.
...
RESULT :

BoooooooooooM as the NAP WINS at 2.15....Superb ;-)
RACE 4
:
Another Graded race worth another £30k and again a pitiful field size...bottling bastards...!!...This is registered as the Noel Novices Chase and is over 2m3f and thankfully i come into this heavy handed with the days 2nd full on
NAP
(
yes 2 NAPS in the same day...fucking unheard off but its my fucking blog and i will have as many Naps as i feel appropriate
).......and the days
2nd NAP is JOSSES HILL
the same horse that come on leaps n bounds last season with its last two runs being a close 2nd to the mighty Vautour in the Supreme and then winning the IFB at Aintree afterwards beating easily Sgt Reckless ( winner already this season ) and i will not summarise the others as quite frankly i will need picking up off the floor if this loses. ..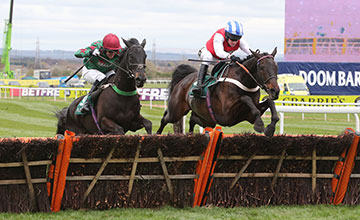 RESULT :
Josses Hill comes 2nd after some elaborate and at times hairy jumping however i do feel had he not jumped into the back of Petit Zig and lost all momentum then this could easily have been a different result...disappointing but im not dispondant...
RACE 5
:
Golems Father ???
? >>>
Next up is a decent looking Hurdle ( Hcap ) over 2m6f which is for me a bit of a specialist trip and is being contested with a strong looking field.

H A A Bannister

(

my jockey to follow

) has a solid looking ride in this riding

LITTLE BOY BORU

and this 8/1 shot comes into this with every chance having conditions to suit and im sure based on recent evidence he stays and having rode it last twice will know exactly what buttons to press and when and looks a decent EW bet although in truth i would be happier taking double figures and trading at around half odds...so i will wait...Batavir sees Pipe n McCoy team up and this has every chance and arrives in decent enough form even tho its been racing with conditions against so an improved performance is sure to be in the offing now but the 2/1 being offered screams

LAY ME!!!!

...and if i can get a lay in at anywhere near this i will fill my boots up and max out the account trying to get my money on because there is no way this is a 2/1 shot...3/1 or even 7/2 at the top....so if i can lay this at anything upto 3.6 i will gladly take that bet and anyone elses (

already had £300 matched

) this is gteed trade..nailed on...Spartan Angel should run a much bigger race today having its comeback over CD when 4th , Dream Deal is going in the right direction ...decent looking race and should be a good one to watch.

RESULT : Lay was traded as the Fav drifted so i dutched both the Fav and Spartan Angel with A.N.OTHER ( which won at 9.91 ) for a tasty win and a little bit of extras with the trade..Good result and a very nice win from Batavir @ 3.77 ( was trading as high as 5.6 ) RACE 6

:

For the Finale we have a Listed NHF race over 2m with a host of top class yards and very smart sorts on show with the field choc full of promise.

Rios Treasure @ 5/2 is a LAY as this is not in the top tier at the Mullins Yard and i feel he is just testing the water with this to see where his Champion bumpers rank , a crafty move but fully allowed as its running on merit but imo with little chance even with the mighty Walsh steering.

Yanworth looks exciting and will obviously be a threat to all given connections and the Galileo Gelding

Supasundae

(

1st @ 23.0

)

will have the advantage of blood given flat speed

but i fancy a fap or EW dutch on

THISTLECRACK and SIMON SQUIRREL

as i feel both of these will be ready for this and could easily have enough class to damage a few reputations and they are at the right end of the betting table to get involved in such a tremendous looking race....not one to go crazy on but one if correct could prove rewarding.

RESULT

: Rios Treasure was 3rd and Yanworth was a well beaten 2nd however mine ran around 5th and 7th...good race tho....

~~~~~~~~~~~~~~~~~~~~~~~~~~~~~~~~~~~~~~~~~~~~~~~

Have a great day...hopefully i can get a good idea of what to expect for Saturday and maybe win the Jackpot this week after narrowly missing out last weekend... (

5 winners n a 2nd from 6

).