Morning All ,
Well yesterday went well
, just shows what you can take from a poor situation and make good .Moving forward we cast our eyes over the three day Chester Festival to see if we can garner any further clues for the upcoming season , this is a tough track and not many adapt well here , the draw can play a big part in any outcome and anything the " Good Doctor " sends here should be respected as he treats this like his local track and always goes for a win or two.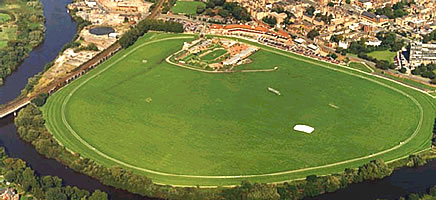 I wont post a card up as i usually do for these as its only a minor meeting but i will go through the card giving a general summation for you to pick at.
Race 1 > We start with the Lily Agnes Stakes a race for 2yr olds over 5f ( and a wee bit )
and as you can see from the pic this is a very unconventional track and times are to be taken with a pinch of salt here , for 2 yr olds this is a task , 3 bends to cope with , a sweeping bend , a sharp bend and then the final bend into the shortish straight and a lot can lose position and lengths here ( over any distance ) and draw bias is as important as you will find...low numbers with good early speed is what you need.
CHARLIES STAR
fits the bill here as it likes to make all , has bags of early pace and has track specialist Franny Norton riding ( he is excellent here ) and at 8.0 makes plenty of appeal , Beaten fto by the useful Tiggy Wiggy which has won since in a canter , then beaten by the useful looking Kasb before finally shedding the maiden tag with a fairly convincing all the way win at Yarmouth and i think if allowed to bowl along upfront will take a lot of beating.
MUKHMAL
simply has to be a
LAY
even at 6.60....Firstly it only beat Cheerio Sweetie 1 & 1/2L last time out giving 5LB and now has to concede almost a stone and it has the worst possible draw whilst Cheerio Sweetie has the plum rails draw....monumental task , herculean even...in my eyes this is a task only Frankel could take on....
Roudee has a nice chance but again has a poor draw to over come....after first abusing old mate Richard Hurd this morning over his lack of summary after nominating the two Evans Horses for 1st n 2nd i am forced to admit he may actually be correct for whatever reason as it does seem a very logical outcome , the two speedsters both with plum draws against the two main rivals that have to give a ton of weight away from piss poor draws....Evans Dutch and Lay looks the best bet scenario to me....
*Magical Memory could easily improve enough to get involved as this was badly hampered at an important stage fto and went off the 85/40F so was obv thought capable of. - MUKHAMAL WINS !!... ( WIN for me as i ended up with a BTL @ 7.0...which i figured was too high too lay and traded out at 4.0..)..This trapped like a greyhound and was never for catching...this was very very impressive....
RESULT -
Full Result
1

st

(10)
2
9-7
6/1
Fast away, soon crossed over from wide draw to lead, clear over 1f out, ran on strongly opened 11/2
2

nd

(9)
1¼
2
9-1
5/1
Unseated rider behind stalls, led early, chased leading pair, went 2nd well over 1f out, ridden over 1f out, kept on same pace final furlong opened 7/1
3

rd

(3)
½
2
8-7
8/1
Off the pace in 5th, headway and switched left to inside over 1f out, kept on inside final furlong, went 3rd towards finish opened 6/1
~~~~~~~~~~~~~~~~~~~~~~~~~~~~~~~~~~~~~~~~~~~~~~~~~

RACE 2 >>

Next up is a very tasty looking Cheshire Oaks over almost 1m4f and this looks very tight on paper.

Aiden O'Brien has won this Oaks Trial 3 times in the last 6 years so obv likes it and has sent a few good uns in between although none have gone on to win although Wonder of Wonders was a close 2nd ( behind Dancing Rain ) and 3rd in the Irish Oaks so its not a bad trial at all. He has sent this year 99 rated

TERRIFIC

and this big Daughter of Galileo looks the type to improve for both his first run and the step up in trip and will surely be in the mix come the final 1-2f but offers little value to the punter in an open race.

BRIGHT APPROACH

was very visually impressive with her fto win and must come into the reckoning but this is a big step up in class and a watching brief can be the only clever move with that one , One horse i think is much over priced is

FULL MOON FEVER

( currently 90/1 ) this Daughter of Azamour ( great stayer ) is a full brother to 86+P rated Glorious Protector who has won over 1m2f and has a couple of 2nds over 1m4f and has the same attritional running style ( looks beaten at halfway then runs on ) , this won its Maiden ( 2nd start ) over 1m4f at Wolverhampton with the 2nd beaten almost 2L and a full 15L back to the third and the time of that race is comparable to the winning Oaks time of the likes of Talent , Dancing Rain and Light Shift...so what we have is a horse that stays , can battle should like the ground and can run to a time putting her right in the picture , my only real concern is that if she suffers her usual mid race off the bridle silliness she will find herself run out of position and may struggle to make it back..she has to stay up front in the front 4 or 5 to be able to challenge....if she does its game on...and at 90/1+ there are far worse bets than this.

ANIPA

is another in a field full of potential improvers that could come on again for the step up in class and trip.....this is a good looking race and hard to call , the only bet for me is a fun EW on Full Moon Fever at ridic odds....small bet n nothing lost if it fails to run to form.

- My " Fun Bet " Went of at 97.69 and traded at 36 ( i traded at 50 for a fun free bet ) and Anipa outstayed the field to win quite cosily however the horse to really take from this was BRIGHT APPROACH as this was still tanking when running on at the end coming 3rd but looked like it took 1m3f just to get stoked up....with a stronger run race and more forcing tactics this could end up a truly top class if not world class stayer...i was impressed..

RESULT -
Full Result
1

st

(2)
3
9-0

h

16/1
Tracked leading pair on inside, went 2nd 4f out, pushed along over 2f out, ridden to lead entering final furlong, stayed on, driven out opened 20/1
2

nd

(4)
½
3
9-0
16/1
Raced keenly, led, clear 3f out until ridden well over 1f out, headed entering final furlong, kept on opened 14/1
3

rd

(9)
1½
3
9-0
5/2
Took keen hold, held up in last trio, pushed along over 3f out, headway on inside over 2f out, switched right 2f out, ridden and stayed on into 3rd inside final furlong, never going pace to trouble leading duo opened 11/4 £2750-£1000 £1100-£400 £2000-£800 £1250-£500(x2)
~~~~~~~~~~~~~~~~~~~~~~~~~~~~~~~~~~~~~~~~~~~~~~~~~
RACE 3 >>>
This can be regarded as " the big one " the Chester Cup over 2m2f and an amazing 17 runners for this marathon race on a tight track...prepare to be jostled....The good Doctor has five..yes five runners in this so is obviously keen to nail a win here and i will be dutching these as the odds vary between 10/1 and 40/1 so there is plenty of meat on them bones...but again small stakes and for fun only.....no trades, no faps..just five way dutch at Equal stakes ( as opposed to equal return..this way if one of the outsiders win i get a good lump back ).
For the more serious punter i would suggest your not in fact a serious punter if your lumping on a race like this ..however for the sake on analysis i will look at a couple i like for the win.
I will nominate
GLENARD
and
OPEN EAGLE
as decent EW punts against the field but in truth its a wide open race , a very tough race and just one to enjoy...i will sit back n cheer " Bring me the Cash Koukash "...
RESULT -
BooM as Koukash WINS with Suegioo @ 10.20 ;-)) (
Actually hits 1st n 2nd
)
Full Result
1

st

(4)
5
9-4

p

10/1
2

nd

(11)
½
5
9-2
7/1
opened 8/1 £2400-£300
3

rd

(2)
3¾
6
9-4

(3)

6/1
opened 9/1 £2400-£300 £2250-£300
4

th

(5)
¾
5
9-5
4/1f
opened 9/2 £4500-£1000 £1800-£400
5

th

(14)
1½
4
8-13
12/1
opened 11/1
~~~~~~~~~~~~~~~~~~~~~~~~~~~~~~~~~~~~~~~~~~~~~~~~~
RACE 4 >>>>
Next up is a race for the " older brigade " and its a 5f sprint with literal,lateral and conducive form lines galore....
GO NANI GO
looks to have a major role to play coming out of box 3 with Franny riding this in form sort will surely try and break quick, grab a slot, sit off the lead and run on late...however he has mostly raced from off the pace, been in rear or been slowly away and he could easily lose any advantage here with a tardy start so my advice if wanting to back this is wait until they break then place an in the run bet..you may have to settle for a lower price than BFSP but nat least you know where you stand..if its slowly away i see no way how it can win here.
Top Boy is another form horse with a plum draw that has started last twice very slowly and is another that will need to trap quick to grab a good pozzy.
CASPIAN PRINCE
however has the Nos 1 slot and likes to lead/make all or sit with the pace arrives in good heart and will make this a solid test and his last 2 runs were completed in very good times with very good splits especially the eye catching run at Wolvo on his last start...this breaks well it probably wins imo.
RESULT -
Caspian Prince trapped well took the lead and ran well just fading a bit as Sir Maximilian swooped late to win going away but 2nd was a good result.
Full Result
1

st

(4)
5
8-7
7/1
Held up off the pace towards rear, headway 2f out, chased leaders over 1f out, went 2nd inside final furlong, led final 150 yards, ran on strongly and won going away opened 8/1
2

nd

(1)
2¾
5
9-2

ht

4/1f
Led at fast pace, ridden over 1f out, headed final 150 yards, kept on same pace and did well to hold on to 2nd opened 7/2 touched 10/3 £3200-£800 £1320-£300
3

rd

(7)
½
6
9-6

p1

5/1
Pressed leader at fast pace, ridden over 1f out, lost 2nd inside final furlong, kept on same pace opened 9/2 touched 6/1
4

th

(2)
½
4
8-5

v

5/1
Slowly into stride, held up in rear and well off the pace, plenty to do when headway on inside over 1f out, switched left to inner and strong run inside final furlong, finished well, unable to reach leaders opened 13/2 £1650-£300
5

th

(3)
2¼
8
8-6
9/2
In touch on inside, ridden and unable to quicken over 1f out, kept on same pace after opened 5/1
~~~~~~~~~~~~~~~~~~~~~~~~~~~~~~~~~~~~~~~~~~~~~~~~~
RACE 5 >>>>>
Tough looking Maiden now for the 3yr olds but most do have some experience to claw upon and the nice looking
RANGI CHASE
sets the benchmark with three placed efforts from 3 and rated at 77 gives this a strong look , this is another Koukash inmate from the very much in form Fahey stable and this simply has to be top 3 material . Ran in 3 quality maidens all won by good horses with lots of franked form and all 3 were over a mile and this was always staying on , this Lawman colt will improve for both age and the step up in trip as Lawman's do much better at 3 and 4 over 1m2f-1m4f than any other and i will be very surprised if this doesn't place at the minimum and at 12.50 must rank as a proverbial " EW BET TO NOTHING "....i simply have to get involved at that price..crazy not too.
Elsewhere...well to be frank they are all much of a muchness, improvers or expected improvers looking to come on for a run or to try and garner more experience...i see no reason to go against the good doctor here....PRINCE OF STARS at 2.32 was 5th in the Wood Ditton at the Craven Meeting but looked leggy , one paced and nothing special and ive a feeling that the fact its a See The Stars Colt trained by Gosden that has given this a short price...i make this my LOTD at this crazy price and at the very minimum ranks a MAX LTB. -
Rangi Chase hit 4.8 in the run from a BFSP of 7.80 ( well backed ) but spent too much energy getting to the front and racing 2 deep all the way as it faded tamely from the 2 pole to run down the field, Prince of Stars WON very nicely after hitting 4.1 in the run from an sp of 2.48...so this would have made a Good LTB.
RESULT -
Full Result
1

st

(8)
3
9-5
11/8f
Held up in mid-division, steady headway on outside tracking leaders over 3f out, went 2nd well over 1f out, led and hung left over 1f out, stayed on well opened 5/4 touched 13/8 £1300-£800 £3750-£2500 £1500-£1000 £600-£400(x2) £2200-£1600 £1375-£1000 £1100-£800 £1250-£1000 £600-£500
2

nd

(1)
1
3
9-5
16/1
Held up towards rear on inside, headway on inside well over 1f out, stayed on into 2nd inside final furlong, kept on but unable to reach winner
3

rd

(4)
2¾
3
9-5
33/1
Tracked leaders on inside, ridden and one pace when hung left over 1f out, plugged on inside final furlong, went 3rd close home
~~~~~~~~~~~~~~~~~~~~~~~~~~~~~~~~~~~~~~~~~~~~~~~~~
RACE 6 >>>>>>
Next up its a sprint and its Borderlescott time...Yes the grand ol retiree is looking for one more win and the CD winner has the plum draw to attack from and if in the mood will make them all go but can the old boy do it ?..well on the recent evidence of his last run there is no sound reasoning against it or a solid run but i do prefer the chance of
LUCKY BEGGAR and MASAMAH
, i would like to see Borderlescott win but its a tough ask against a couple of very handy sprinters with good draws...this could go any number of ways as is the case with a lot of sprints.
Swan Song is not out of this either.
..
- SWAN SONG WINS @ 6.40 whilst Masmah is 2nd @ 6.20..good little sprint.
RESULT -
Full Result
1

st

(3)
5
8-13
5/1
Quickly away, led briefly, pressed leader, switched right off inside rail approaching final 3f, ridden to challenge over 1f out, led final 150 yards, ran on well opened 11/2
2

nd

(4)
1
8
9-4

p

5/1
Soon led, switched left to inside approaching final 3f, ridden 2f out, hung right under pressure inside final furlong, soon headed and kept on same pace opened 6/1
3

rd

(6)
1½
4
9-4
3/1
Chased leading pair, ridden over 1f out, one pace and no impression final furlong £9000-£3000 £6000-£2000 £3000-£1000
~~~~~~~~~~~~~~~~~~~~~~~~~~~~~~~~~~~~~~~~~~~~~~~~~
RACE 7 >>>>>>>
Finally to round a decent looking day off we have a very nice looking 1m4f Hcap where plenty have chances , The Hernando Gelding
CAPTAIN MORLEY (
Koukash ) is an obvious place to start and at 8.6 represents only fair value but its Maiden Win on the AW over 1m1f was full of promise and this could run a decent race if fully staying and i see no reason why it shouldnt.
I have no idea why Lovelocks is 2nd Fav at 5.7 as this has shown very little and is a very solid Lay Option ( Lay Double with Mukhmal is a v good bet with limited liability ).
ANGLO IRISH looks the outstanding Class in the race and is the one they all have to beat imo has only raced on the AW so far but ground on breeding shouldnt be an issue and this absolutely hacked lto over 1m4f and could be a good few LB better than most of these ( NAP ) .
RESULT -
Full Result
1

st

(1)
3
8-13
3/1f
Tracked leaders, ridden over 1f out, went 2nd entering final furlong, led inside final furlong, stayed on gamely £4500-£1000 £3600-£800 £2000-£500 £1600-£400
2

nd

(9)
hd
3
8-13
4/1
Held up towards rear, pushed along and headway on inside over 2f out, angled out well over 1f out, chased leaders over 1f out, strong run inside final furlong, went 2nd final strides, just held opened 9/2
~~~~~~~~~~~~~~~~~~~~~~~~~~~~~~~~~~~~~~~~~~~~~~~~~