Evening All ,
Yes its post time as we rattle onwards with the flat season and its York's turn to titillate us but i stress the ground is soaking as we have nothing more than rain for the last few days and ive a feeling that any good soft going front runners will be very hard to peg back ( as shown via Beverley today ) and you may well see some outrageous results.....all im saying is dont be shocked if a shock occurs....be a realist...on a day when we have horses rated 33 , 45 and 55 ( 30lbs behind best ) all winning today has prove that when the conditions get poor anything can happen....and usually does....
Right so we have that sorted we can move into some form an analysis as we have some damn good races on Day with the highlight being the Musidora stakes race and a race i have some relevant attachment to but of course it wouldnt be York without some monstrous handicaps to fry ones brain.,.....hope everyone has their magic pins at hand....
YORK ( DAY 1 )
RACE 1
WIN - RYE HOUSE -
EW - LAHAAG -
LONG - STORM KING -
SUMMARY -
We start the day off with a traditionally tough 18 runner Hcap over 1m2f and in soft going with a long run in this could be brutal or rather attritional as you will need to be well placed swinging in or have the knowledge you have a lot of horse under you that loves the ground.
Tres Coronas
hacked up at last week but will find the opposition a different kettle of fish here plus the penalty means as far as im concerned this has no chance whatsoever (
ran a great race to run 2nd
) .
RYE HOUSE
however comes here still unexposed having just the 6 starts in 3 years with his last run being a CD victory as his sole outing last year , " back in the day " this one of those talking horses a beast that carried as much hyperbole that could be spoken or written but for one reason or another he has never reached those lofty heights but is still a horse with tremendous potential ( with some decent enough form as he was a whisker away from arriving here looking for a 4 timer ) , Hes a CD winner , loves the soft and has Ryan Moore doing the steering...whats not to like ??...its a seasonal debut and hes a rather skinny 4.5 but for a horse that has easily the potential to be rated 105++...he could well find himself a grade better than most...v interesting runner.
LAHAAG
has shown a distinct liking for York (
This includes getting beaten a Neck by First Mohican in this very race last year > 5lbs higher this year
) with several win and placed efforts and most ground comes alike and with the Gosden yard still in very rude health and Hanaghan riding it would be folly to rule this one out although i do think hes a few pounds too high.
Silvery Moon is the type Easterby lays out for York and shouldnt be under estimated as the Yorkshire Lads like a few winners here.
The only other horse i like is
STORM KING
who should come on a good few pounds for his opening salvo at Donny recently and will enjoy the trip and surface.**
The last 6 Winners were all classy sorts from the big yards...class will out here.
NOTES :
That was a Garbage start...can only hope things improve....
.However the Winner Clever Cookie was 2nd Fav and won like a horse well ahead of its mark.
..
RESULT :
________________________________________________
RACE 2
WIN - FAST SHOT -
4th @ 23.20
EW - YEEOOW -
LONG - VALBCHECK -
SUMMARY -
This next race is even more ludicrous...a 20 runner 6f dash for the older brigade.....this will be mental and tactics will be all important.
11/1 the field tells you just how incredibly tough this is....my first selection is a complete dodgepot but i just go into lemming mode when this runs and i have to back it...
VALBCHECK..
..on its day ( and it has plenty left ) its a bloody good horse but is more often than not prone to throwing his dummy out , one time fav' for the Guineas , Derby mention and future star this did nothing but disappoint until being dropped in trip and finally getting off the mark ( after its initial 2 runs ) in a Listed AW event but he comprhensively beat some good yardsticks that day in Lancealot Du Lac , Hawkeyethenoo and Hitchens and showed he still has it he then went off Fav for the AW sprint championship and rattled home almost last getting beat by all those he had previously thrashed...slowly away, dwelt at the rear and well...basically couldnt be arsed getting involved.....if it goes his way he has a big chance..if not then forget it...but at 25/1 its worth a few nibbles at anyones wallet.
YEEOOW must have a big chance off bottom weight although the ground is a slight concern however a fast break will be important as he likes to run behind the early pace then make a 2f move and if he gets first blood he may not get caught.
im writing Baccarat off as he wont like the ground so my final nomination will be
FAST SHOT
from the Easterby yard a confirmed sprinter with a liking for soft or heavy ground that comes here in top form seeking a hat trick and gets a handy 7lb allowance from good claimer Rachel Richardson.
NOTES :
Inc Secret Witness and Aetna ( 1st @ 8.20 ) into my Placepot. >
And thats the Yorkshire lads up n running....
RESULT :
________________________________________________
RACE 3
WIN - N/A
EW -
REGARDEZ ( EW NAP )

- 3rd @ 8.80 ( BoooM for me )
LONG - N/A
SUMMARY -
Yay !!..Proper race time...as we head over to todays feature race....The Musidora , A race for Fillies over 1m2f and it looks a cracking renewal.
Those of you that know me will already be aware of why and what my selection is here so all im going to say is
REGARDEZ ( EW NAP )
.
NOTES :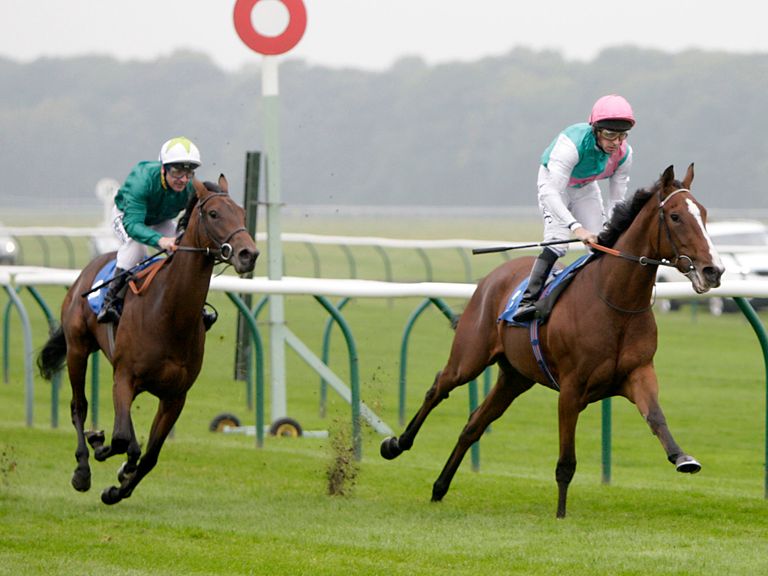 Cambridge just holding off the unlucky Regardez last season.
RESULT :
________________________________________________
RACE 4
WIN - MAAREK -
1st @ 16.10
EW - JACK DEXTER -
LONG - BODY AND SOUL -
SUMMARY -
Next up we have a group 2 sprint over 6f for 3+ yr olds and this looks a tasty event.
MAAREK
simply has to be a focus horse as its last 12 Victories have all come with cut in the ground as this is only one of a handful that can truly quicken in sodden ground, not just staying on but quicken and if this is anything like back to the form shown 4 runs back when he won the Abbaye or before that when he won the Airlines sprint then its game on..or game over....big big chance in this ground.
JACK DEXTER
is an old favourite of mine and is a damn fine sprinter and has a little bit of class enough to get him very competitive here and any horse that ends up in front of Jack will know they have had a race.
BODY AND SOUL
is a very lively outsider , this looked like hosing up lto only to be given a dreadful ride by fentiman who keeps the ride today and this could easily get into the mix as its a very strong travelling type that eats up ground , loves the conditions and can quicken sweetly..i really like this horse although not really proven in the grade i feel it could easily be upto this as he showed when winning the 19 runner Spring Charity event over 6f here at York last year ( not gonna make a big deal about the CD win as the field is packed with CD winners ) ...well worth a few quid imo.
In what looks a tremendous turn out and an incredibly tough race to call you can pick another 3 or 4 with these and still have none placed....its that tough....but shud be a cracker to watch.
NOTES :
I also have ASTAIRE in my Placepot.
RESULT :
________________________________________________
RACE 5
WIN - IDEA -
EW - TEA LEAF -
LONG - PROVIDENT SPIRIT -
SUMMARY -
Brilliant now we have a 7f Hcap with 20 runners...Magic Pin anyone ??..
This looks impossible at first glance, though four favourites of have won in six previous renewals so the betting has proved a valuable guide.
That Is The Spirit
and Provident Spirit will no doubt come in for support as the former beat the latter in soft ground at Doncaster before John Gosden's charge went on to win at Newmarket. Both are preferred to the more exposed recent winners New Bidder, Rogue Wave and Inyordreams. Slemy is not easily dismissed having got off the mark at Lingfield and Tea Leaf won nicely in testing going at Salisbury recently. But the speculative vote goes to the returning
IDEA,
who beat a subsequent winner over 6f at Windsor in October and has an entry in the Group One St James's Palace Stakes at Ascot.
NOTES :
Drew a blank here as the Tudhope ridden Fav led them all a merry dance and in truth nothing ever got a race in...non event with the Fav looking different class.
RESULT :
________________________________________________
RACE 6
WIN - ABSCENT FRIENDS -
EW - WINSTANLEY -
LONG - N/A -
SUMMARY -
Finally a small field event and this is for the 2 yr olds and it looks pretty decent tbh but i do like the dutch bet with
WINSTANLEY and ABSCENT FRIENDS
both of whom carry going form and are in good heart and look the types to do ok here , speculative fun dutch in a tricky race.
NOTES :
Awful race for me ;-~(
RESULT :
________________________________________________
RACE 7
WIN - GABRIALS STAR -
EW - ASTRA HALL (
always back Crowley in the finale
) -
3rd @ 10.50
LONG - DA DO RUN RUN -
SUMMARY -
And the " getting out stakes " is a bonkers 18 runner Hcap....However...
GABRIAL'S STAR
is a winner without a penalty having taken an apprentices' race at Chester in good style only last week. Ryan Moore picks up the ride and the Richard Fahey gelding can go in again. Pilgrims Rest also ran well at Chester and drops down a grade for this while O Ma Lad showed some improvement for his slide down the weights when runner-up at Hamilton last time. Ebony Express failed to cope in Class 2 company on his latest start but today's trip and ground suit ,while Astra Hall is another with claims racing off the same mark as when second at Doncaster earlier this month. Mica Mika seems to prefer the Polytrack nowadays but Frankie's presence on Da Do Run Run suggests a big run from the latter is expected.
NOTES :
RESULT :
________________________________________________
Looks a very tough day but very good fun...wish i was there tbh...Good Luck Players...ttfn x.