Starts tmrw and is another big prize event i like to get stuck into , here are some early thoughts....
Rickie to light up Lytham
Rickie Fowler: Has impressed at his previous two Opens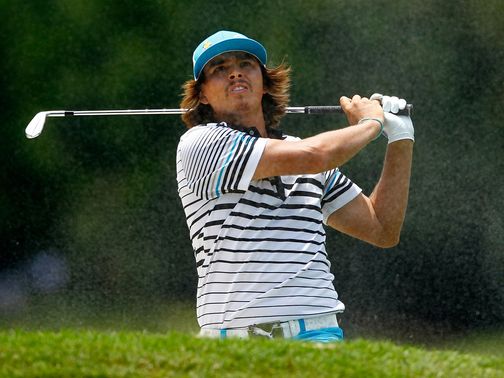 RECOMMENDED BETS
1.5pts e.w. Rickie Fowler at 40/1 (BetVictor, 1,2,3,4,5,6)
1pt e.w. Ben Curtis at 100/1 (BetVictor, 1,2,3,4,5,6)
1pt e.w. Jason Dufner at 50/1 (BetVictor, 1,2,3,4,5,6)
1.5pts e.w. Justin Rose at 33/1 (BetVictor, 1,2,3,4,5,6)
1pt e.w. Hunter Mahan at 50/1 (BetVictor, 1,2,3,4,5,6)
---
Although the miserable British summer has been a pain in the backside, at least it has given us a clearly defined strategy for picking the winner of The Open.
Long and thick rough has sprouted up everywhere on golf courses in the UK and, after watching practice rounds at Lytham and Open qualifying at St Annes Old Links, it's abundantly clear that to be holding approach shots on the greens and getting the ball to bite near flags, you need to be hitting from the fairway.
So my team for Lytham is made up of quality ball-strikers who have had their ball under control during this 2012 season.
It seemed an awful long way from his native California when Rickie Fowlerturned up for the third round of the 2011 Open at Royal St George's wearing a large pair of mitts.
And yet, despite the cold, driving rain and fierce winds, young Rickie produced one of the best Open rounds in modern history - a two-under 68 that lifted him from tied 19th to tied third.
"It was awesome out there," said Fowler. "I love links golf. I love the variety and the options you get on the course. There's so many ways you can play one shot, and I feel like I can hit different shots and I like to hit different shots, and it's just the way I grew up learning how to play the game."
Although he slipped back to tied fifth on the final day, Fowler still made a huge impression and went into many pundits' notebooks as a man who could be a perennial challenger in Open Championships.
It came on the back of a tied 14th on debut at St Andrews in 2010 when he recovered splendidly from a potentially confidence-shattering 79 on day one. In fact, so well did Fowler play from Friday to Sunday that he shot lower than anyone in the field over the final 54 holes.
Having sandwiched a thrilling Ryder Cup debut in between those two events, Fowler has already tasted life in the fast lane and come through with flying colours.
What makes him such an enticing prospect this year is that he arrives at Lytham as a recent winner who is hitting the ball much, much straighter.
Fowler was starting to gain a reputation for spitting the bit in the final round but it all came together at Quail Hollow in May when a closing 69 put him into a play-off where he held his nerve to defeat Rory McIlroy and DA Points.
A week later, his confidence flowing, the 23-year-old finished runner-up in The Players Championship to make it a win and a second in two of the best fields outside of the majors.
He's jumped over 100 places - 157th to 51st - in the Driving Accuracy stats this year while his 10th place in Scrambling from under 30 yards is testament to his excellence around the greens.
Since the world rankings started in 1985, the three Lytham winners - Seve, Tom Lehman and David Duval - were all current, past or future world number ones.
Fowler has the potential to join that latter category so let's back him at 40/1.
Ben Curtis is still known to the vast majority as the guy who ripped up the Open formbook by winning the Claret Jug on his very first major start in 2003.
True, he's disappeared for much of the nine years since but the American did win twice on the PGA Tour in 2006 and earlier this year ended a six-year win drought by capturing the Texas Open.
That victory, achieved with a winning score of -9 (not too many regular tour events are won with single digits under par), shows that Curtis is a man who can grind it out and he also did that in The Players Championship at Sawgrass two starts later when joint runner-up.
Add in a fifth at Quail Hollow and the 35-year-old from Ohio is having a cracking season, those results currently putting him in the top 15 of the US Money List.
Stats-wise he also looks to have the tools to succeed on an Open course where avoiding the thick rough is likely to be key.
Curtis is third in Driving Accuracy and sixth in Greens In Regulation, while he's also third in Strokes Gained - Putting so is rolling the ball on the greens just about as well as anyone.
He's also fourth in Par-Four Performance and 142nd in Par Five so the fact that Lytham is a par 70 with just two longer holes also plays into his hands.
You can also add his wonderfully calm temperament to the mix. He's number one in Bounce Back this year (the percentage a player is over par on one hole but under par on the next).
Curtis also tops the stats for Scrambling under 30 yards and that is another vital skill given that balls will run off the shaved greens (Lee Westwood is dead last in that category by the way although his solution is not missing the green in the first place!).
One other big thing to remember with Curtis is that his Open form doesn't begin and end with one great week at Royal St George's in 2003.
He was also tied eighth at Carnoustie in 2007 while a year later he was tied seventh at Royal Birkdale. Three of his top four performances in majors have come in the Open Championship so this is clearly the major to follow him in.
He's cooled off a little in recent starts but given his pedigree and stats he's a cracking each-way bet at 100/1.
Jason Dufner has had his ball on a string for most of 2012 and it's given him the foundation to go on and become of the year's great success stories.
Nearly winning the 2011 USPGA - he was five clear on the back nine - suggested we weren't looking at a journeyman anymore but it's this season where he's shown his true class.
To begin with there were a series of good finishes where the only thing stopping him from winning was the fact that he hadn't done it before.
Dufner was the first-round leader in the Phoenix, the Cadillac and the Arnold Palmer Invitational. And he was the halfway leader in the Transitions Championship and again two starts later at The Masters.
The problem was he kept going backwards on the weekend.
It seemed just a matter of time though and, lo and behold, shortly after topping the round two leaderboard at Augusta, he turned a halfway lead into a first ever Tour victory by capturing the Zurich Classic of New Orleans.
Two tournaments on and he was lifting the Byron Nelson trophy too before almost making it a hat-trick when losing a play-off at the Crowne Plaza.
A slight concern for Dufner backers is that he's only played once since then and that was a month ago.
However, that produced a fourth place in the US Open and having recently got married, the recharging of the golf batteries has probably done him good.
Dufner is 16th in Driving Accuracy, sixth in Greens In Regulation and third in the All-Around ranking,
In the majors he's finished fifth and second in the last two USPGAs and, as already stated, fourth in the US Open and led The Masters at halfway. That's hugely impressive in anybody's book.
Two missed cuts out of two in the Open Championship isn't ideal but the new, improved Dufner is a completely different animal and there is a strong sense that the set-up at Lytham will really suit him this year.
On the form he's shown this year, 50/1 is a steal.
Justin Rose first made his name in this tournament as a 17-year-old amateur at Royal Birkdale when finishing tied fourth.
Bizarrely, that remains his best finish in the majors but only just after tied fifths in The Masters and US Open.
In truth, Rose has now built a nice body of form in the majors and that includes two decent efforts this year - an eighth at Augusta and a tied 21st at Olympic Club.
Having turned himself into a regular winner on the US Tour, perhaps something he doesn't quite get enough credit for, Rose is now ready to make the next step.
His four US victories include a victory in March's WGC-Cadillac Championship which means, like so many recent Open winners, he goes into the event with the added confidence of a recent win under his belt.
Rose's last two appearances on European soil have produced a runners-up finish to Luke Donald at Wentworth and a ninth place in France last time out.
That was the perfect warm-up in many ways - not good enough to ruin his price and also prompting him to make a few minor tweaks.
Rose has done that after a good session with Sean Foley and looks to be peaking perfectly for a huge challenge in the tournament where he made his name.
Despite the troubles he suffered early in his career, Rose played in the 2001 Open at Lytham and was a decent tied 30th. That adds a few more percentage points of confidence so have a decent bet on Justin at 33/1.
For the final spot I've toyed with the idea of Raphael Jacquelin, Ross Fisher, Bo Van Pelt and Nick Watney at big prices and, at the front of the market, Lee Westwood and Rory McIlroy, after he was pushed out to 25s.
But when you look at the current trends and the idea of picking great ball-strikers, there's one obvious name that jumps out at the prices - Hunter Mahanat 50s.
Americans have won the first two majors of 2012 and the last two Opens at Lytham and all four were Ryder Cup/Presidents Cup players. The last 15 majors have also been won by 15 different golfers with the last nine going to first time-winners. Also, 11 of the last 15 Opens were won by a player with a previous win earlier that season.
Fowler fits those trends and so would fellow Californian Mahan.
Take a look at the ball-striking stats and you'll find Mahan ranked first. And after two wins earlier this season he's rounding right into top form again after an 11th at the Travelers and an eighth at the AT&T on his last two starts.
Mahan was ranked third and first respectively for Driving Accuracy in those two events and first and second in Greens In Regulation. In other words, he's striping it.
His Open record is patchy but it does include a sixth place at Carnoustie in 2007 and that forms part of a sequence of 10 top-20 finishes in the majors since the 2007 US Open.
Mahan is a better player around the greens than he once was (147th in Scrambling from under 30 yards in 2010, 65th this year) but his trademark is hitting fairways and greens and that looks such a big asset this week.
With four US Tour wins since early 2010 he's ready to make the leap to major champion.
All five picks are joint best price with BetVictor so, as they're giving money back if any of Westwood, Poulter, Donald or Garcia win, they're the best place to strike your bets.
**TIGER WOODS WILL NOT WIN , Lay at any price.
___________________________________________
Go West for match bet value
Lee Westwood has vastly superior Major record to Luke Donald and should be backed to beat him in the Open.
Lee Westwood should contend once more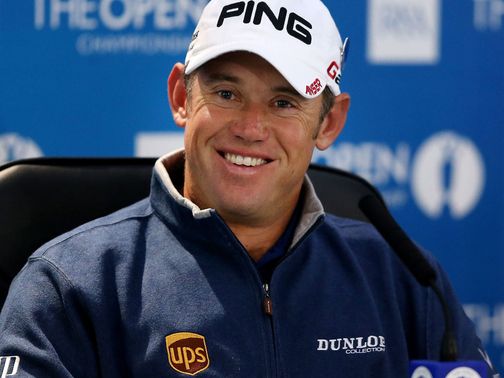 ---
RECOMMENDED BETS
3pts Lee Westwood to beat Luke Donald at evens (BetVictor).
2pts Martin Kaymer to beat Francesco Molinari at evens (BetVictor).
1pt double Westwood and Kaymer at 3/1 (BetVictor).
---
Lee Westwood's record in Majors over the last three years is well-documented and exceptional, missing only a win.
Luke Donald's record, relative to his unquestionable ability, is modest at best, and he's gone on record to admit that he struggles mentally.
Yet, BetVictor still go even-money each of two in their 72-hole tournament match betting list.
Whatever the outcome, I'm of the firm belief that the price is wrong, and it's a belief backed up by the facts.
Let's first of all look at Westwood's record in Majors throughout his career. He's played in 57 of them, with 24 top-25 finishes at a strike-rate of 42 per cent.
He's made the cut in 12 of his last 13 Majors, a period which has seen him record eight top-10s at a strike-rate of over 61 per cent.
In contrast, Donald has just six top-10s in his entire career, a strike-rate of little over 15 per cent.
Even if we measure back to and including the first of them, ignoring his previous failures, the percentage only climbs to little over 20.
His top-25 ratio is over 10 per cent lower than Westwood's, while his top-10 record in Open Championships reads one in 11 to Westwood's four in 17.
Given that even Donald's biggest fans would find it hard to argue that he's a significantly better player than Westwood which, were it the case, would explain the prices, it's very hard to understand why Westwood's prospects are rated exactly the same as Donald's by BetVictor.
It would be fair to promote Donald's chances slightly on the right type of course, but everything we know about the set-up at Royal Lytham & St. Anne's suggests that driving the golf ball well will be key.
Westwood, quite simply, is a better ball-striker than Donald. His mistakes are less frequent and less severe, and it's Donald who is more likely to find the significant trouble that lies in wait off the tee.
It's fair to say that both these men have shown their best form over the last three years, so judging their comparitive Major achievements since the start of 2009 is another reasonable way to evaluate their performances.
Given that Westwood missed the 2010 PGA Championship through injury, they've played in 13 of the same Majors during this time. Westwood has beaten Donald in 10 of these events, with two defeats and a tie.
That sequence includes all three Open Championships, and by now the message is clear: Westwood should be comfortably odds-on to beat Donald.
I was tempted to back Dustin Johnson to beat Graeme McDowell at odds-against, given his significantly better record in this event, but I can't make a case for 11/10 about the American being the wrong price.
Instead, my other selection is Martin Kaymer to beat Francesco Molinari at evens, again with BetVictor.
I'm a big fan of Molinari, and over the last two months his ball has been on a string. Tee-to-green, there are few (if any) better players and an improvement in his putting has seen him win once and twice finish second since the start of May.
However, combine the mental strain of being in contention in each of the last two events on the European Tour with a very modest Open record, and this may represent one too many trips to the well for the likeable Italian.
In Kaymer, we have a man who is proven at the top level, and whose performance in Scotland last week suggested a return to his brilliant best is firmly on the horizon.
We perhaps shouldn't be surprised, as the 2010 PGA Championship winner can justify tailoring his season around the big events. Indeed, the highlight of a largely disappointing 2011 was victory in the HSBC Champions, a title previously held by Molinari, which goes to show that he can turn it on when he needs to.
This season, it's fair to say his most impressive performance relative to the difficulty of the course and strength of the field came in the US Open at Olympic Club, when he tied for 15th.
That once again underlined the all-round quality of his game, and although he faded to 29th last weekend I thought he looked more comfortable with the putter than he has all year.
So, give me an ordinary European Tour event and I'd be tempted to back Kaymer over Molinari, although I wouldn't quite be able to do so at evens.
In this event, though, there's plenty of evidence to suggest we're on the right path.
For starters, Kaymer has made the cut in all four Opens he's played in, and over the last two years has finished 12th and seventh.
Indeed, he's only played 18 Majors in his enture career, but has finished in the top-25 no fewer than six times and has one title to his name, too.
Molinari, on the other hand, has played in 14 Majors, with just three top-25 finishes, a best of T10, and has a very modest record in this event.
So far, four appearances have resulted in three missed cuts and a best of T13 at Turnberry, and he may need to improve on that to beat the German.
In my view, Kaymer is the proven player at this level, arrives with a more suitable preparation and has a game better suited to links golf.
With that in mind, I'll take the evens. Punters should also consider the evens offered by Stan James about Sergio Garcia beating Molinari, but his mindset is questionable and I'd rather have the proven Major-winner on-side.
____________________________________________
And Finally...
Links form points to top men
Andres Romero looks value to be the best Argentinian at the Open Championship, according to our Ben Coley.
Andres Romero: Proven Open specialist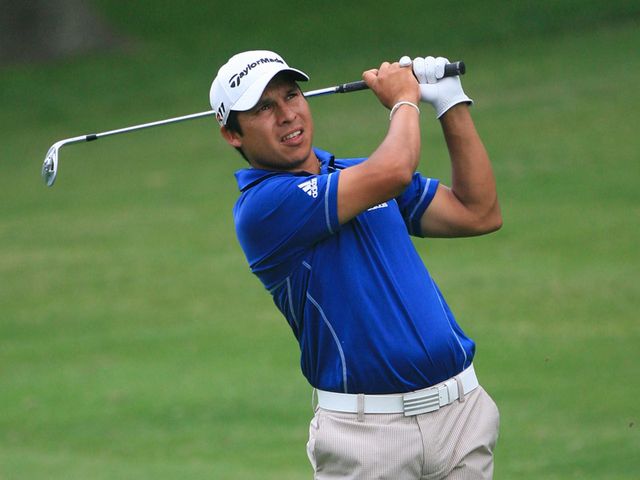 RECOMMENDED BETS
2pts Andres Romero to be the top Argentinian at 23/20 (sportingbet).
0.5pt Michael Hoey to be the top Irishman at 16/1 (General).
0.5pt Darren Clarke to be the top Irishman at 16/1 (General).
4pts Raphael Jacquelin to be the top Frenchman at 8/13 (Boylesports).
---
The Open Championship returns to Royal Lytham St. Anne's for the first time in over a decade for what should be yet another fantastic golfing spectacle.
The trouble is that, from a punting point of view, what could be described as the pinnacle of the sport's calendar could also be called the most unpredictable event on Tour.
That's because, unlike most week-to-week events, course form is close to none-existent. There are some who performed well here in 2001, but just what that's worth now is open to some debate.
Then there's the weather. The winds that swept across St Andrews cost Rory McIlroy a shot at the 2010 title, while Rickie Fowler might feel he would've bettered last year's share of fifth had he not suffered a rough draw over the opening two rounds.
Throw in the very nature of links golf, a discipline that sees almost every shot held hostage to fortune, and it's hard to argue that the best this sport has to offer from a viewing standpoint is also the best betting arena.
However, where there's a will there's a way, and win or lose there's certainly some value to be had in the specials markets.
We'll start with top Argentinian, a market in which Andres Romero arguably deserves to be odds-on.
To oblige, he'll have to beat twice-Major winner Angel Cabrera and Challenge Tour qualifier Rafa Echenique, and at 23/20 he's worth backing to do so.
Romero of course came so close to winning this tournament in 2007, a stunning Sunday 67 not quite enough to join the play-off between Padraig Harrington and Sergio Garcia.
The signs were there as 12 months earlier he shot four under-par rounds to share 12th on his Open Championship debut, and he's since underlined his love of links golf with finishes of 32nd and 13th.
So, that's four starts and an average finishing position of 15th, a scoring average of 70.875, zero missed cuts and a very, very solid Open Championship profile.
Cabrera meanwhile has two top-10s from 13 starts, has missed three of his last four Open cuts and shot 80-75 here back in 2001.
The 31-year-old Echenique has been a professional for well over a decade but this will be his Open debut and, while he's got plenty of form under windy conditions, his form on the Challenge Tour this season suggests he'll miss the cut.
It may be, then, that Romero simply has to make the weekend to land us a winning bet at 23/20, and in contrast to Echenique and Cabrera there's enough in his 2012 form suggests that's perfectly possible.
He chased home Tiger Woods under the firm and fast conditions of Muirfield Village in The Memorial, backed that up with a share of 34th in the AT&T National at Congressional, and opened with a 65 before inexplicably missing the cut in the Greenbrier Classic.
Like Cabrera, he failed to make the weekend in the Scottish Open but conditions will be totally different here, and everything in his profile says that this tournament brings out his best golf.
Anything like his best should see him take care of his compatriots with something to spare.
In the top Irishman betting, I can't help but think that 15/2 about eitherMichael Hoey or Darren Clarke coming out best is good business.
Make no mistake; they have three special golfers to beat. Between them, Padraig Harrington, Rory McIlroy and Graeme McDowell have five Major titles, and they've also shown plenty of form already this season.
But they're not unbeatable.
While keen not to write off McIlroy entirely, I could see him missing the cut if the wind does blow. Whether it does or not, this sort of test isn't what suits him and although he has the natural ability to produce on any stretch of grass, from a value perspective he helps shape the market and is worth opposing.
Harrington, of course, is entitled to respect, but I just can't help but think that some eye-catching but ultimately fruitless play has led to his price becoming somewhat false. After all, it's been a long time since he won a 'proper' tournament, and his short game is not as sharp as it was when he ground his way to two of these titles.
McDowell is also a long time without a win and although he produced in the US Open, his record in this event is vastly inferior. For a player supposedly at his best under these conditions, three missed cuts in eight Open starts and zero top-10 finishes is not a record to be feared.
With that in mind, Hoey and Clarke should be coupled to take them on.
Hoey missed the cut here back in 2001 but rounds of 73-76 were perfectly solid, given that he was still among the amateur ranks at the time.
All of his best form has come when the wind has blown on courses that place an emphasis on keeping your ball in play, including this season's win in the Trophee Hassan II at Golf du Palais Royal in Morocco.
His finest hour came in last season's Alfred Dunhill Links when holding off a host of illustrious names down the stretch, and he's shown in winning his four European Tour titles that given the right conditions he can return to form quickly.
With that in mind it's no concern that he missed his last cut, and a share of 28th in the Irish Open at Portrush further demonstrates his love for the conditions expected in Lytham.
Whether or not he can make a run at this title remains to be seen but he's certainly among the more interesting outsiders, and at 16/1 looks great value to be the best Irishman.
It's similar logic that leads me to side with Clarke, too.
Here's a player who, throughout his career, has shown that the conditions presented by an Open Championship bring out the best in his game, one based around some of the most natural ball-striking quality you'll ever see.
Like Hoey this time around, he'd have been among the more interesting outsiders last year whether he made the final shortlist or not, given that he'd already won the Iberdrola Open at a wind-swept Pula Golf Club in Mallorca.
Clarke doesn't quite fit the bill this year, having failed to contend for a title all season, but he could still do enough to compete among his fellow countrymen here.
He finished a respectable 39th in the Irish Open and was on course to make the cut at -1 in the Open de France before the seventh, his 16th, cost him a quadruple bogey.
There was enough encouragement in his ball-striking that week, though, and for all that Clarke is seen as the relaxed golfer-next-door, he'll be absolutely determined to defend his Claret Jug this week.
He has seven top-15 finishes in this event and if he can somehow summon the inspiration to make that eight, he could well land us a winning bet at 16/1.
Finally, he's a short price but Raphael Jacquelin should be more than capable of beating Gregory Havret to top Frenchman honours.
Jacquelin has found his form of late, finishing a highly commendable third in his home Open before backing that up with a share of 16th in Scotland.
He also finished 21st in the US Open, a massive improvement on his previous appearance in that event, and all the evidence going suggests his game is in top shape.
Havret, in contrast, is struggling. Since finishing 10th in the Nordea Masters his form figures read 50-40-MC, and he's been really wayward off the tee at times.
That will be punished at Lytham, a venue new to him, whereas Jacquelin was 13th here back in 2001.
He also finished eighth at Royal St. George's last year and anything bigger than 1/2 looks value, so we'll have a good bet with Boylesports at 8/13.
For EVEN BETTER EW ODDS Visit these guys....^^^,
STAN JAMES