Richard Fahey: Moon shining
It's been a tough first couple of days for our man Richard Fahey at the Ebor meeting but the trainer hopes to get a score on the board soon and has some of his best chances still to come. He runs the rule for us over his runners at the track - and a couple elsewhere - on Friday and Saturday.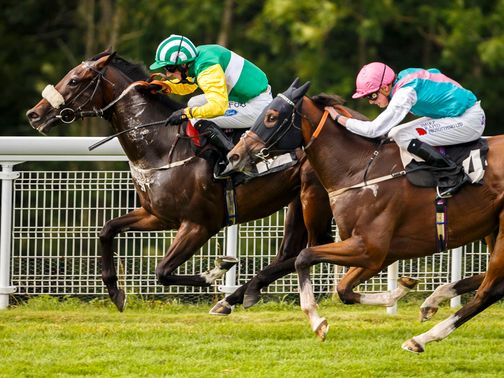 Glens Diamond
is just an in and out performer. He has good days and bad days. If he has a good day, he has a chance in the runs in the
Weatherbys Hamilton Insurance Lonsdale Cup
you know. We'll try to ride him handy again and see but the truth is that he was disappointing the last twice. He might just get his own way here but we'll see what happens.
Kiama Bay
runs in the first at ,
the Sky Bet Handicap
, and I'm just a little bit worried about the ground. If we get the rain, he'll probably run. He's in good form, but he'll need to be back to his very best to win this. With an extra 6lb and going up a grade, I think it will be tough for him, but he's obviously running well. We'll have to see what the ground is like in the morning though.
Gabrial
takes his chance in the
Sky Bet Strensall Stakes
and we know he's got the ability. He's run okay two or three times this year but he'll need to be back to his very best to win this. If he does, he's got a chance. He's just been missing the beat at the stalls a bit this year but he jumped out okay the other day and, if he jumps out on terms here, that will help.
Maggie's Diamond
is owned by Phil Smith, who is a great supporter of the stable and who loves this meeting. He wants to run her in
this race
and that's fine by me, but realistically it's a big ask first time out as she's more of a long-term prospect.
Majestic Moon
has got a great draw in the
Nationwide Accident Repair Services Handicap
and he'll stay a mile... or we certainly think he will. He never really wins by too far so he's creeping up the handicap slower than some of mine do. He'll have to step up again to win, but it really wouldn't surprise me if he did - he's a horse who we always hoped would do something.
Fort Bastion's only been with me about six weeks. He worked very well this week but I honestly don't know how he will run. Sir Robert wants runners at York and the horse is fit and well, so there's no reason not to run him. He's in good order. Switcher wants soft ground so we'll have to see if the rain comes on Friday night. She's got to step up on everything she has shown so far but she's training well.
Parbold
isn't a slow horse. When he got beat at Goodwood, I just think he got locked up and wasn't able to use himself because I promise you that he's not a slow horse. They didn't go much of a pace there and that didn't help him. He's got plenty of speed and he'll be competitive in the
Irish Thoroughbred Marketing Gimcrack Stakes
. I imagine we'll ride him fairly handily. He's a big, long-striding horse and we'll try and make some use of that.
We've got
Salford Red Devil
in the
Julia Graves Roses Stakes
as he's rated 97 and can't run in the conditions race, so that restricted our options a bit. He ran okay the other day and hopefully he won't be too far away. There might be one or two good for him, but he tries.
We run three in the
Betfred The Bonus King Handicap
and, while
Spirit Of The Law
doesn't show a lot at home, he did win well the other day and any rain would help. He might just be on the up a bit and although he needs to improve again, I wouldn't rule it out.
Garde Cotiere has been really disappointing this year and he has his problems. We'll see what happens with him but Hi There, I thought, ran well at Goodwood. It didn't quite happen for him, but he's in good form at present. There wouldn't be a lot between the three. If Garde Cotiere came back to his best, he'd probably have the strongest chance, but that's a big 'if'.
In the
last on the card
we run
Mary's Daughter
and
Bispham Green
who has had his wind done which is why he hasn't run for a while. But he's been running consistently well all year and I hope the minor operation he has had will just help him a bit. The worry is that he might just need the run after the break.
Mary's Daughter has come down a few pounds since last year and is starting to get to a mark from which I hope she can win. The trip will suit her and she's got a chance too. I wouldn't want to pick between them.
At Goodwood,
Heavens Guest
hasn't got the best draw towards the outside in the
heritage handicap
which is disappointing. Seven furlongs will probably help him. He probably got racing sooner than he would have wanted in the Stewards' Cup having got stuck down the middle but it was always going to be a hard race for a three-year-old.
He got out of his comfort zone a bit, but moving up to seven furlongs might help him in that respect and when I looked at the forecast it seemed they might get some rain and that would help him too. It's competitive but he's a horse I like.
Last, but by no means least, is
Area Fifty One
who runs in the
Winter Hill Stakes
on the evening card at Windsor. I was delighted with him last time but he's on the back foot here against good horses and if he gets a place I'll be delighted.