Well what a cracking day and some unexpected results !! , Firstly lets examine the Juddmonte the days main race and the expected duel between Brilliant miler Toranado and older exponent Al Kazeem turned into a Non affair as firstly Toranado simply couldnt go the ferocious pace set and was out of the race at the 3 marker and has been firmly put in his place and secondly big AL at the 1 marker never quite quickened up like he had done previously and instead of pushing on he stepped forward took the lead for about a stride then flat lined and just simply " ran on " and this dull fleet of foot allowed the previously bettered Declaration of War ( easily accounted for lto ) stream past with Trading Leather battling back for 2nd , this race although a fairly decent one is no real reflection of the runners ability bar Toranado who was spanked as Al would imo beat both the winner and 2nd 9 times out of ten if both wound up and today just wasnt Al's day and a rest is now needed as i doubt he takes his racing that well tbh.
Then we had the Great Voltiguer a renowned Arc warm up and Telescope ran very well to win but the form is a bit light imo , Foundry in 2nd is untested and maybe only a 110-115 horse whilst the 3rd ( i thought he would run a lot better ) simply couldnt quicken and this allowed the fast finishing Spillway to get into the ruck and that piece of form shows me that this just wasnt that strong ( Spillway is only Group 2 at best ) and quotes of 3/1 for the Arc are plainly stupid imo he will need to and still needs to improve by around 15lb to be a proper player in the Arc but whatever happens it was nice to see Telescope finally justify some of the Hyperbole thrown his way.
The finale saw Ryan Moore win on Bahamian Heights at a very nice price and those following breeding patterns and sire stats will have no doubt been on as Bahamian Bounty is once again one of top 3 leading sires and these sorts are quite often overlooked and under backed.
The performance of the day has to go to BROXBOURNE who sat off the pack in the 2m event and was trading at 1000.00 and came with a lung bursting lat rattle to collar stable mate Partyline ( done for £12k at 1.01 ) and win by a going away neck...fantastic stuff and another great ride from Fanning.
The Grey Gatsby is the horse to follow , a tank of a horse with a long ground devouring stride and it lolled along in its race not breaking sweat but its action is not that of a sprinter so cant fire up a massively quick turn of foot but it can however storm like a steam train when wound up and that was the case as it got slightly taken off its feet when the pace quickened but this class animal came rattling home once in gear and was only just denied a neck and would have won in another 10 yards or even 5...a wonderful looking and moving horse and it looks like a proper group class horse and will benefit from any up in distance.
Bogart got the day off to a flyer when its class and speed got it home in a tough big field sprint on a track when class does come to the fore this was the winner a long way out.
Onto Day 2 and we have another mix of tough Hcaps and a couple of juicy Group races with the Lowther and the Galtres Stakes being backed up by the Yorkshire Oaks in what looks another top days Racing.
YORK
RACE 1
WIN - SLEEPER KING - 4th
EW - RUFFORD - 5th
LONG - NEZAR -
3rd @ 11.4
SUMMARY : Great a 20 runner race for 2 yr olds over 6f......pass me the fucking rope now!!...
Thunder Strike would have to go on everyones shortlist after some cracking efforts however the Coventry form is looking more ragged every passing day and its latest defeat to Sayyer although not bad wasnt that good either so i will be looking elsewhere.
NEZAR looks a progressive sort and still with improvement due i am expecting a good run from this now dropped back in trip.
RUFFORD is highly regarded by Fahey and they are thinking of the win with this one, bred to love the ground from a sire that has produced a hatful of winners this term and coming here in pretty good shape himself and is also a very valuable CD winner and is sure to be in the mix.
However i dont think we have got to the bottom of SLEEPER KING just yet and i feel this could be the winner having a similar race profile as Ryan's other winners Bogart and Htoto and at 9.2 makes quite a lot of appeal in a race where so few look to have acceptable chances.
BET NOTES : EW SLEEPER KING - Just Pipped for a place...
Full Result
1

st

(17)
2
8-11

p

9/1
opened 11/1
2

nd

(2)
2
2
9-2
7/1
3

rd

(7)
hd
2
8-11
8/1
4

th

(9)
nk
2
9-2
8/1
5

th

(16)
1¼
2
8-11
6/1f
opened 9/1
~~~~~~~~~~~~~~~~~~~~~~~~~~~~~~~~~~~~~~~
RACE 2
WIN - LUCKY KRISTALE
- 1st @ 3.97
EW - J WONDER -
LONG - N/A -
SUMMARY : Now its the turn for the LOWTHER a decent race with a poor turn out having just the 9 runners declared however its a competitive enough race with a few interesting types namely J WONDER who fairly scooted home lto and will prove hard to beat even if stepping up a grade.
The potential Group candidate here is LUCKY KRISTALE ( on form shown ) after a cracking run and win in the Cherry Hinton beating Rizeena among others and the form of the others is all weaker or they are behind literally or laterally and i will be very surprised if the winner isnt one of these two.
BET NOTES : Dutching these two.- 1st @ 3.97
Full Result
1

st

(9)
2
9-1
5/2j
Raced near side, held up in rear, smooth headway near side 2f out, quickened to lead 1f out, ran on strongly opened 11/4 £2750-£1000 £1375-£500 £1250-£500
2

nd

(3)
1½
2
8-12
6/1
Dwelt, soon recovered to lead in centre, ridden and headed 1f out, not pace of winner on near side, held on for 2nd opened 13/2 £3250-£500
3

rd

(5)
hd
2
8-12
9/2
Chased leaders in centre, ridden and very chance 2f out, stayed on inside final furlong, almost snatched 2nd but not pace of winner opened 11/2
~~~~~~~~~~~~~~~~~~~~~~~~~~~~~~~~~~~~~~~
RACE 3
WIN - FROG HOLLOW
- 4th @ 8.55
EW - SMARTY SOCKS -
LONG - NAVAJO CHIEF -
SUMMARY :Next up is a tough looking 16 runner Hcap over 1m with a lot of familiar faces around including Es Que Love.....a horse with undoubted ability but is equally brilliant and frustrating and will win another big one but when??...thats impossible to say but i do think this is his best trip and he has speed to burn and will love York on firm ground so today could be the day but this would be a " punters bet " at best.
Then we have old Fav Smarty Socks a York specialist that always manages to put a decent run together here regardless of his form elsewhere and is also worth a bet in a pin stickers race but D'O Meara does come here quin handed and on form i do prefer the look of FROG HOLLOW who i think has got in here quite lightly.
Navajo Chief and Pintura could also throw in big runs now back at York and we have a couple of interesting young uns thrown in fro good measure in what should be a very good race.
BET NOTES : Small 3 way Dutch although if i can get on at the right prices i will just FAP them.
Full Result
1

st

(13)
6
9-1

(5)

25/1
2

nd

(3)
1
3
8-13
5/1
opened 7/1
3

rd

(15)
nk
4
9-4
9/1
opened 10/1
4

th

(9)
hd
4
8-7
13/2
5

th

(11)
nk
4
9-7
12/1
~~~~~~~~~~~~~~~~~~~~~~~~~~~~~~~~~~~~~~~
RACE 4
WIN - THE FUGUE -
1st @ 3.20
EW - EMIRATES QUEEN -
LONG - SECRET GESTURE - 3rd @ 7.0
SUMMARY : Now its the Yorkshire Oaks, todays BIG race and rather annoyingly on 7 come to post as my tip for this has now been pulled out ( Wild Coco ) and the field are quite tight although it can be argued that The Fugue is the class act here although she just hasnt appeared to be her usual self this term and at 3.3 is a Stat Lay and is readily overlooked.
Next Best ( on form ) is Secret Gesture who was 2nd in both the UK and German Oaks but readily beaten and with no real excuses and i have to admit im just not that sure on what to make of her right now....is the jury out?...well its never been in tbh as this hasnt really been on my radar i wont be backing it today but thats not to say i dont think it can win i just dont have any opinions regarding this one.
Scintulla has some fair Irish Form and a <2L beating by Ernst Hemingway is not as bad as it looks as that is a beast but its overall profile reads group 2 or 3 and i cant see it being good enough here.
The same comment can be applied to Venus de Milo a relatively untried sort who could shape up to be a world beater but i have a feeling if it was we may have seen it out already so this could be a fishing mission.
Riposte has an awful lot to prove and has a few form lines to over turn and is overlooked.
Moment in Time has no chance what so ever.
i think the best bet in this now is EMIRATES QUEEN who really does need fast ground to be seen to best effect and at 14.0 + looks a cracking EW bet in a race where so many have so much to prove, what you get with Emirates every run is a race , she is consistent and Atzeni knows how to pull her strings and with a clear run on this galloping track i think sat from mid pack she can make a good late race move and get involved, i would be very concerned however if AA decided to keep her out the back as that has proven to be much less effective when tried.
BET NOTES : EW on Emirates Queen for me in a wide open looking race.- Just not good enough, no complaints , The Fugue ran right back to her best and won this very easy.
Full Result
1

st

(6)
4
9-7
2/1f
opened 9/4 £5000-£2000 £4500-£2000 £3600-£1600 £2775-£1400 £2250-£1000 £1125-£500(x3)
2

nd

(4)
4
3
8-11
9/4
£5000-£2000 £6750-£3000 £1125-£500 £900-£400(x2) £810-£360
3

rd

(7)
3¼
3
8-11
6/1
opened 8/1
~~~~~~~~~~~~~~~~~~~~~~~~~~~~~~~~~~~~~~~
RACE 5
WIN - LADY NOUF -
EW - OUR OBSESSION
- 1st @ 4.20
LONG - LADY SONGBIRD -
SUMMARY : The Galtres Stakes a tough looking race for all ages ( Bar 2 ) and some very odd allowances on show.
SAY must have a leading chance off bottom weight and being Top Rated after some good placed efforts but is starting to look both exposed and vulnerable and at 6.0 im just not that interested even if i do feel it will be involved in the finish.
I feel the winner will come from the quartet of Lady Nouf , Our Obsession , Lady Songbird and Cushion and as the latter has twice been beaten by Lady Songbird i feel that has the most to do .
BET NOTES : @ 5.0 , 6.0 & 11 The three selections do allow for a dutch and that will be my play here as there is so little to split them. - 1st @ 4.20
Full Result
1

st

(3)
3
8-8
3/1f
Took keen hold, soon settled 3rd, went 2nd over 1f out, soon shaken up, led entering final furlong, stayed on well £3500-£1000(x3) £3000-£900 £2000-£600(x6) £1000-£300 £3000-£1000 £1500-£500
2

nd

(1)
nk
3
8-8
4/1
Held up in 5th, headway on inside over 3f out, switched right 2f out, ridden over 1f out, stayed on to 2nd inside final furlong, kept on towards finish, always held opened 9/2
3

rd

(9)
1¾
3
8-8
18/1
Led at steady pace, quickened 5f out, pushed along 3f out, ridden 2f out, headed entering final furlong, soon lost 2nd and kept on same pace in 3rd opened 16/1
~~~~~~~~~~~~~~~~~~~~~~~~~~~~~~~~~~~~~~~

RACE 6

WIN - MALEKAT JAMAL -

EW - NURPUR -

LONG - DUTCH ROSE -

1st @ 10.30 SUMMARY : A 16 runner Fillies Hcap to round the day off!!...Shesastar beat last year's winner Dutch Rose at Doncaster last time with Elle Woods further back in third and should go well again. Dutch Rose is joined by stablemates Patrona Ciana and Nurpur this time round with the latter looking to have strong claims on the back of a win over a mile here last month. Malekat Jamal beat Ghasabah at Newmarket before failing to follow-up at the same track last week and the latter is weighted to reverse running while Desert Image is not easily dismissed on the strength of last season's best form. But in an open contest the vote goes to the Hannon filly INDIGNANT, well beaten in a Group 3 contest at Goodwood on her latest start but a cosy winner in this grade at Newmarket before that.
Richard Fahey states : "

Finally, there's

Dusky Queen

in the

finale

and I hope she's got an each-way chance at the least. She's running well and I could see this big field suiting her. But as I keep saying, there aren't any easy races this week!

"

BET NOTES : This looks wide open and despite my own ratings i am having a Fun Finale EW Dutch with Indignant (

2nd @ 14.0

) and Dusky Queen ( although ratings selections stay in for PP ) .
Full Result
1

st

(11)
4
9-7
8/1
2

nd

(2)
nk
3
9-7
8/1
opened 10/1
3

rd

(4)
½
3
8-9
4/1f
£2250-£500 £2000-£500(x2)
4

th

(5)
nk
4
9-6

(5)

33/1
5

th

(15)
nk
3
8-10

h

6/1
£3000-£500
~~~~~~~~~~~~~~~~~~~~~~~~~~~~~~~~~~~~~~~PLACEPOT LANDED , 1 Line @ 25P = ( a loss probably ) = £47..Ooopps ;@@
A view from Simon Holt...
Class to tell for The Fugue
Simon Holt previews Thursday's card at York and fancies The Fugue to bounce back to winning form in the Darley Yorkshire Oaks.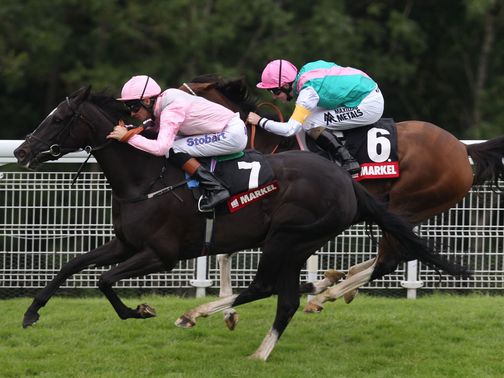 The daughter of Dansili, owned by Lord Andrew Lloyd Webber, looks clear best here provided she can bounce back after a disappointing run last time behind Al Kazeem in the Coral-Eclipse at Sandown after which she scoped badly.

, beaten by smart French filly Shareta in last year's Darley Yorkshire Oaks, is fancied to go one better in Thursday's Group One renewal on the Knavesmire.
But The Fugue's previous running-on third behind Al Kazeem and Mukhadram in the Prince Of Wales's Stakes at Royal Ascot was an excellent effort and her win in last season's Nassau Stakes at Glorious Goodwood and third later on at the Breeders Cup also make her hard to oppose.
She just has to bring her 'A-Game' to this race.
The form of this year's Irish Oaks is strongly represented here by Venus De Milo (second), Scintillula (fourth) and Riposte (fifth) while Epsom Oaks runner-up Secret Gesture is also an interesting runner.
However, it was slightly disappointing that the last-named couldn't win the German version recently (and had quite a hard race) while Scintillula's last two defeats have hardly advertised the form at The Curragh.
All in all, this year's generation of three-year-olds have been below-standard but it's possible that Riposte might have run below-form as she had looked a fine prospect previously at Royal Ascot.
My conclusion is that this is a race for The Fugue to lose. If she runs poorly again, then it looks a very tight contest.
If the handicapper is correct, then should be able to defy a penalty in the Connolly's Red Mills Lowther Stakes.
George Margarson's filly is now rated 107 after her win in the Duchess Of Cambridge Stakes at Newmarket's July meeting and that form has been boosted since with runner-up Rizeena (previously successful in the Queen Mary at Royal Ascot) running a fine third in last weekend's Prix Morny at Deauville and Princess Noor (fifth) and Queen Catrine (third) filling the first two places in the Princess Margaret Stakes (Wind Fire fifth).
What's more, Lucky Kristale appeared to have plenty in hand of her rivals that day and, on a line to Rizeena's Queen Mary win, has the beating of Alutiq, Kaiulani and Reroute.
The big danger is J Wonder whose wins in a maiden at Newbury and a nursery at Newmarket have also been well supported subsequently.
Although winning off a mark of just 79 last time, Brian Meehan's charge looked a Group horse in the making and the runner-up Midnite Angel has since finished second in a Group Three on the same course while third-placed Dancealot won a hot-looking nursery last weekend.
Several winners have also emerged from J Wonder's Newbury victory including third-placed Amazing Maria, a six-length scorer at Glorious Goodwood next time.
Getting 3lb from Lucky Kristale, J Wonder could well shake-up the likely favourite but I will trust in the handicapper's figures.
~~~~~~~~~~~~~~~~~~~~~~~~~~~~~~~~~~~~~~~~~~~~~~~~~~~
and what my alter ego " The Sniper " says...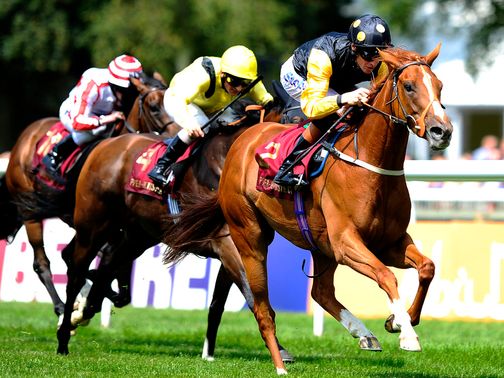 Both Hototo and Bogart were beaten at Goodwood before landing this prize for Kevin Ryan so a big run from Molecomb Stakes fourth Sleeper King is expected. He makes most appeal of his yard's five runners while Thunder Strike finished ahead of Miracle Of Medinah when third at Goodwood and is preferred to stable companion Fair Ranger. The former found the William Haggas-trained Saayerr too good in the Richmond Stakes which should give the Newmarket handler a good line on the chances of NEZAR, caught on the line over 7f at Newbury but expected to hold his own in this better company. Of the remainder, Viva Verglas improves with every start while Rufford and Xanthos have more scope than the likes of Green Door and Ventura Mist.
LUCKY KRISTALE boasts the highest official rating having won a Group 2 at Newmarket last month beating previous Royal Ascot winner Rizeena and today's rival Queen Catrine in the process. That form looks rock-solid and George Margarson's filly can defy a penalty and follow-up. J Wonder is unbeaten and wasn't unduly troubled to land a Newmarket nursery in good style earlier this month. She looks a genuine threat as she's yet to be tested. Merletta must be thought capable of better than she's shown so far taking on much better opposition here while collateral form leaves the likes of Reroute, Wind Fire, Alutiq and Kaiulani all needing to improve to match the selection.
Having returned a losing favourite on a couple of outings earlier, Wentworth finally came good in a hot handicap at Goodwood last time. He had the re-opposing Mark Johnston-trained duo Es Que Love and Windhoek back in the field and should go close again. However, SANDAGIYR was beaten only a length in third on that occasion despite not getting the clearest of runs. He'll need some luck in-running from a high draw in this too, but the Godolphin charge gets a tentative vote to turn the tables nonetheless. There's a suspicion that Pintura is best over 7f nowadays while Queensberry Rules, Validus and Able Master are all looking to put recent poor efforts behind them but capable of getting involved if doing so. Prince Of Johanne and Norse Blues have a bit more to find off their current marks as does the Irish raider Hot Bed.
Venus De Milo didn't need to be at her best to pick up a Group 3 last time. The Ballydoyle filly was more impressive when runner-up in the Irish Oaks at the Curragh before that with Scintillula and Riposte not far behind. However, that form has already taken a knock and the English version isn't working out any better as Secret Gesture, runner-up in the Oaks at Epsom, has since been beaten in what looked a modest Group 1 event in Germany. Tom Queally prefers Wild Coco to Riposte though the former is unproven at this level and Lancashire Oaks winner Emirates Queen also steps up in class. The latter just got the better of Moment In Time at Haydock but both have been beaten since and Group 1 winner THE FUGUE looks the safest bet. Narrowly beaten in last year's renewal, she's been unfortunate to come up against Al Kazeem in both outings so far this season but is fancied to bounce back and land the spoils today.
Say has leading claims on her earlier second to subsequent Group 1 winner Dank but has since found the older Along Came Casey too good in a Listed contest at Gowran. Songbird was expected to remain unbeaten when sent off favourite at Newbury but came up just short and is closely matched with Cushion on that form. Coquet has been nowhere near her best so far this year while Star Lahib is progressive but facing much tougher opposition having won three times in handicaps this season. Lady Nouf was beaten a length in similar company here last month while stablemate OUR OBSESSION won over 1m2f at this track a day later. With today's longer trip likely to suit, the latter gets a speculative vote to find the necessary improvement in a tricky renewal.
Shesastar beat last year's winner Dutch Rose at Doncaster last time with Elle Woods further back in third and should go well again. Dutch Rose is joined by stablemates Patrona Ciana and Nurpur this time round with the latter looking to have strong claims on the back of a win over a mile here last month. Malekat Jamal beat Ghasabah at Newmarket before failing to follow-up at the same track last week and the latter is weighted to reverse running while Desert Image is not easily dismissed on the strength of last season's best form. But in an open contest the vote goes to the Hannon filly INDIGNANT, well beaten in a Group 3 contest at Goodwood on her latest start but a cosy winner in this grade at Newmarket before that.