Good afternoon All , Ive had a Lazy ol day today playing Golf at my adopted * home Track Thornhurst and today i went with Big " Stevo " who owns / Runs the winning Post in York ( pub ) and as we are both similar in skill levels a tough competitive match was gteed.....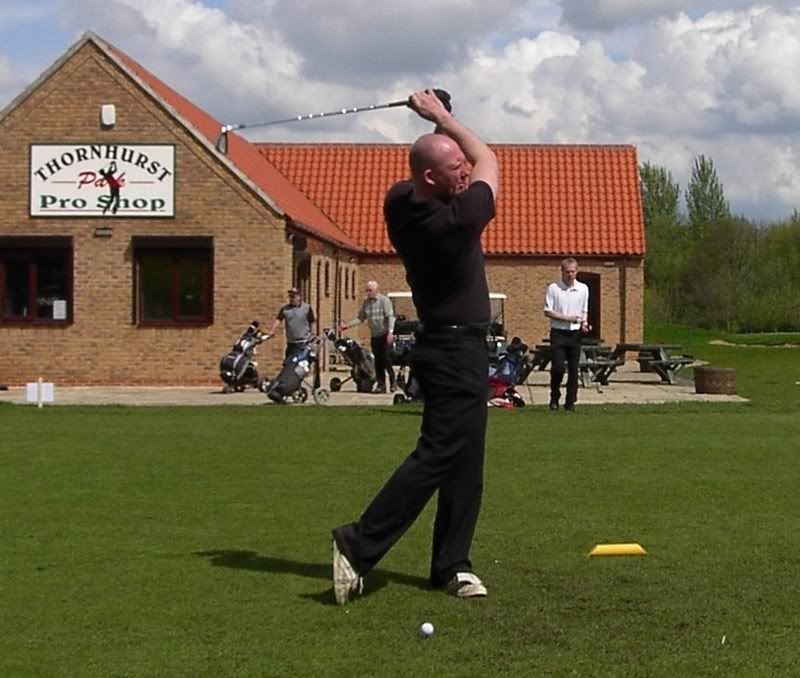 And a tight , feisty but superbly enjoyable round was had ( so much more fun and easier in a buggy ) as we played for some small coin in a Stroke Play comp and Stableford Comp and rather unsurprisingly i Won both ( after carding two 8's on the first 2 Holes ) i won the Stroke play by 1 shot after coming back with 7 consecutive 5's to rattle up a decent score and i won the Stableford by Just 3 Points after Carding 36 Points which i was very happy with , great day , great company and ofc a Great Win ;).
I Only had the one real bet today which was pre posted for our PUK Website ,
"
Race 1
:
Manor House Stables Lily Agnes Conditions Stakes
Race Preview
:
A good early season test for the 2 yr olds and this is indeed a tricky old race with form lines a plenty and good form abound but with 3 runners in particular that are clear on my speed ratings and to such a degree that I cannot look outside these three for the winner and for me the winner will come from ONE BOY , SMUGGLERS GOLD OR QUATOUR and it is the latter that just gets my stand alone vote as his speed time over a slightly extended 5f was very good ( sub 1 min ) and on this ground I am expecting another big run.
WIN – QUATOUR - £50 - ( £125 po ) -
1st @ 5.99
EW – SMUGGLERS GOLD - £25 -
LONG – ONE BOY - £25 - NON RUNNER -
My Bet Advice
Bet Type
:
Split Stakes Dutch on the three named runners + ADDITIONAL £125 on QUATOUR in the PLACE market.
"
So this paid for the day nicely ;) and it was nice to see Charlie Hills carrying on his fathers tradition at nailing winners at Chester ( his favourite track ) and we move onto Day 2 where the highlight is probably the Chester Vase which to me looks a 2 horse race between Feels Like Dancing and Ruler of the World.
So lets run a card through for
Chester
and see if we can nail a few more winners ;)...
RACE 1
WIN - VOODOO PRINCE -
NON - RUNNER
-
EW - AREA FIFTY ONE -
LONG - HAWKSWOOD -
1ST @ 4.40
*
SUMMARY - A very tough and competitive Hcap to start the day off with just about the whole field of 11 having some sort of case and the only real thing seperating them is the weight from top to bottom.
The Top 3 in the weights are the ones that interest me the most here although there isnt a great deal to choose between them all , VOODOO PRINCE ran a solid race on mhis return to action winning a run o the mill race in steady enough fashion and looks a leading contender although like a few of these does look like it needs a greater test of stamina but should be involved in the finish, Hawkswood has been persevered with and this Stoute inmate likes the trip and ground and has won fresh before and is another with a lot of potential but for the winner could be AREA FIFTY ONE * from the in form Fahey stable this ran a great race last time out winning well in a good race and has perfect conditions today this should be hunting them up and can come wide and fast or threaded thru gaps and really should be involved in the finish.
BET ADVICE
- £100 EW on AREA FIFTY ONE -

4TH

(

Matched and Done at 1.06 in the Place Market )
************************************************
RESULT -
************************************************
RACE 2
WIN - DANADANA -
1st @ 4.54
EW - MIBLISH -
LONG - GABRIAL -
*
SUMMARY - Now we have another tough race in this the Huxley Stakes over 1m2f and is for the old uns but this small field has a classy , competitive feel about it with most in form, most improving and Most are winners.
Where to look? , for me the first one to overlook is Bonfire as i am just not convinced hes a stayer in fact he could be described as being " tripless " after tamely fading on his seasonal bow , The next one for the chop is the permanently disappointing Rewarded that does just continually keep racing below what he can.
Dick Doughtywylie is probably just not quite good enough for this level and certainly not this level of opposition so is scratched.
This leaves just 4 runners to choose from , and Highland Knight is untried over this trip and all his racing suggests he will not improve for a step up in trip so is the final one cut leaving the 3 named selections, Miblish , Gabrial and DANADANA and it is the latter that i am siding with after rattling up 3 wins over this trip last term on this Gd/Fm ground and has everything right today and should be bang there as the Cumani team are in rude health currently ( surprise as its still early ) and this will be getting the lions share of my coin today.
BET ADVICE
- £100 Split Stake Dutch on the three named runners.



************************************************

RESULT -

************************************************

RACE 3

WIN - RULER OF THE WORLD -

1st @ 1.98

EW - FEEL LIKE DANCING -

LONG - N/A -

*

SUMMARY - The Chester Vase and this is the race already mentioned where i believe this to be a 2 horse race between Ruler of the World & Feel Like Dancing one or both of these half brother's ( both by Galileo ) could prove to be different gravy to the field.


BET ADVICE

- Fixed Return £100 for each ( * Revised after Non Runner )

************************************************

RESULT -

************************************************

RACE 4

WIN - HERE COMES WHEN -

1st @ 3.31

EW - DASHING DAVID -

LONG - SORELLA BELLA -

*

SUMMARY - The 7f Boodles Hcap and for me this is the toughest race of the day to work out, Only 8 runners but they all have form at lower level , all have disappointed at some stage and a case can be made for any , this is quite the proverbial puzzle. Ribaat and Baddalini have done nothing to suggest they can stay or like this trip so are scrubbed. Fat Gary is probably not good enough here after racing against mainly lower class opponents on the AW and getting beat so is over looked. DASHING DAVID looks a typical early season improver and could take some beating here and will be involved in the finish. HERE COMES WHEN ran well fto and with improvement could easily take this although probably isnt the best long term project and finally for me the winner will hopefully be SORELLA BELLA who lto ran flat as a pancake behind Hot Snap in the Nell Gwynn but had previously ran well enough in the Peter Willet to suggest this horse is an improver , although after that first run a lot has to be taken on trust or faith.


BET ADVICE

- £100 EW ON DASHING DAVID.

************************************************

RESULT -

************************************************

RACE 5

WIN - INCITING INCIDENT -

2nd @ 4.43

EW - FINE N DANDY -

1st @ 2.78

LONG - BRAVE IMP -

*

SUMMARY - A tough Maiden now and for the inexperienced this is a tough place to be so you will need two things here, experience and a good draw and with this i will hastily arrange my top three and they are , FINE N DANDY , BRAVE IMP and INCITING INCIDENT and as Brave Imp is unraced i shall just pop that on my Long list.


BET ADVICE

- £100 EW INCITING INCIDENT @ bfsp.

************************************************

RESULT -

************************************************

RACE 6

WIN - MOVIESTA -

NON RUNNER

-

EW - YOUR PAI TAI -

LONG - MAYAASEM -

2nd @ 5.08

*

SUMMARY - As the day draws to a close we have to contend with two tricky Hcaps and not the sort you want if you have had a rough day with winners looking tough to find.



BET ADVICE

- £100 EW ON MOVIESTA - NON RUNNER -

************************************************

PLACE POT LANDED ON FULL SPREAD - 8 Lines = £2.00 @ £16.40

RESULT -

************************************************

RACE 7

WIN - SPIRIT OF THE LAW -

EW - STAR LINKS -

LONG - PROOFREADER -

3rd @ 5.17

*

SUMMARY - A tough finale but SPIRIT OF THE LAW will take some beating after George Chaloner steered him to victory at Yarmouth. A 4lb rise isn't excessive and his young rider's claim is a major plus. Richard Fahey also runs Las Verglas Star, who has plenty of strong form in slightly better company, but Irish raider Star Links is best on Polytrack or ground with plenty of give. Gaul Wood has struggled at the weights since landing a Sandown handicap in September but Proofreader made a winning debut at Newmarket and wasn't at his best when tackling 1m4f at Doncaster in October so has to be kept on the right side. Tres Coronas has twice finished behind Beaumont's Party already this season and a big run from that winner earlier can boost his chances. Haylaman is 2lb lower than when scoring at Newmarket in July so is another to watch out for under Jamie Spencer.


BET ADVICE

- SPIRIT OF THE LAW / STAR LINKS - £100 PLACE DUTCH -

************************************************

RESULT -

************************************************

TODAY'S BEST BET IS...

NONE

....

__________________________________________________

Todays EW Doubles

: DANADANA / DASHING DAVID -

1st / Unplaced

___________________________________________________

Place Pot

:

1. 2,3 & 4 - Unplaced / 3rd ( Fav replaced NR ) / 1st = 2 Lines

2. 2,4 & 6 -Unplaced / 1st / Unplaced = 1 Line

3. 1 & 5 - Unplaced / 1st = 1 Line

4. 4 - Unplaced -

Bet Lost

5. 1,3 & 4 - 1st & 2nd / Unplaced = 2 Lines

6. 3,7 & 9 - Unplaced / 2nd / 2nd ( FAV replaced NR ) = 2 Lines

8 Lines Total -

Stake @ £0.25 x 8 = £2.00 ( ON FULL SPREAD )

Placepot Paid £16.40

Return : £32.80

___________________________________________________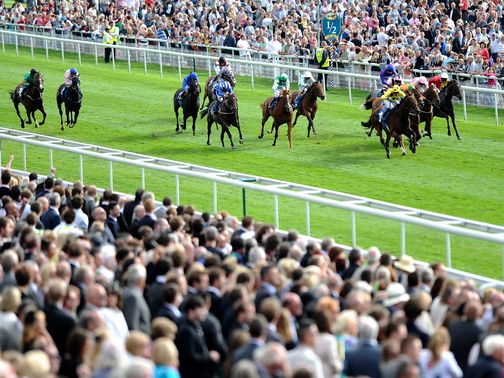 Danadana: Worth a bet at Chester -
1st @ 5.99