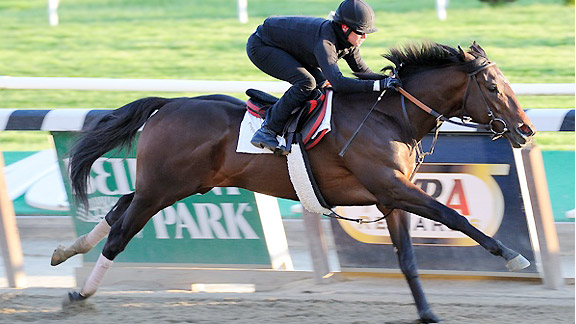 ORB...This powerful , athletic and wonderful looking sort looks a class apart and is every bit the superstar and with a poor draw to overcome i can see no other result than ORB winning...This race will be Orbsome ;).
Trainer Shug McGaughey believes Orb has the potential to produce "something special" in the Preakness Stakes at Pimlico on Saturday.
Although the Kentucky Derby hero will break from a potentially uncompromising berth in stall one in the second leg of the Triple Crown, connections anticipate another big show from the unbeaten son of Malibu Moon.
"I think there's more (to come), but he's got to tell us that," said McGaughey.
"What really surprises me is how he comes out of his races, not only mentally, but physically. He's sure come a long ways since the Florida Derby.
"I can't wait to run him on Saturday afternoon, and maybe we'll see something special."
Louisiana Derby runner-up Mylute is considered Orb's biggest danger, having finished third in the Kentucky Derby.
Co-owner Paul Bulmahn said: "Orb is a good horse, and looks very good, and performs well, and has improved each race, too.
"He (Mylute) hasn't gone out and won a big Grade One somewhere already, and yet he keeps developing and each race he keeps getting better and better and better."
Departing finished third in the Louisiana Derby on his debut before winning the Illinois Derby.
Trainer Albert Stall jnr told the www.bloodhorse.com: "We just didn't think he got enough out of the Louisiana Derby to make that step forward (to the Kentucky Derby), and he had to earn his way to the Preakness, so we got that done in Illinois.
"I guess a lot of people would have most likely thrown him in the Derby, but he's a gelding and we just didn't want to tear him up. We just wanted to see one more race and kind of what we have.
"We still don't know exactly what we have, but we learned a lot more - we feel very comfortable being here. I think we're going to go run our 'A' race.
"Whether that's good enough or not, I don't know, but he acts like he's going to go fire."