Well we have had the first taste of our " Classics " in the Guineas and now its time to get serious as the Flat season ramps it up a few nothches with this weekend being the start of a quite amazing 4 week spell with the likes of this weekends Oaks/Derby taking place and big ( stellar ) meetings coming up at Ascot and Goodwood.....June is THE time , June is MY time....Lets make some money ;))...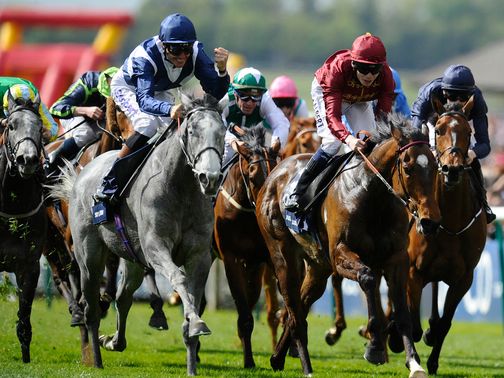 However i have to say this week coming back from my Jollies i have had what can only be described as a dry cold , been lethargic , weak , tired and unable to operate at any level for more than short periods of time and i can honestly say that ive never felt as drained as i have this week and i can only hope this wears off quickly as im getting pretty sick n tired of feeling like this...
So whilst i am still fuming about some poor PPL results ( becoming frustrating and standard for the EoM ) i couldnt quite decide on what card or review piece to post up today , full card ? , a take on the favs ( becoming popular ) , lite ?......Then i got this short burst of energy and thought ahh fuck it ..its Oaks Day and only a full card will do so here goes....(
Continued Friday Morning as i fell asleep ;(
)
~~~~~~~~~~~~~~~~~~~~~~~~~~
OAKS DAY
~~~~~~~~~~~~~~~~~~~~~~~>>>
RACE 1 :
Princess Elizabeth Stakes (Sponsored By Investec) (Fillies' Group 3)
1m 114y
(3yo+, 1m 114y, Class 1, 9 runners)
.
Cracking race to open the card up and a race where all 9 remaining runners have a chance, all are racing in their respective grade and all carry form into the race ( new and old ) with just one coming in for their seasonal debuts.
Virtually nothing to split on either the ratings or speed data this will be a tough race to call,Beatrice Aurore will attract a lot of attention today as its Frankies comeback ride and has a chance but maybe not quite as strong a chance as a few of the others and is overlooked by me today.
Starscope is a frustrating animal and not without ability but does lack a final kick and does " down tools " at the business end of her races and cannot be trusted so is another left alone for this.
the first one of interest is SENTARIL a daughter from one of my favourite lines Danehill Dancer and this has run very creditably in all her races with a few victories thrown in and has to come here with a cracking chance along with
THISTLE BIRD
who probably has the most scope of these and is entitled to be an improver and should run a solid race but does have a few questions to answer.
Finally we will have LADYS FIRST on our side after a great comeback run at York over slightly further and just tiring up at the end, she will have come on for that and holds a few on form and is pretty much gteed to run her race and i will be surprised if she doesnt make the frame.
WIN : SENTARIL -
EW : LADYS FIRST -
3rd @ 12.80
LONG : THISTLE BIRD -
1st @ 4.08
RESULT :
~~~~~~~~~~~~~~~~~~~~~~~~~~~~~~~~~~~~~~~~~~~~
RACE 2 :
Investec Wealth & Investment Handicap
1m 2f 18y
(4yo+, 1m 2f 18y, Class 2, 8 runners)
..
Now we have a rather tricky small field Hcap with quite a few dodge pots here and from the field at least 6 can win if on a going day..so its a guess as to what will be in the mood....There are only a couple that really interest me in this and they are BLUE SURF who makes his seasonal debut but is coming from a yard that has been firing in a few winners of late , has the form in book to prove he is upto the task, likes the distance and the ground so all being well should run a decent race and then we have the returning RESURGE a winner of this race in 2011 and a 3L 2nd last year of a slightly higher mark and a big run is pretty much gteed as this will be the target for the year with anything else a bonus.
WIN : BLUE SURF -
EW : RESURGE -
1ST @ 8.50
LONG : TRES CORONAS -
3rd @ 6.10
RESULT :
~~~~~~~~~~~~~~~~~~~~~~~~~~~~~~~~~~~~~~~~~~~~
RACE 3 :
Investec Diomed Stakes (Group 3)
1m 114y
(3yo+, 1m 114y, Class 1, 7 runners)
..
Truth be told this is a disappointing turn out for this handsome £35k prize and the small field is made up of largely disappointing beasts that have ability but have either been punching above their weight , been out of form or failed to fire so its another where a leap of faith is required when punting.
I feel
GREGORIAN
is our best chance here and his 2nd in the St James Palace Stakes behind the enigmatic Most Improved is probably the best form on show and he showed with the comeback run that he is holding his form well and i feel is a grade higher than most of these and certainly more consistent and has to be the play.
WIN : GREGORIAN -
1ST @ 4.09
EW : CUSTOM CUT -
LONG : N/A -
RESULT :
~~~~~~~~~~~~~~~~~~~~~~~~~~~~~~~~~~~~~~~~~~~~
RACE 4 :
Investec Mile (Handicap)
1m 114y
(4yo+, 1m 114y, Class 2, 14 runners)
..
A wide open Hcap with a lot of tried n trusted form on show and is another race full of dodge pots although i am slightly confused as to why Hughes is riding Mister Music which to me looks the weakest of Hannon's 3 runners and has done nothing in its last 5 runs ??...TOTO SKYLLACHY is the obvious form horse after a neat double at Beverley and has to go on the short list even with a further 6lb rise this simply has to be involved here although if one or two of these turn up with their " A " game then it could be a different story as the likes of BRAE HILL and HI THERE are more than capable performers on their day and could easily get involved in the finish but this is not a race i like much as both Levitate and Maverick could also easily join the party.
WIN : BRAE HILL -
EW : TOTO SKYLLACHY -
LONG : HI THERE -
RESULT :
~~~~~~~~~~~~~~~~~~~~~~~~~~~~~~~~~~~~~~~~~~~~
RACE 5 :
Investec
Oaks
(Fillies' Group 1)
1m 4f 10y
(3yo, 1m 4f 10y, Class 1, 11 runners)
..
Here we are finally , the big one, the fillies classic and tbh it looks a cracker and this is the one that can throw up a few surprises and big priced winners ( last 3 winners were 9/1 , 20/1 & 20/1 ).
The first place for me to start is with BANOFFEE who simply pissed all over Gertrude Versed lto and will have no problems with the trip and Hughie Morrison is doing great this term and has quite a few nice sorts knocking about.
Then we have the Aiden O'Brien runner in MOTH ( has won this race 3 times in the last 12 years ) a decent looking sort and easily the stables first string as Say doesnt look good enough but Moth was running on at the end when 3rd in the 1000 Guineas and if she stays could easily take a hand in the finish.
Next up is imo the " Class " in the race and that is SECRET GESTURE who won her trial at Lingfield by an astonishing 10L and was never off the bridle and simply has to get involved here and will surely be placed at the minimum as this daughter of Galileo has heaps of improvement to come and could be absolutely anything.
But for me the " Value " bet in this race is
THE LARK
( 22.0 ) a half sister to previous Oaks winner and top class Sariska this Pivotal filly will need to improve to get involved but could easily do so as this has had only the three runs to date and is still learning ( like a few others ) and at decent double figure odds this is well worth a punt EW against the likely favs.
There are a couple of unknowns in the race but the remainder by n large just dont look upto this grade and are imo just making the numbers up in a fascinating renewal.
WIN : SECRET GESTURE -
2nd @ 4.46
EW : BANOFFEE -
LONG : THE LARK -
3rd @ 23.46
RESULT :
~~~~~~~~~~~~~~~~~~~~~~~~~~~~~~~~~~~~~~~~~~~~
RACE 6 :
To round off my Placepot card we have a 7f Listed event with just the 7 runners and a trappy little race it is too.
WIN : HASOPOP -
EW : HERE COMES WHEN -
LONG : N/A -
RESULT :
~~~~~~~~~~~~~~~~~~~~~~~~~~~~~~~~~~~~~~~~~~~~
A decent card ruined by too many Hcaps but decent enough in quality , let the fun commence ;)..............