MEETING : YORK
"

Today we take a look at YORK as it holds the famous MUSIDORA STAKES which is a listed event and a good OAKS trial and a race which has been won by some very useful sorts in the past and this is just one race from a good looking card at the start of this mini York Festival as over the next three days we will see a few quality group / Listed events and trials unfold with some very good beasts on show

".
~~~~~~~~~~~~
The standard advice for betting and following these races is based around the assumption that you have a £2k Bank but as you may all well be punting with differing levels i will offer no actual stake representation only a core bet advice which can then be followed at your own pace , also i must add that aside from the actual advice given for these race cards quite a few members have previously just Dutched ( backing more than selection in a single race ) the selections for a good through the card profit , obviously i can only offer one core bet advice and that is the sole bet i would do at the time of press , i would however urge you to check the markets beforehand if possible and alter as required , also we will soon be having a " Live Chat " system in play and you can talk to me directly for upto the minute advice and betting options.
The bet advice given is a guide only.
~~~~~~~~~~~~
So without further ado lets crack on with glorious ( albeit a bit cold ) York........
~~~~~~~~~~~~
RACE 1 - Ground is Gd/soft ( Gd in places )
WIN - FIRST MOHICAN - 1st @ 4.20
EW - BRIDAL BELLE -
LONG - EASTERN DESTINY -
3rd @ 17.0
*

SUMMARY - We start off with a open enough looking 1m2f Hcap that holds a mixture of class and arse and with the ground changing ( more so overnight ) the better handicapped but under achieving sorts may come to the fore.
First one to mention is FIRST MOHICAN a horse from the Cecil stable that won its first 3 starts in effortless style and looked group class in doing so however all the wins were on soft or worse and then when tried on firmer ground failed miserably leaving you to believe that this is a very much ground dependent horse, if ( which i dont think it will ) the ground stays firm leave this alone today ( may win but highly improbable ) if however the showers continue to pour down then i think this becomes a very good bet at the current 6.60.
Next up is Clayton a big Peintre Celebre Gelding that does owe ( me at least ) us a win after being told by the owner ( Guy Reed ) that he thinks the world of this and it is one his best i followed it off a cliff last season and continually frustrated even getting beat at 1.41 ( generally trades lower as its a good mover ) and i will no doubt be chucking a few more shillings into this ( may have it in a cheeky double though as im not expectant anymore ) .
Lahaag needs to bounce back from a bitterly disappointing run in the Lincoln tho' this is not inconceivable this is one to watch only as that was an effort of nothingness.
York itself is also a course where the phrase " horses for courses " is quite apt and is a play ground for the northern trainers to mop up some black type so be wary of all their better runners and more so the well handicapped and well weighted ones.
With that it may pay to watch out for Itlaaq from MW Easterby a trainer that does very good here being a local as such and this might try to run the legs off a few ( won between 1m - 2m ) and might be a steady EW @ 16.0.
The other two ( inc First Mohican ) i really like both arrive from the in form Fahey stable and they are BRIDLE BELLE & EASTERN DESTINY with a stronger vote of confidence going to Bridal Belle a five time winner who has won over the CD and has won on Good / Good Soft and Soft so any ground type tmrw will be fine, looks Stable first string and ticks all my boxes.



BET ADVICE

- " IF " the ground comes up a bit softer then i will be side with First Mohican if the ground remains on the fast side of good then i shall go with an EW on Bridal Belle @ 16.5 ( or better ) .**Lumped Mohican on the Ground being softer.
************************************************
RESULT -
************************************************
RACE 2
WIN - TAROOQ - NON RUNNER -
EW - NOCTURN -
2nd @ 5.15
LONG - YORK GLORY - 4th
*
SUMMARY - Now we have an incredibly tough 18 runner 6f sprint and a race that requires the use of my magic pin.
Last month's Warwick winner Prodigality came up short in this grade again last time but York Glory is perfectly at home at this level. The latter scored at Pontefract last month with Singeur back in fifth. Nocturn is on the up but facing his most difficult task to date having landed a recent double at Windsor. TAROOQ makes more appeal as he notched up five straight wins on the all-weather last winter and can race off a 10lb lower mark back on this surface. Stuart Williams' charge is preferred to Mississippi and Farlow, though the latter's stablemate El Viento has a shout and Louis The Pious could also get involved. Secret Witness won this last year but is 9lb higher today.



BET ADVICE

- A tough race in all honesty and no real bet can be advised here as any punt must surely be taken as a fun if not speculative gamble , gun to my head i would say EW on Louis the Pious.
************************************************
************************************************
RACE 3
WIN - WOODLAND ARIA - 3rd
EW - LIBER NAUTICUS
-
1st @ 1.72
( Traded in running at 4.7 )
LONG - N/A -
*
SUMMARY - Now we have a small and tbh a disappointing field for the Musidora Stakes a Class 1 ( Group 3 ) over 1m2f for the Fillies.
You can easily make a case for any of the 6 runners but i will be focusing all my attentions on the two once raced fillies that both figure in the Oaks Betting, both won fto and both are open to any amount of improvement ( or disappointment ) as the others already look exposed to a degree, the 2 in question are WOODLAND ARIA & LIBER NAUTICUS.



BET ADVICE

- Liber Nauticus went off as a 11/4F for its maiden and duly obliged and is now currently the 1.74 Fav for this which imo is ludicrously low , yes it may well win but this is one race where you have to simply take it on and LAY the Fav , it is simply far too short for a race where so many are closely matched and the Fav is all about " what ifs " yes it may well win by 10L but you simply have to LAY this Liber Nauticus and if it does win , wipe your chin and move on.
**This is a strange bet / LAY as i do think that it will win however the price is so wrong and so short that i simply have to take it on.
************************************************
************************************************
RACE 4
WIN - MINCE -
EW - TICKLED PINK -
LONG - SOCIETY ROCK -
1st @ 12.70
*
SUMMARY - Another ridiculous 18 runner sprint Hcap and another in which finding the winner could prove almost impossible.
TICKLED PINK has clearly made massive strides over the winter as she made all to win the Group 3 Abernant Stakes at Newmarket on her return. She beat Jimmy Styles by two lengths with several more of today's opposition further behind and is just preferred to another progressive filly in Mince. The latter signed off with victory in a Group 3 sprint at Ascot last term and is entered in the top sprints later this season but might just need this. Ladies Are Forever also arrives in fine form having won a couple of Listed sprints on the Polytrack recently while Maarek looked to have an easier opportunity at Longchamp last Sunday but turns up here instead. Last year's winner Tiddliwinks beat The Cheka, Society Rock and Bogart in that order and any one of that quartet could figure along with the high-class Irish raider Gordon Lord Byron.
Imho it may well pay to follow the 5 true group / Class performers and they are ( in no order ) ,
1. MAAREK -
2. TICKLED PINK -
3. GORDON LORD BYRON -
3rd @ 8.09
4. SOCIETY ROCK -
1st @ 12.70
5. MINCE -
With a slight preference for the latter named MINCE a horse i followed all last season and is a true group / Class 1 Sprinter and can race on or off the pace , on most ground types and has collected some very quick times and fractions and if fully wound up will take all the beating however any of the 5 named could be up there.



BET ADVICE

- Dutch on Mince / Ticked Pink / Society Rock
************************************************
************************************************
WIN - OPERA BOX -
EW - GUISING -
LONG - NORTHSIDE PRINCE -
2ND @ 36.0
*
SUMMARY - Now its a bog standard but huge field Hcap over 1m4f which is pretty standard for York.
Northside Prince is usually thereabouts in this grade without being quite good enough and it could prove a similar story today. Marcus Tregoning is looking for a double in this after training last year's winner and OPERA BOX has leading claims. She just failed to catch the useful Boonga Roogeta at Doncaster last time and today's longer trip will suit. Guising is also unexposed but up 5lb for his recent win at Windsor while Novirak is another to consider dropping down a grade after a good effort at Epsom. High Office and Cousin Khee should go well and Cockney Sparrow has been in fine form over hurdles of late so is probably the pick of the remainder.
BET ADVICE
- No bet again im afraid , you will go poor trying to make a living betting in these, these are for fun only -
Northside Prince EW
...but its more than a leap of faith required here.
************************************************
************************************************
WIN - ONE BOY -
EW - INNOCENTLY -
LONG - EXTORTIONIST - 4th
*
SUMMARY - This is much better and far more manageable as we have a steady 8 runner stakes race which does have a very competitive feel to it.
Its 5f , its for 2 yr olds and all bar the debutante have won fto or won...this is gonna be down to the speed ratings and then whoever improves the most as they will all improve some tho will come on a ton and others will either regress or only show a slight improvement.
Firstly the two quickest by some way are ONE BOY & INNOCENTLY and at their prices ( two outsiders ) i feel it foolish to even look elsewhere as this is easily the value play here even if they dont win its still the bet option.



BET ADVICE

- Equal Stakes Dutch on ONE BOY & INNOCENTLY ( currently 10.5 & 12.0 )
**Went against the Favs here as i thought it would be a fair bit more competitive than it turned out to be, Favs led the 1,2 and 3...and it fecked me Placepot...little bit gutted tbh.
************************************************
RESULT -
************************************************
RACE 7
WIN - RIGHT TOUCH -
EW - GEORGE ROOKE -
LONG - MUNDAHESH -
*
SUMMARY - And rather predictably we have a big 17 runner 7f Hcap to round the day off and not one to be going in large as a 2 getting out " stakes race.
Richard Fahey has trained three of the previous five winners and today's representatives all have a chance. Fantacise has tumbled down the weights and Right Touch scored on his handicap debut at Redcar last month. Khelman won his maiden by four lengths at Yarmouth recently and makes most appeal of his yard's runners but a chance is taken on MUNDAHESH. He landed the odds at Wolverhampton in October with the minimum of fuss and is taken to make a winning return. Line Of Reason has claims stepping back up in trip while Steelriver, George Rooke and Unknown Villain all ended last season with maiden victories and are others to note.



BET ADVICE

- Another race in which i can offer no real pro bet only a " fun punt " as this is not a race for making money on ~ Mundahesh EW if i really had to.
************************************************
RESULT -
************************************************
**A fascinating day and some intriguing races although they are not generally punter friendly , this is not a day to go over board on.
************************************************
TODAY'S BEST BET IS...
The LAY on LIBER NAUTICUS - 1st @ 1.72 ( Traded at 4.7 in running )
__________________________________________________
Todays EW Doubles
: ( York - Mince / One Boy ) : Another EW DOUBLE will be posted tmrw if it reaches the required standard to merit a bet , the Advised York EW double is speculative at best and shouldnt be used a serious bet.
___________________________________________________
Place Pot :
1. 1 , 10 & 13 - 1 & 13 ( 2 lines )
2. 2 , 6 & 12 - 1 Line ( Non Runner pushes stake onto Fav - 2nd ) - ( 1 line )
3. 4 & 6 - 4 ( 1 Line )
4. 1,2,3 16 & 17 - 1 & 2 ( 2 Lines - 4 Lines in Total )
5. 1 , 4 & 6 - 1 ( 1 Line )
6. 5 & 6 - Out in the Finale..Ouch ;(
Stake @ £0.20 ( 540 lines ) = £108.00
Placepot Paid £305.20
Return : £
**Placepot layout is larger than normal today but will pay very big if hit.
___________________________________________________
**Heres a quick note from our long shooting, long punting, glory hunter and double figure lucker....Value Vader....
Views from the DARKSIDE ( Value Vader ).....
Back Jack to reign at York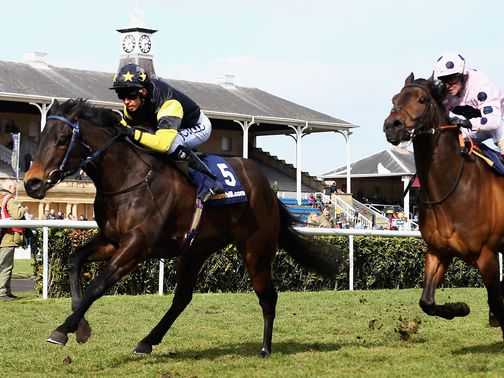 Jack Dexter: Worth a bet at 20/1

If the forecast 5-10mm falls on the Knavesmire we could be looking at a very different
market for the Duke Of York Stakes as the money is bound to come for those who
excel with cut in the turf.

Rain is forecast at York ahead of day one of the Dante meeting but the question is how much and will it have a significant effect on the ground?
The money has already come in for Maarek who is 6/1 from 10s after sustained support on Tuesday and the talented son of Pivotal has an obvious chance if the rain arrives.
However, we've missed the boat as far as he's concerned and instead I'm interested in the 20/1 plenty of layers are offering about Jim Goldie's .
This son of Orientor is a very progressive four-year-old and is only a big price for this Group 2 contest because he was well beaten in handicap company last time.
However, it was a hot handicap at Doncaster that's working out very well and he was carrying a big weight on ground that wouldn't play to his strengths.
On his previous start he won the Cammidge Trophy, a shade cosily I thought, from another proven mudlark in Captain Ramius and on that form he must have a chance should significant rain arrive on the Knavesmire.
There is pace around him with Bogart and Tickled Pink drawn close by and he should get a good tow into the race from that duo, with middle to low numbers usually the place to be when the ground rides soft at York.
Unbeaten in six starts when the ground rides soft or worse, really significant rain
would increase confidence in the selection. But even if the precipitation only gets into the ground a little, Jack Dexter looks worth chancing at big prices to prove his last run all wrong.
Earlier on the card looks the one to be on in the Infinity Ecosis Tyres Handicap at 9/1.
He almost scored on his first start for David O'Meara following the move from Kevin Ryan's at York last October, but Regal Parade stole the Coral Sprint Trophy
(a stronger race than this) from him with a late thrust.
Stepped up to seven at Doncaster on his next start, he led his group with a furlong to go but weakened into 10th late on.
Still, that showed he'll be competitive off a mark of 100 this season and he's gone well fresh before so it's not a concern this is his seasonal reappearance.
With conditions looking like they'll be ideal he looks bound to be in the mix and 9/1 looks fair.
Selections: 1pt e.w Jack Dexter in 3.15 York at 20/1, 1pt win Louis The Pious in 2.15 York at 9/1.