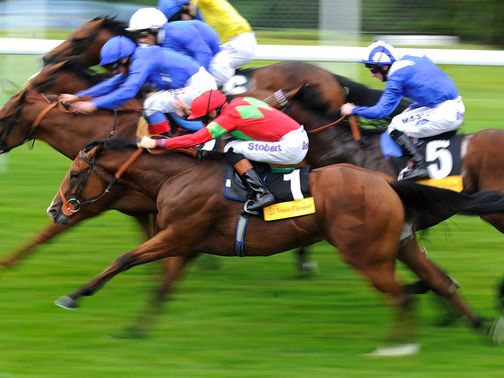 Probably not is my answer.
Although this said " if " he can truly stay the 1m trip at pace and still have enough legs to quicken and run on at the minimum then he has every chance as he certainly has the form over 7f to get into the mix and will be pushing them all the way.
It is interesting that Hughes ( stable Jockey ) has decided to ride this instead of proven stayer Havana Gold suggesting that he has been showing enough at home for them to think the trip will be no problem and he has been running on towards the end of his races ( OG ) but this is will be a far harder test than he has previously encountered on ground that is described as Heavy...personally i will be happy for the Hannon team if they can win but i think its highly unlikely in fact i will go as far to suggest that one of two things will happen ,
1. It wins easy and proves that its top class and stays ( has won on poor ground types before ) .
2.Looks strong for 6f then gets swamped by the confirmed stayers and runs unplaced down the field in about 8th or 9th.
So a Win Back & Place Lay is a good bet imo.
Looking at the UK contingent i am fairly sure the winner will be French as they carry a strong team into this with at least five confirmed stayers with good solid winning form with the likes of
Intello
, Genghis , Anodin , Marandi and US Law all looking likely winners , this will be a fascinating race to watch and one for the purists , will he wont he ( OG > stay ? )...that is the question....And in the 2000 Guineas i am really kean on
ESCOTERIQUE
a wonderful looking daughter from Danehill Dancer that has won her first 2 races with the minimum of fuss and could prove today that she is something rather special.
Thats about it for my Sunday mix as the remainder of UK racing today looks very average and rather dull , so im gonna get my trading head on today and see if i can shin up a few ££ with some Friv trading..gl and enjoy your day of rest , ttfn x
RESULT : 1000 GUINEAS
14:08 Longchamp
Full result
A Clement
T Thulliez
18 ran
Olympic Glory (IRE) 3/1 F
232.52
1601.44
..
RESULT : 2000 GUINEAS
4:40 Longchamp
Full result
M Delzangles
C Lemaire
20 ran
19.10
208.21
..